The Boysenberry Festival is back at Knott's in a big way, and we have the scoop for you on some majorly tasty food and delightful entertainment this year. So, grab your Knott's sports bottle and your favorite Scary Farm shirt and join us!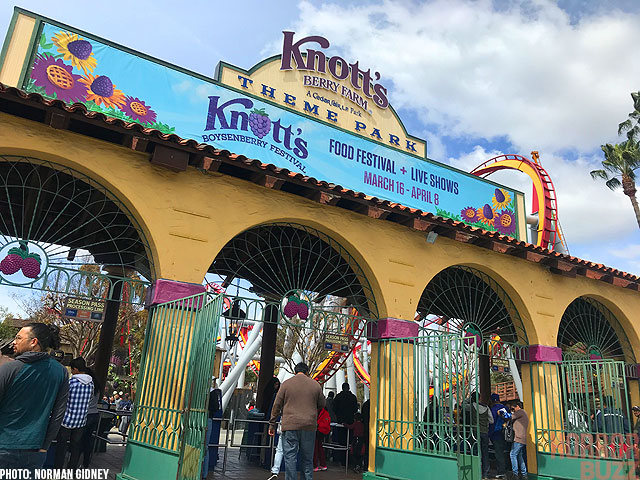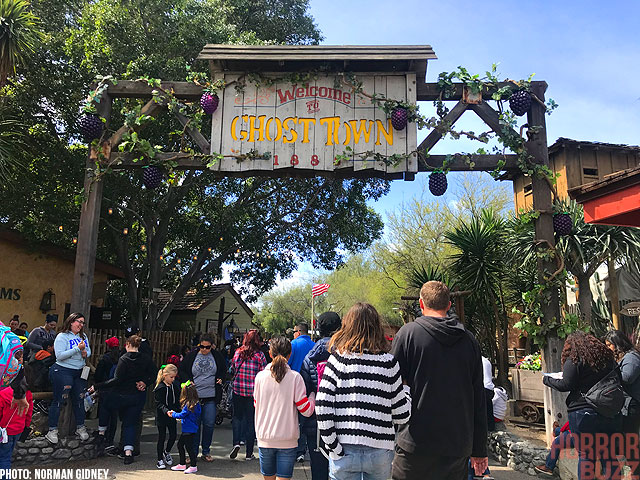 Once again, Knott's is offering a "Tasting Card" that allows you to sample eight different "berry" delicious food items around Ghost Town during the festival. This is a great deal, even at $30.00 (and no discount for passholders, unfortunately) and, depending on your appetite, you might even be able to share each plate with someone.  Or keep it all to yourself, like my little piggy self did.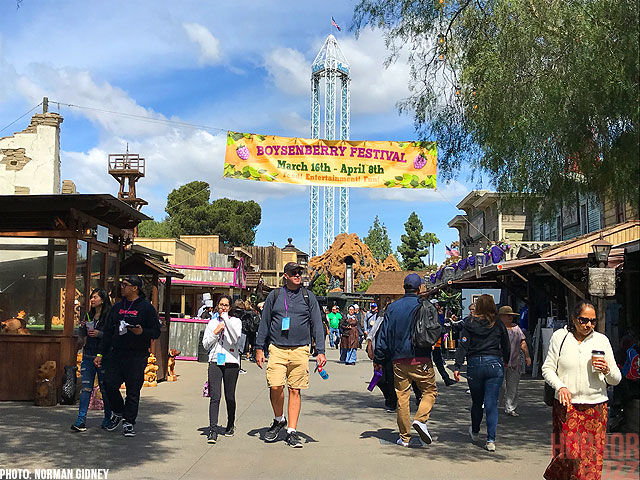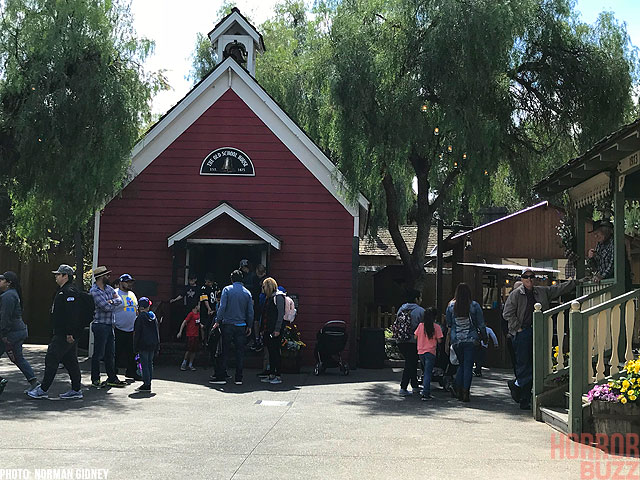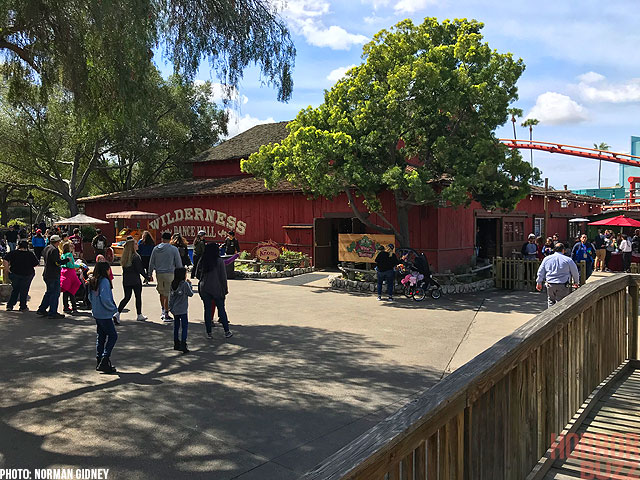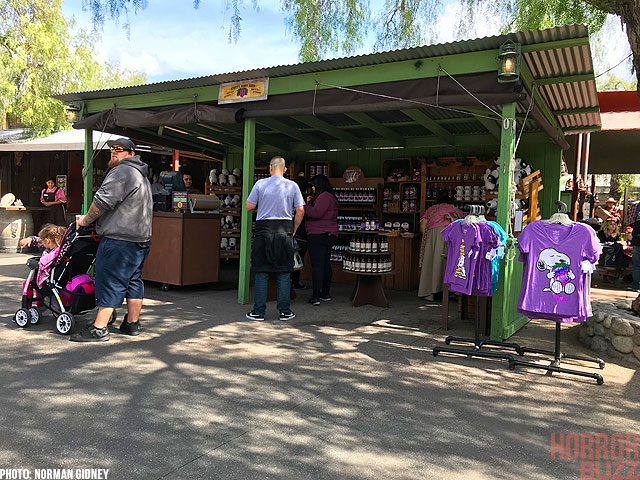 The first thing we tried was the boysenberry pierogies (at Spurs Chophouse), little round ravioli-like dumplings filled with cheese and served topped with grilled onions and bacon, along with a mound of boysenberry sour cream. This was wonderful, and the addition of the onions and bacon gave it an extra crunchy bite to the creamy pierogies. I wish the sour cream had a stronger boysenberry flavor, but this was a great start to the day.  Next, we tried the boysenberry short ribs (Spurs Chophouse). Slow roasted short ribs, covered in boysenberry BBQ sauce and served on a bed of rice with a smattering of green onions. My rib was a little awkward to eat, but the meat was tender and juicy and the rice was perfectly cooked, very light and fluffy. Seriously, I could have eaten a whole extra bowl of it.
The boysenberry coconut macaroon is a lip-smacking dense ball of bliss, dipped in boysenberry chocolate. At first I was a little confused by the color: the coating is a bright purple and the macaroon itself was…brown? But then I took a bite and…this was one of the best macaroons I've had. If you don't like coconut, you're out of luck, because it's shot through with the stuff. But there was something else in there making it dense. Cake? It seemed almost like an extra-large coconut cake pop, and that is not a bad thing at all. The boysenberry elote was next, a crisp and sweet cob of charred corn smeared with boysenberry butter and grated cheese, which you can make as spicy (or not) as you want with seasoning salt and cayenne pepper on the side.  This was a refreshing take on the usual elote Knott's offers, and I thought it was great.
To take a break from the food overload, we visited the Birdcage Theater. Knott's has brought back the daily melodramas for the duration of the festival, and the presentation today was "Boysenberry Bedlam, or, The Villain Gets In A Jam" and it was a hoot. A very melodramatic melodrama about a missing boysenberry pie recipe and the ne'er do well out to steal it. Boo the villain and cheer the hero as he swoons for the heroine, all in good fun with a few present-day jokes thrown in for good measure. I loved this show and hope Knott's brings it back on a more permanent basis.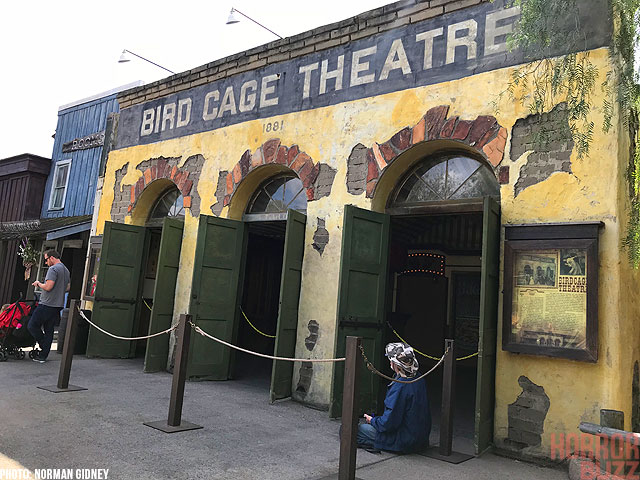 My favorite food item of the day was the boysenberry sausage on a bun, which was way more than I expected for a "tasting" card. It was a full-sized sausage, sizzling on the grill and dripping deliciousness, served on a large warm bun with boysenberry relish, boysenberry ketchup, and boysenberry mustard.  The casing snapped delightfully when I bit into the sausage, which was meaty and flavorful and savory with a hint of spice. I want another one right now.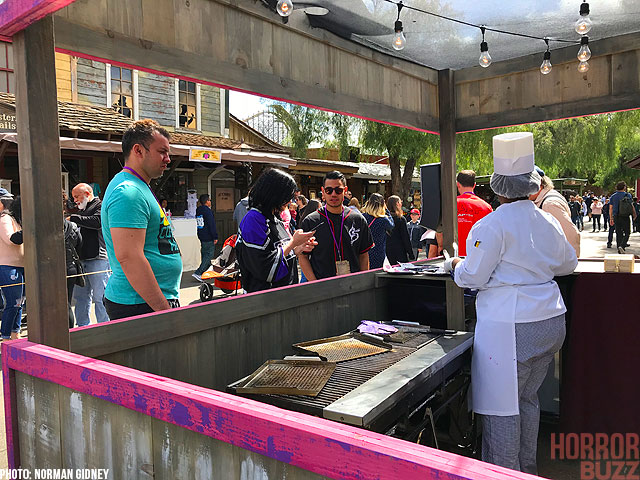 My least favorite item was the boysenberry quesadilla. Served inside a neon-purple tortilla, filled with an odd-tasting gummy cheese, the best thing about it was the boysenberry salsa they served with it. That was delicious and would taste great on some crispy, salty tortilla chips. Otherwise, nope. Another item that let me down was the boysenberry hummus. With a weird consistency more akin to refried beans than traditional hummus, and with an over-abundance of heat, this was the one snack we did not even finish.  The pita bread they served with it was soft and pillowy, but couldn't save it. Sad.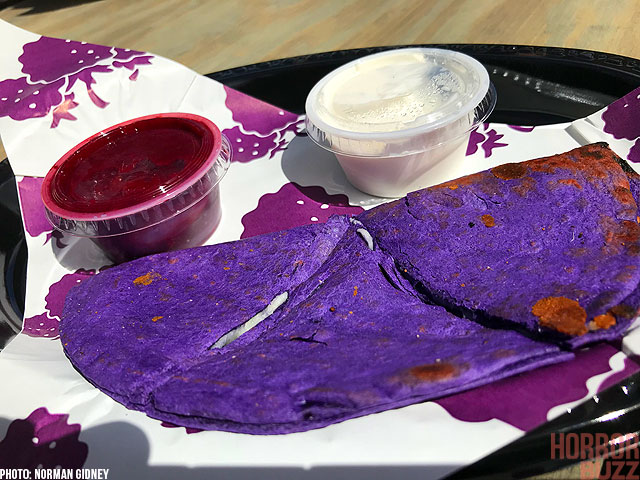 And then we had the boysenberry chicken wings. A perennial favorite, they seem to get better and better every year: deep fried and juicy, slathered in that mouth-watering boysenberry BBQ sauce. We gnawed those things down to the bone and wanted more. So good.
In addition to all the food, the festival also features Krazy Kirk and the Hillbillies in the Wagon Camp for their always-toe-tapping bluegrass-skewered hit parade, as well as booth after booth of t-shirts, boysenberry crafts, candy (the peanut brittle is particularly divine), and other hand-made items.  It really is the most fun I've had at Knott's since Scary Farm (see how it ties in to HorrorBuzz?), and we suggest you go early and often to the Boysenberry Festival. You'll love it "berry" much (sorry)!
You can join the Berry good time at Knott's Berry Farm by buying your tickets here.