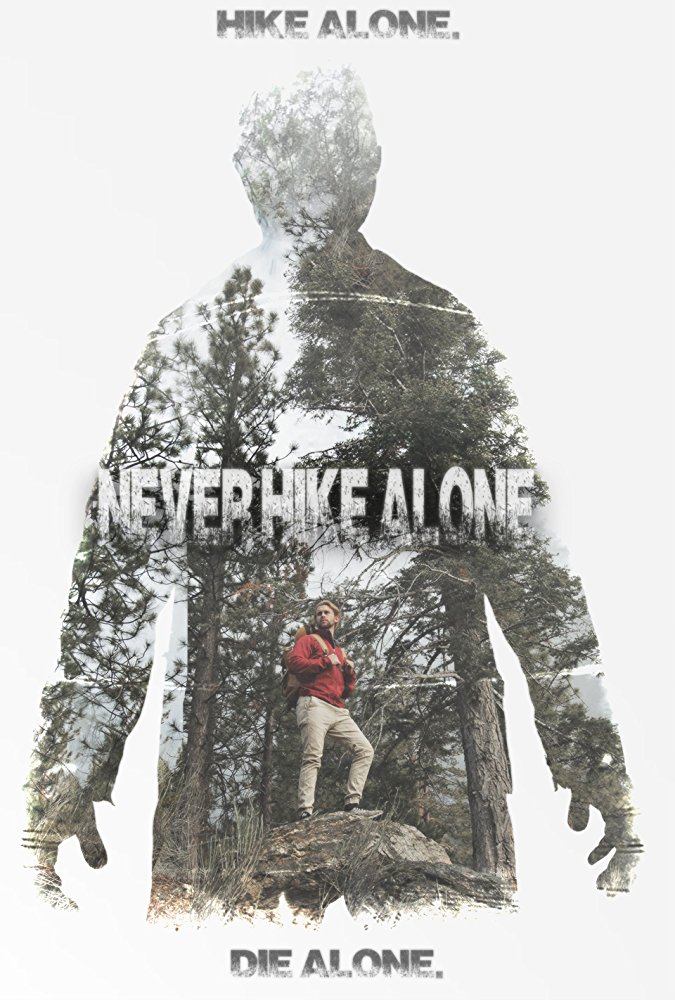 A hiker's survival skills are put to the test, when he stumbles upon the remains of an old abandoned camp and discovers its long dark secrets.
Kyle McLeod (Drew Leighty) is out in the wilderness with his GoPro camera, taking his YouTube viewers on a little three-day hike along the back roads of America. He periodically stops to point out beautiful vistas, give tips and recommendations about equipment, and listen to coyotes howl in the moonlight while recording in his tent.  Wait–did that coyote just yelp? As if something suddenly…?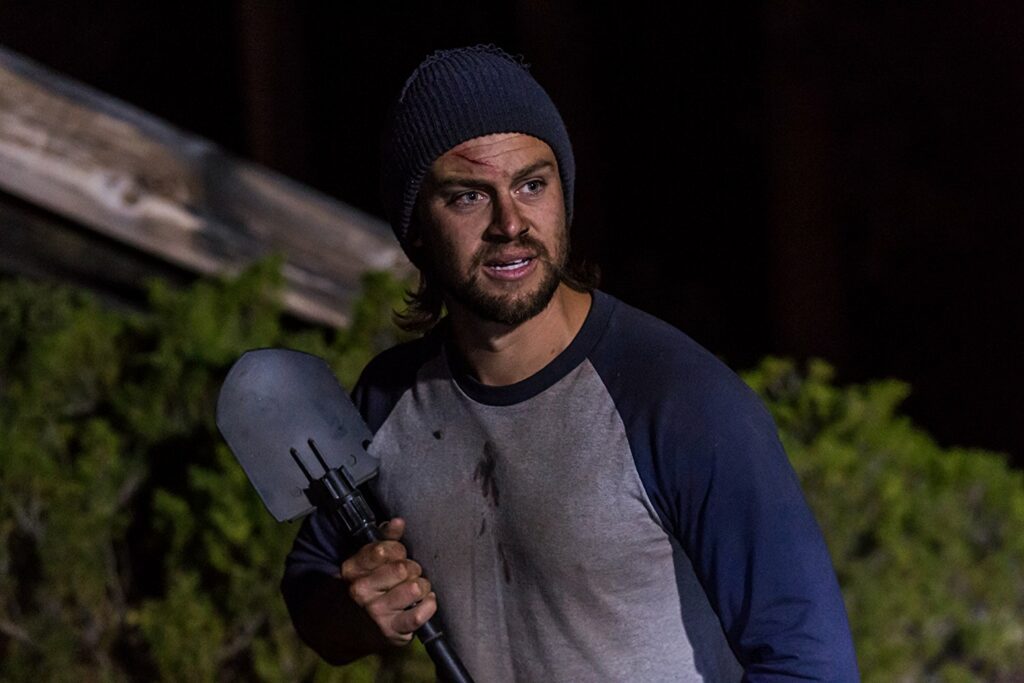 The next morning Kyle is attempting to take a shortcut and comes to a barricaded trail with a "NO TRESPASSING" sign. He debates with his viewers whether or not to cross the barrier, and as he does so a familiar hulking silhouette comes into view.  A large, silent, menacing figure stands behind him, just out of his view. He's wearing a hockey mask.
…ki ki ki…ma ma ma…
And so begins Never Hike Alone, an hour-long fan film that brings the Jason/Friday the 13th mythos into the modern age while preserving the classic scenes and general look of the past films.  Suffice to say that Kyle decides to go trespassing and ends up at the remains of Camp Crystal Lake.  As he excitedly explores the abandoned campsite, the menacing shadow keeps appearing in the fringes, in the corners, just staring–until he stops staring and gets to the action.
Never Hike Alone is a fun film, and director Vincente DiSanti is obviously a big fan of the original movies and makes every second of his own film count. The homages to the original are numerous and very well-done. As Kyle wanders through the cabins, we see detailed recreations of the original murder scenes from years ago: the bloodstained bunk bed, the shower with the hanging lamp (also smeared with blood), and numbered tags all over that represent the exact places people died. It's a deliciously creepy series of moments.
And then there's Jason.  As portrayed by director DiSanti, he is a proper badass, relentlessly pursuing the interloper and swinging his machete (and axe, and knife) with the best of them. Jason looks terrific, and his hockey mask is spot-on.  And even though the sound he makes when he walks is akin to having boots made out of asphalt, that's a minor nit-pick. This incarnation of Jason is, frankly, more impressive and menacing than many of the actual studio films that have been put out.
There's a nice little button at the end with a cameo that brings back one of the stars of the franchise, which brought a little smile to my face. A nice surprise. Since this is a fan film, the entire thing has been put online for your enjoyment, absolutely free. You can watch it right now, and Uncle Mike highly suggests you do.
Never Hike Alone
RATING:

UR

Runtime:

54 Mins.

Directed By:

 Written By: