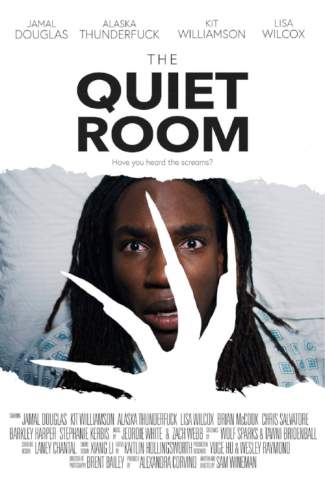 Okay, before I begin this, I'll admit my somewhat conflict-of-interest as a critic: The Quiet Room is a grad thesis produced at my alma mater, Dodge College of Film and Media Arts (at Chapman University). Sam Wineman is a widely respected and revered director at Dodge, and rightly so. His latest work is truly a reflection of budding–no, exploding–talent from a young filmmaker.
However, I remain unbiased. I have seen god-knows-how-many Chapman-produced films, and with every praiseworthy film is another that should be left on the cutting room floor. But The Quiet Room has made me more proud than ever to be a graduate of this school, and Wineman has truly raised the bar on the quality of student films.
The movie opens with a young man named Michael (Jamal Douglas), his open palm containing a generous cocktail of pills. He later wakes up in a mental health facility in a hospital gown, and decides that he actually does want to recover and move on from the incident. He befriends other patients, most notably Hunter (Kit Williamson), who shares a room with Michael and comforts him throughout Michael's terrifying dreams of his deceased lover. Feeding off the patients' vulnerability in the "quiet room" is Hattie, a legendary demon that haunts the hospital, and Michael must force himself to recover in order to fight off the literal and figurative demons that torment him.
Paranormal events aside, The Quiet Room is mostly the story of a queer, black man's wide-awake nightmare; much of the horror lies in the uncertainty and entrapment that comes with being checked into a mental hospital, being unable to leave for at least 72 hours, being monitored at every minute to perform even basic daily tasks like showering. Michael has everything taken away from him: his past boyfriend at the hands of an accident (that he blames himself for), his clothes and his privacy at the hands of the hospital, and eventually Hunter and Michael's own soul at the hands of Hattie, who goes on a murderous rampage at the film's end.
In addition to Douglas's excellent performance as the leading character, each technical aspect of The Quiet Room worked together in like an orchestra; the eerie score and editing created the type of suspense expected in a horror film that many generally lack. Alaska Thunderfuck (of RuPaul's Drag Race fame) is completely unrecognizable as Hattie the hospital demon, and also completely terrifying thanks to the makeup effects of Laney Chantal (you might have seen her on Face Off back in the day). Brian McCook, otherwise known as Katya (also from Drag Race!) makes a cameo as a nurse, which definitely is a nod to the queer undertones of the film as well as the viewers who would gleefully recognize them. I was one of those queer viewers.
Throughout my whole screening of this film I kept saying to myself, "I'm so proud of you, I'm so fucking proud of you." This is not bias. As a fellow alumna, Wineman's wonderfully crafted story is inspirational.
SCREENINGS
Nevermore Film Festival – Durham, NC
Carolina Theatre
http://www.carolinatheatre.org/films/four-minutes-til-midnight
FOUR MINUTES TIL MIDNIGHT Program
Friday, February 23 2018 2:30pm
Saturday, February 24 2018 3:00pm
Sunday, February 25 7:50pm
Outfest Fusion
Los Angeles, CA
TCL Chinese Theaters 6
http://www.outfest.org/fusion2018/screenings/
Shorts: On the Queer Horizon Program
Sunday, March 11th 2018 5:30PM
The QUiet Room
RATING:

UR

Runtime:

27 Mins.

Directed By:

 Written By: