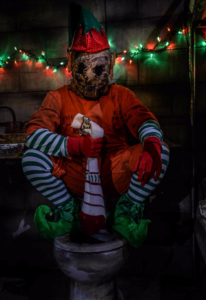 The holidays take a decidedly demonic turn in an all-new, Christmas themed, interactive haunted house at The 17th Door! ​Expect this year's Christmas edition to be scary, creepy, nasty yet fun and freakin' hilarious!… Not your average holiday activity.
Visiting hours have been extended for the holidays at Perpetuum Penitentiary. Our tortured protagonist Paula has a new cellmate and he wants to actually watch you be bad or good.
Santa is making his list and you do NOT want to be on his naughty side. Journey through what will be an unforgettable treasure hunt in search of gifts that will help you make the nice list. Santa may be locked up, but Christmas must go on.
As a group, guests will collect or earn gifts as they proceed through the 17 rooms of terrifyingly intense holiday absurdity. To earn gifts your group will be performing tasks, solving riddles, consuming "treats", exchanging items with twisted characters, or just surviving something horrible. Each person will be given a stocking that they carry to hold these gifts in their travels. When the trip through hell is over guests will win or lose as a group. The more gifts they earn the better the chance at making the "Nice List" and receiving a free prize!​
The 17th Door Haunted Holiday Treasure Hunt of Absurdity will be open December 8, 9, 15, and 16 from 7:00 PM to 12:00 AM.
Secure tickets online today as they will sell out fast!
Santa is making his list… and you do NOT want to be on his naughty side! Or do you?
TICKETS NOW AVAILABLE
CLICK HERE