I have been trying to get to Busch Gardens Tampa for years to see a little something they do called Howl-O-Scream. Situated on the west coast of Florida, roughly an hour from Orlando, this lush theme park and zoo has long been celebrated for its annual Halloween event. This year I found out why.
To put it into a California perspective, if Knott's Scary Farm had a baby with Universal Studios Halloween Horror Nights that was a distant cousin of Six Flags Magic Mountain's Fright Fest, it would look something like Howl-O-Scream. Richly original haunted houses featuring remarkable set design, world class themeing and roller coasters at every turn, and a passionate team of scare actors with a plucky sense of fun create a unique animal for the haunt enthusiast that is worth the drive away from the activity of Orlando.
Approaching the Moroccan-inspired entrance we are greeted with creatures of the night before even entering the gates. Mischievous monsters lure us forward to the colorful, spinning lights and actually pose for pictures! A nice change from the more corporate touches of other haunts that demand their actors evade those chances.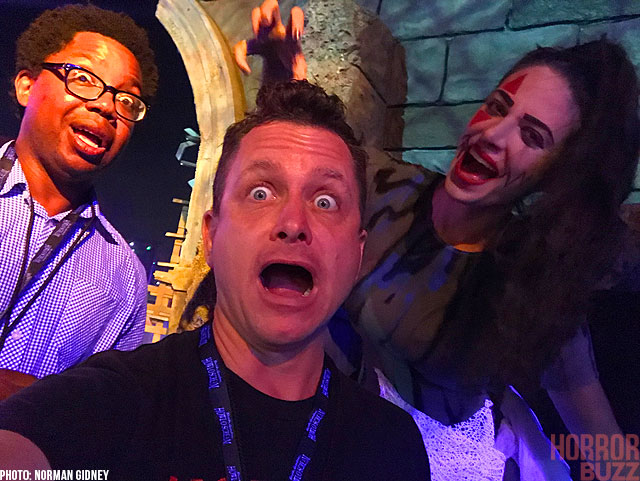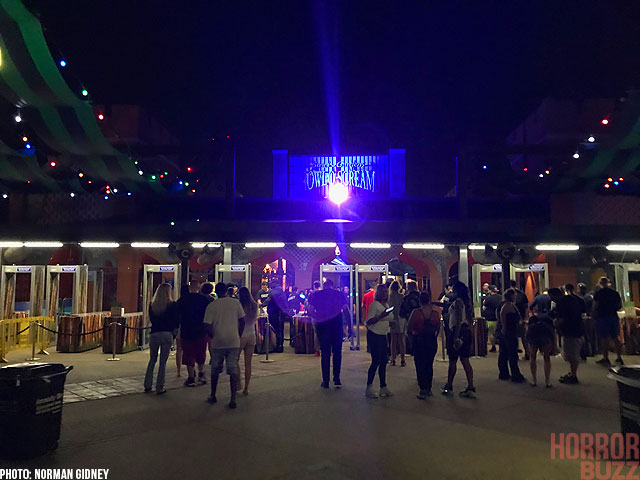 We enter and decide our plan of attack. Mazes, er, I mean Haunted Houses are the priority, scare zones being second. We cut a left to work the circular path of the park clockwise.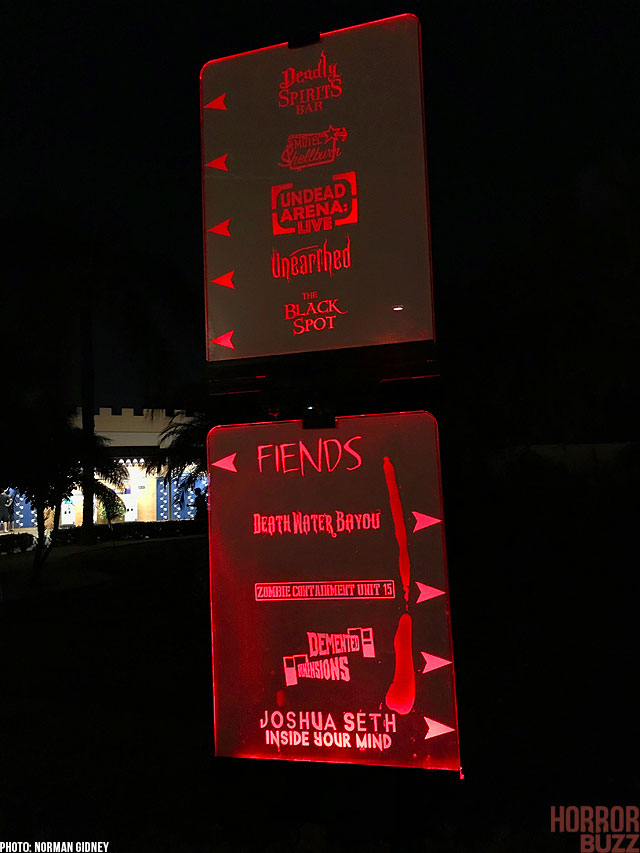 Scare Zones
The Scare Zones at Busch Gardens Tampa were all solid for the most part. We definitely had a clear favorite, in The Playground, but all were effective in entertaining guests and keeping people in a state of heightened awareness as they traversed the 365 acre park.
Class Deceased
The first scare zone we encountered was Class deceased. While fine, we weren't too sure what was happening aside from school sucks and kids are scary. There were some great actors in this area too.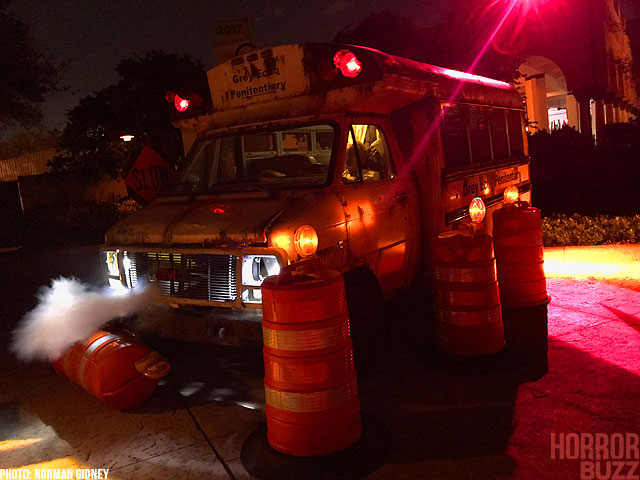 Carnie Camp
Carnie Camp was a delightful mix of roadside carnival motif and old school, turn of the century aesthetic. The actors here knew clowns=scary and it was a fun area to brave through.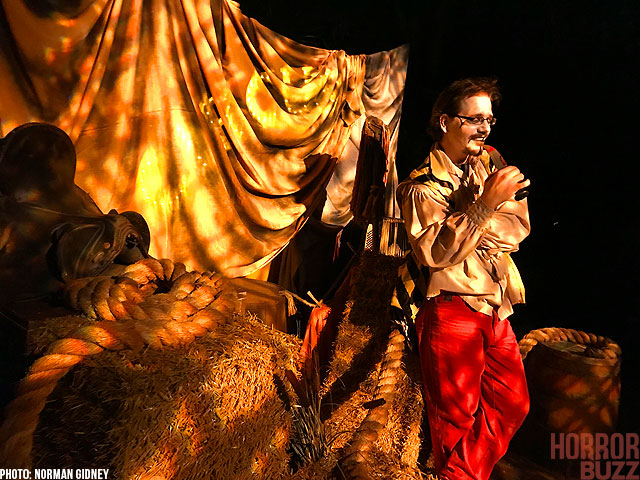 Wasteland
The post apocalyptic Wasteland filtered a long stretch of path through the lens of a rusty girders and chin link barriers. While not the most inventive, the scare actors delivered with varied scare techniques from loud noises to stilt walkers.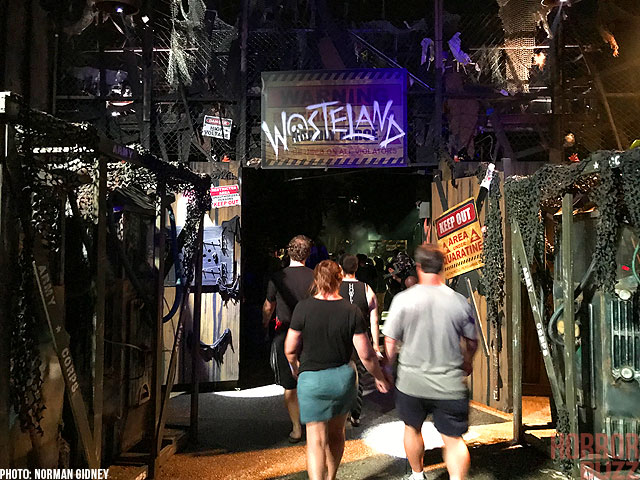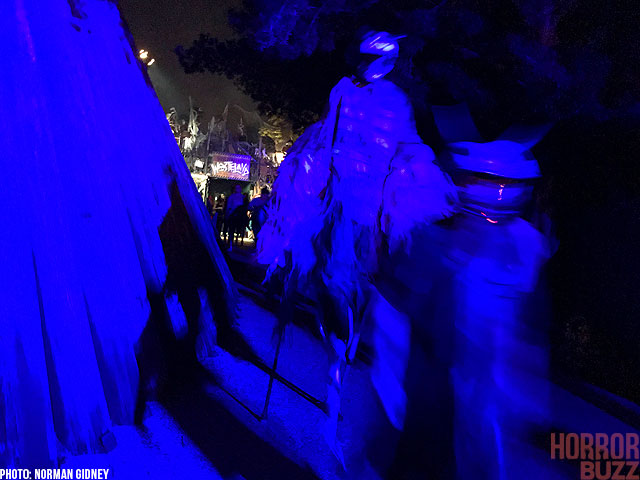 Meat Market
Certainly the most themed of the scare zones, Meat Market is blood-soaked homage to every cannibalistic film ever made. Chainsaws and creepers at every turn in this area.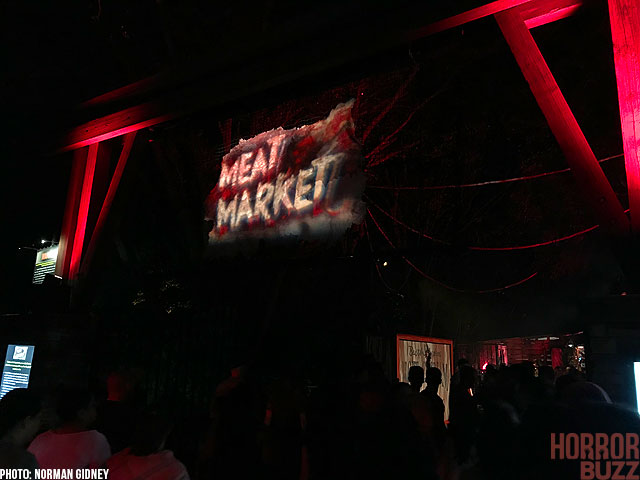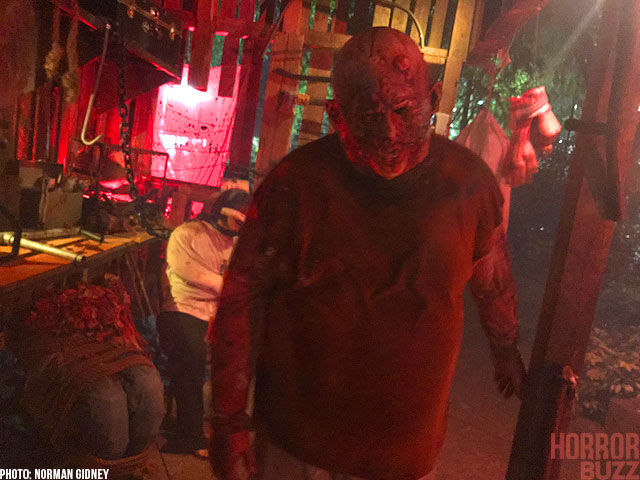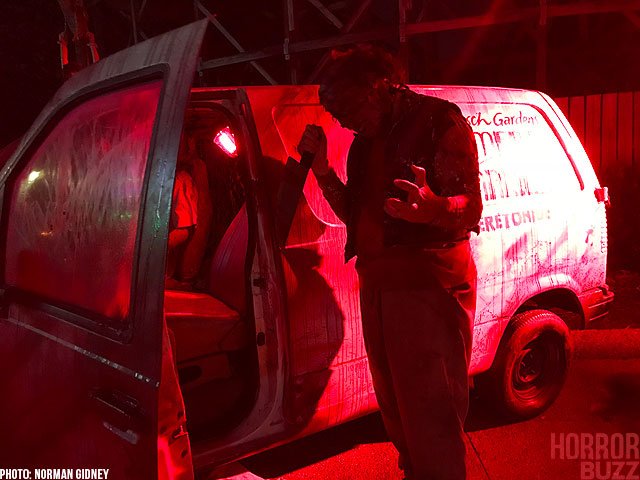 The Playground
Our favorite scare zone of the night, The Playground had an unsettling sense of self and a wickedly macabre ensemble that was on fire the night we visited. Sprawling, sparse in areas, yet creepy enough to keep the vibe going, the zone used lighting to great effect along with eerie AF masks, make up, and costumes to put visitors into a world where school was out… for ever.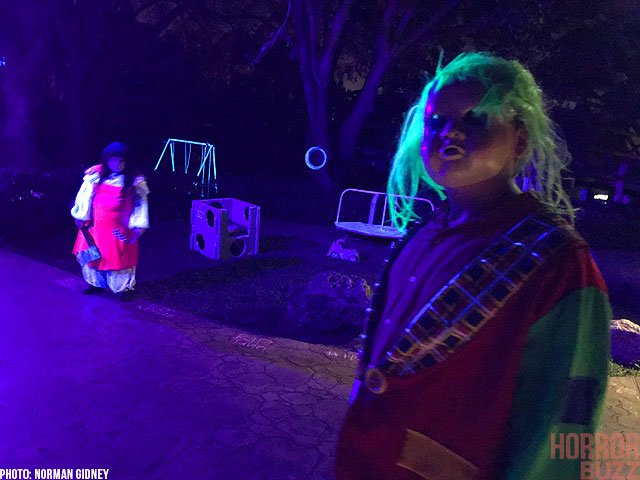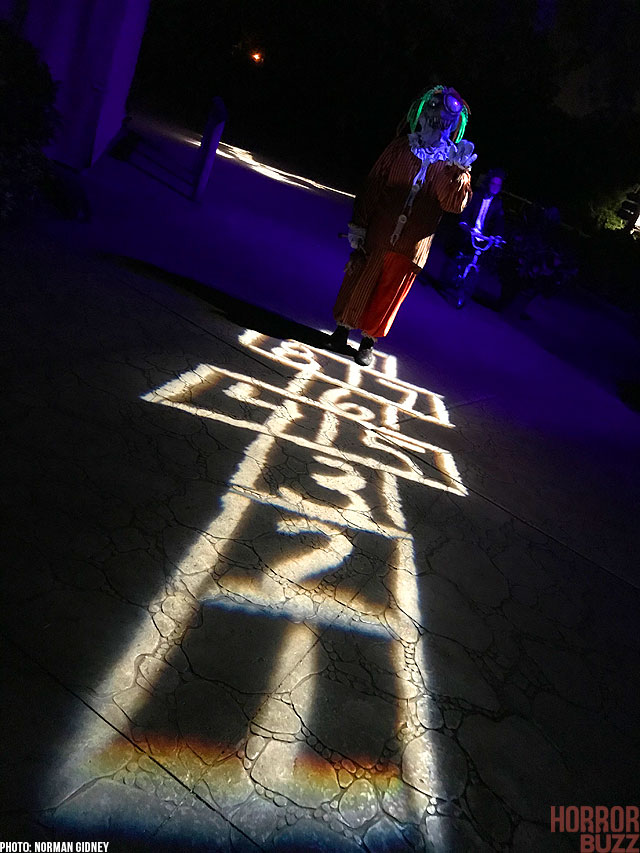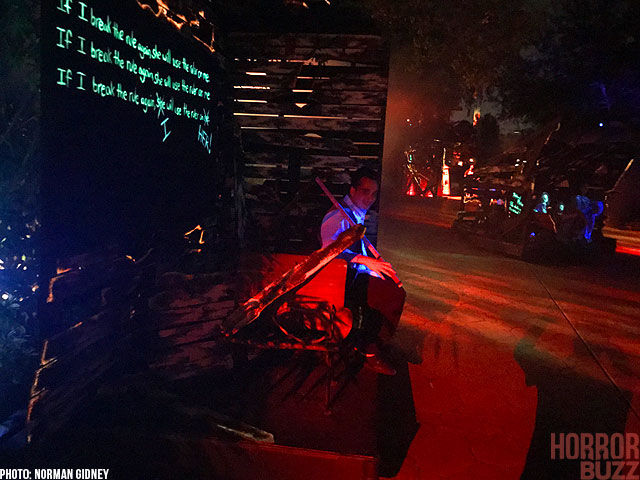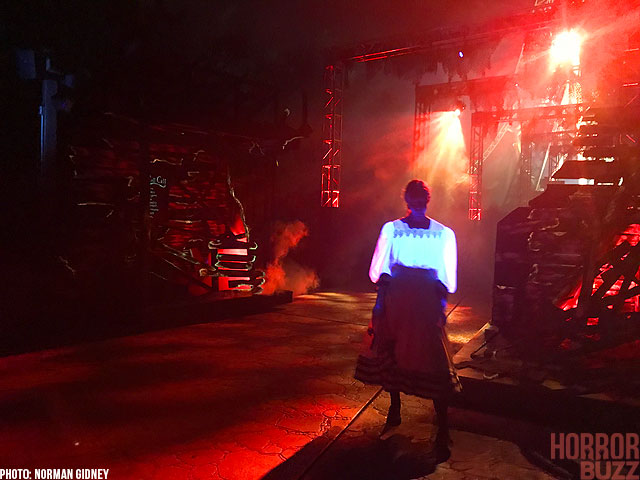 Haunted Houses
Overall, Busch Gardens Tampa delivered BIG TIME on the haunted houses. They handle things like Knott's Scary Farm, with a few new mazes per year along with returning experiences. This year the two new houses offered scares a-plenty, with one clear stand out. The other returning houses gave the two new ones a run for their money.
Demented Dimensions
Our favorite of the two new houses, Demented Dimensions was an absurd, surreal walkthrough that felt like haunt stew, yet worked on a ballsy, surreal level. Every single thing you can think of was used in this maze along with every single setting possible.
We venture into the Sterling Manor. Here Dimensions have began to implode, explode and intertwine to great effect. The set design and lighting here are over the top with some adroit use of black space and sets that seem to have been sliced in half by forces unknown.
This is really nothing more than a pastische of hiding places for monsters to terrify guests as nothing makes a whole lot of sense. That is okay though, it is done well, and in the scariest way possible. So much fun!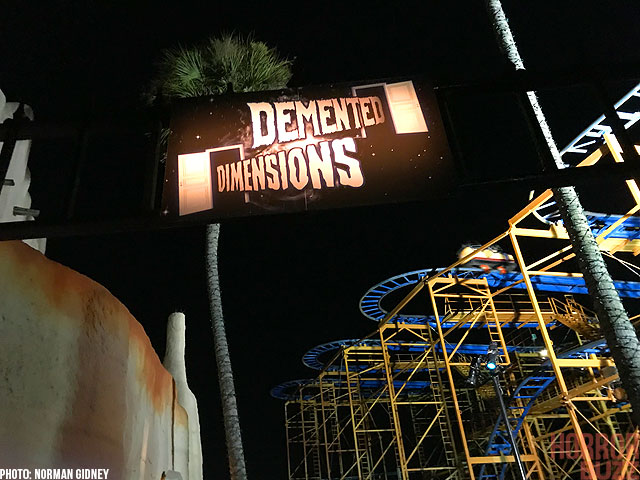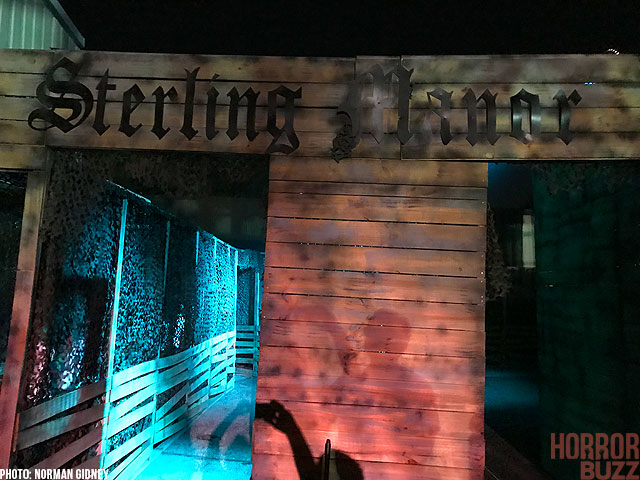 Undead Arena: LIVE
Have you seen The Running Man? Hunger Games? Battle Royale? You have seen Undead Arena: LIVE. We are the contestants and the victims, attempting to survive a slew of game show scenarios and make it to the showcase showdown. Great idea, good execution. While the house is more painted walls than set pieces, there are some ingenious, choose-your-own-path moments that open visitors to some great surprises.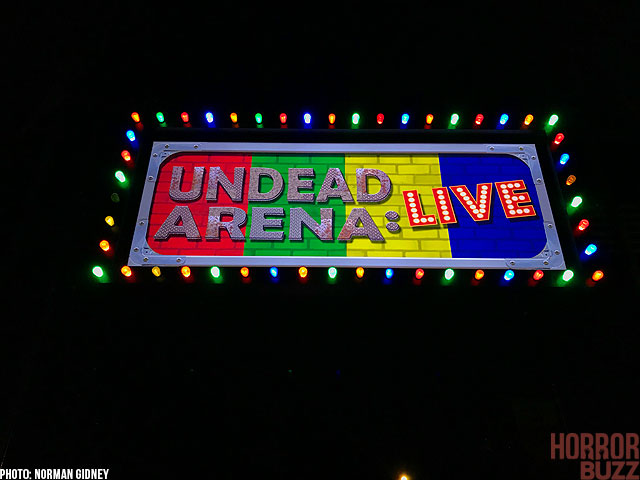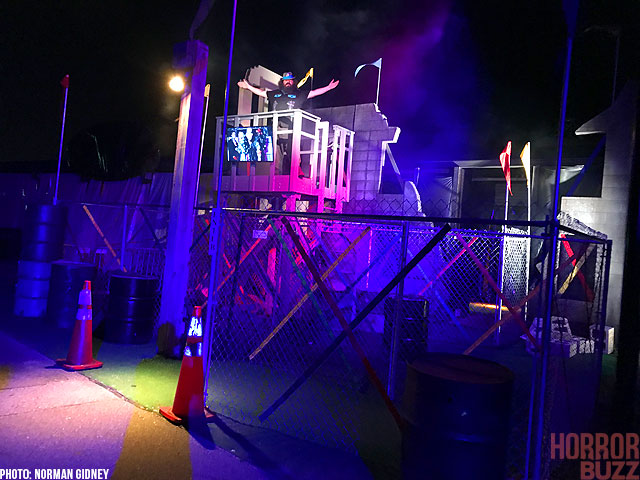 Returning Favorites
Like many haunts, Busch Gardens Tampa brings back the haunted houses that guests loved.
Unearthed
The storyline here is that during maintenance in the park, a house buried by progress, has been unearthed. This house contained an evil spirit that collects the eyes of any victims that it can get its hands on. Creaking walls and mysterious passageways abound as we traverse the chaotic construction site. The scare actors were on point in this house the night we visited, popping from every conceivable corner. There was a fair amount of gore in this one too which, let's face it, we liked.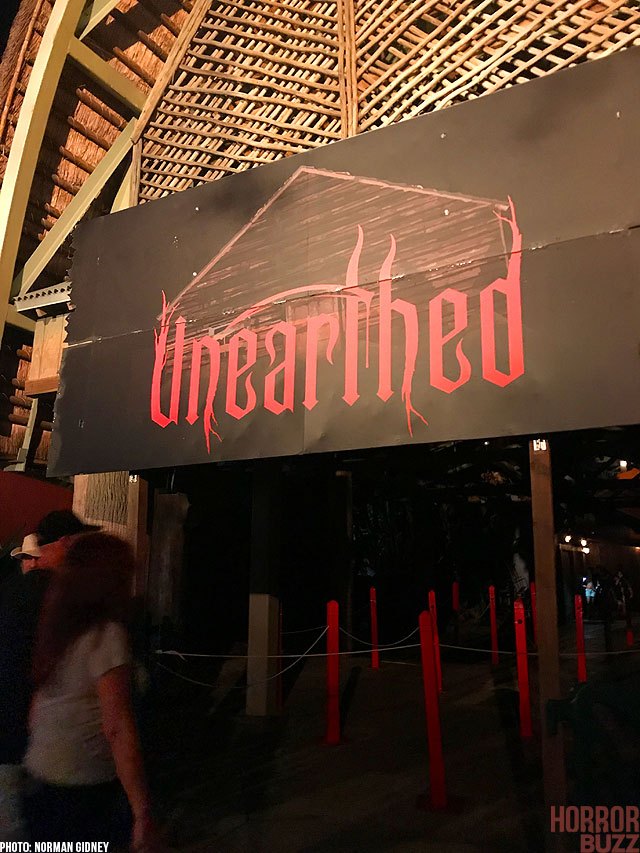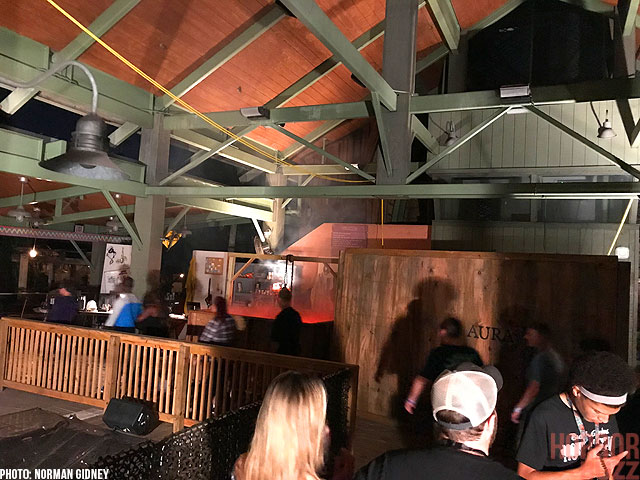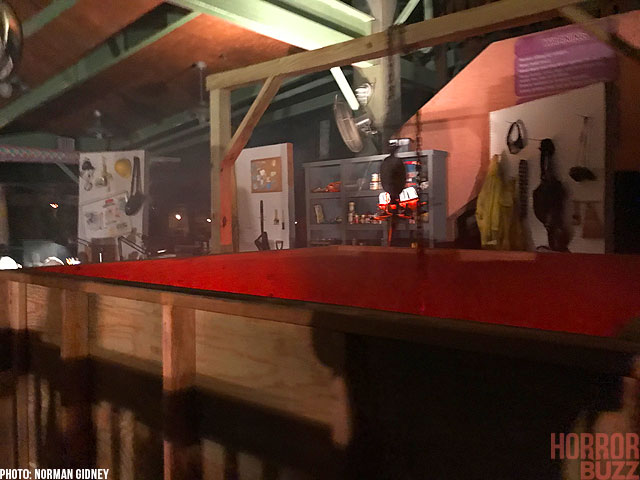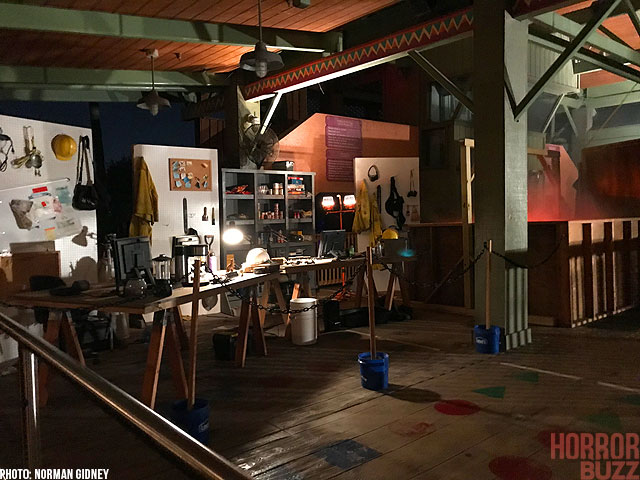 Motel Hell
Overtaken by the sands of time, both literal and figurative, Motel Hell is an adventure through an abandoned Florida beach hotel. Frozen in time, the endless parade of patrons continues to haunt the halls of this delightfully tacky roadside oasis. Think Twilight Zone meets the Sunshine State.
This house features set design and decoration on par with the best original Universal Studios Houses. Meticulous detail abounds as we enter a dated lobby draped with spiderwebs and encrusted with sand. We venture deeper into the maze of motel rooms discovering macabre and zany inhabitants at this supernatural stopover. Things get more and more surreal with dimensions and time folding in on itself, al while the staff tries to keep things in working order.
This maze in particular had one of the most ingenious scares of the season. We won't spoil it, but we really loved the patio furniture.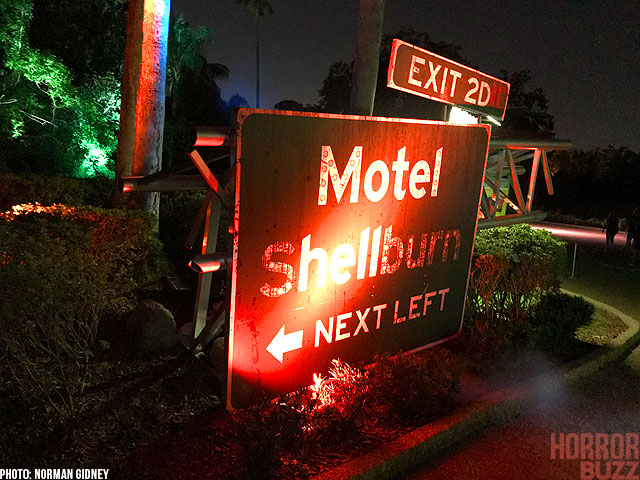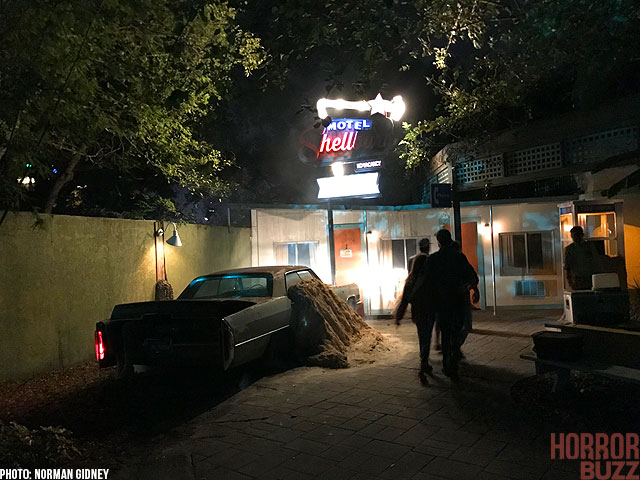 Death Water Bayou
Death Water Bayou is everything you want in a bayou maze about a Voodoo Queen gone mad. We begin the brilliant facade leading into the Voodoo Queens home. After being properly cursed we are let loose into the swamps to fend for ourselves. This house was, without question, the most visually impressive of the bunch. Form the opening facade to the murky swamps, to snaking under a funeral procession (one of my favorite moments of Halloween 2017) this experience delivered on multiple levels. We had an immersive set design, a clever layout, fun story, and of course, the right actors to pull the experience together.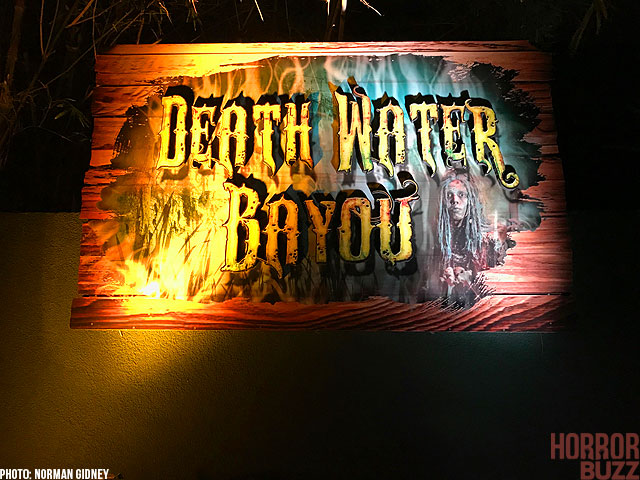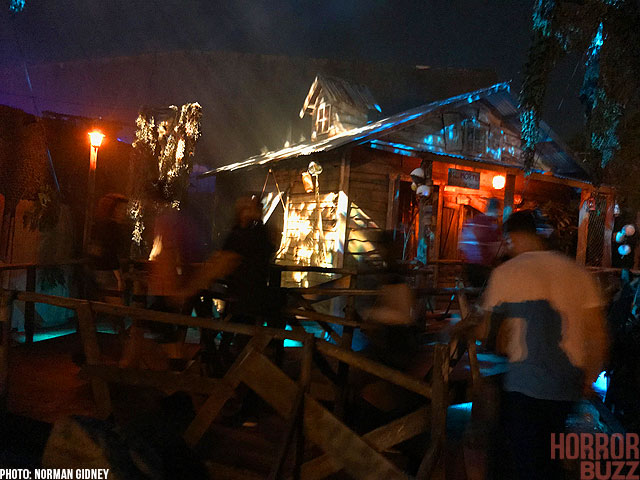 Black Spot
Dagum pirates and their curses. Here Saw Tooth Silas has decided that we should die and sends us to The Black Spot. winding through the scenic leftovers of a closed ride, Black Spot is another creative success. Set design is lovely as are the ingenious uses in smell, and various surfaces that guests walk on to heighten the storyline.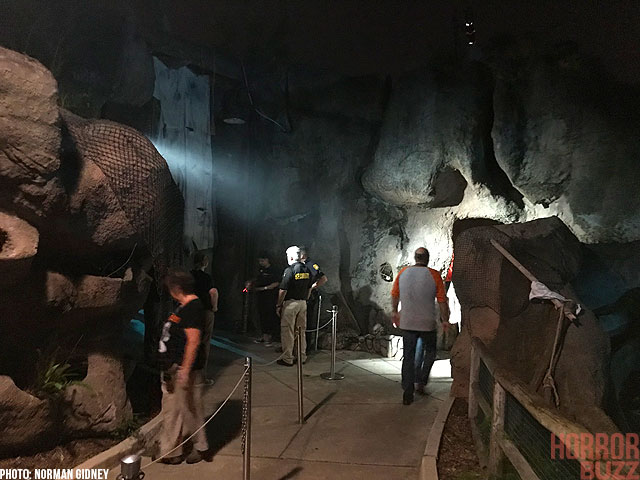 We also had the chance to experience this park's world class coasters and thrill rides, and they did NOT disappoint. Sheikra, Falcon's Fury, Montu, and Cobra's Curse were all thrilling fun. However it was Cheetah Hunt, in near total darkness that was the stand out coaster during Howl-O-Scream. Diving ad darting into the pitch black ravines, gliding inches from the water, this was an exhilarating thrill. Loved it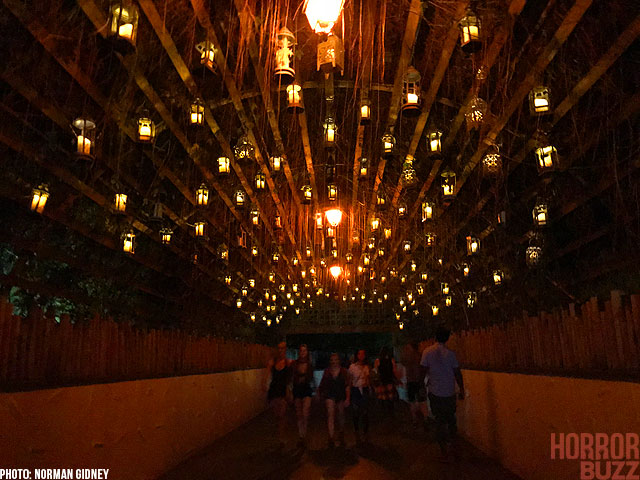 We were totally impressed by Busch Gardens Tampa Howl-O-Scream. The eclectic mix of themes, haunted houses, scare zones, and the relentless coasters and beautiful, expansive park, make this worth getting out to Tampa.