Knott's Spooky Farm has been a favorite in the Fearist household for the past several years. This year, it sure did not disappoint. It's not just a trick or treat event, the whole farm is filled with family friendly festivities that have just the right amount of spooky Halloween fun.
The kids grabbed their trick or treat bags upon entry and we immediately made our way into Calico Ghost Town. Themed characters milled about posing for pictures and interacting with both adults and children. Ghost Town's candy stations were manned by employees who were gladly handing out some pretty good candy. Hopefully my kids didn't notice a few Kit Kats missing from their loot bags. Hey, I got hungry. It's not my fault that I love chocolate.
While making our way through spiderweb covered Calico we met the ghostly school teacher, "Agrippa," aptly named because she used to "keep a grip on the children in school." Her charming smile and commitment to character was top notch. She even gave my two little goblins an A+ in ghoul school.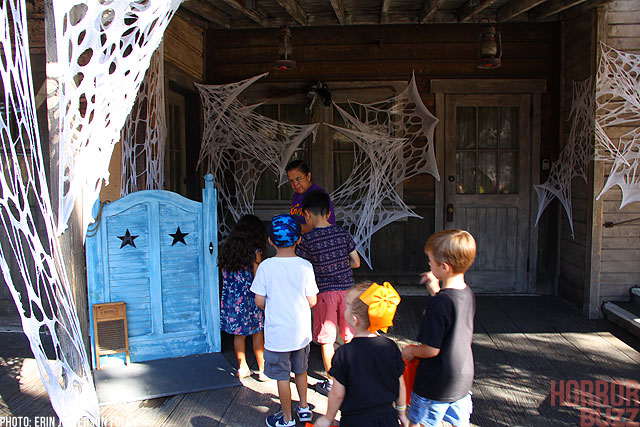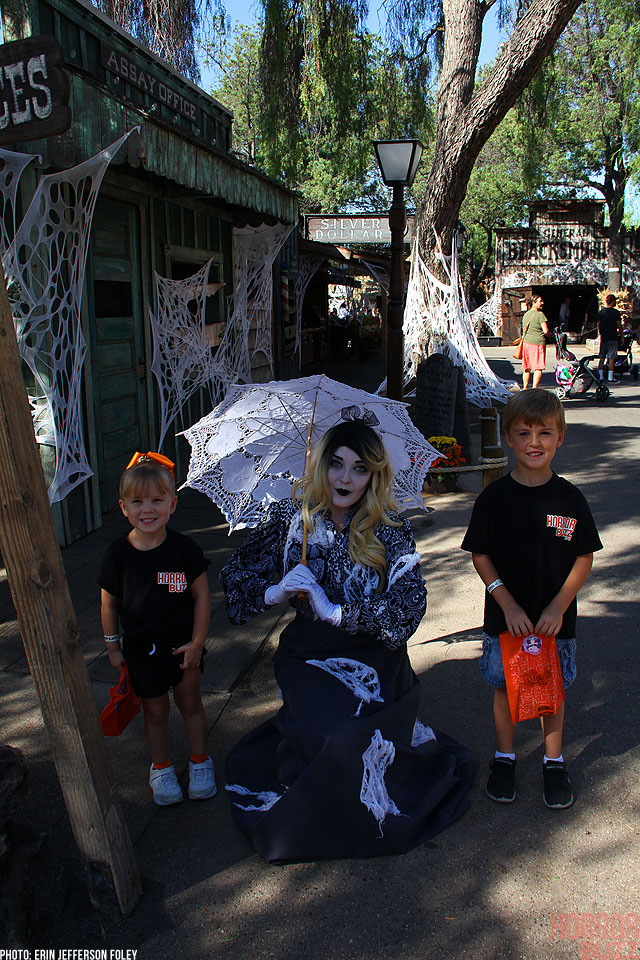 In the livery stable creepy crawly hornworms, snakes, preying mantis, scorpions and other creatures made kids squeal in both delight and horror. My little girl was not a fan of the stall decorated to look like a giant spider cave, she preferred the stall next to it where Clark the horse was painted up like a skeleton.
Costumed character, "Russel Crow," posed for a photo op.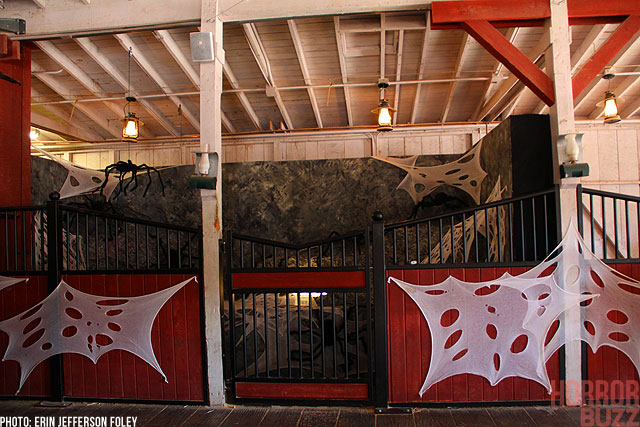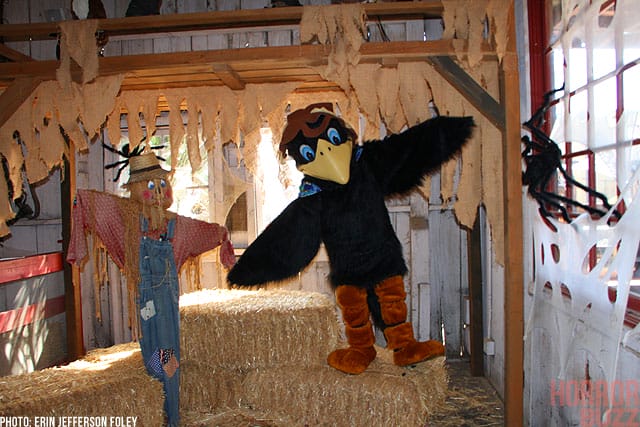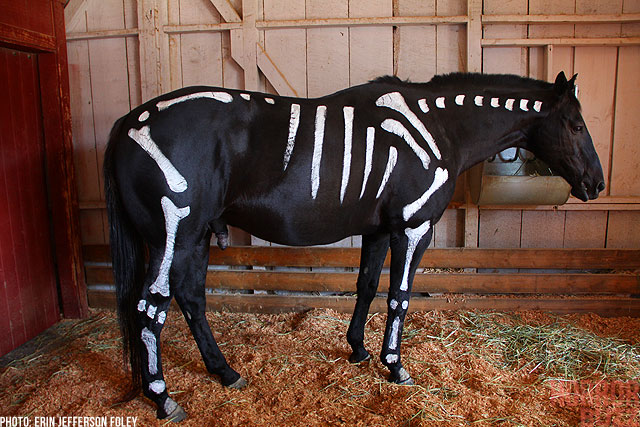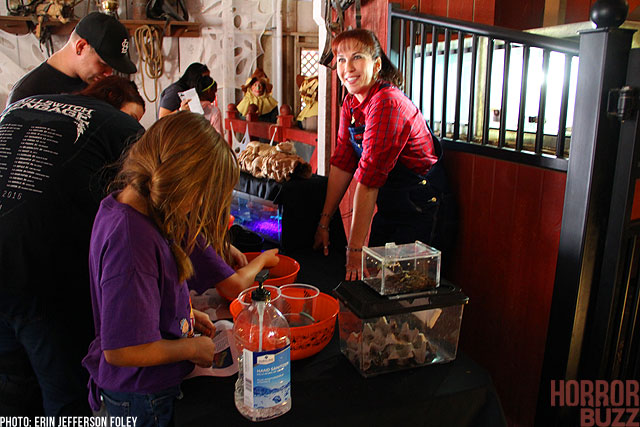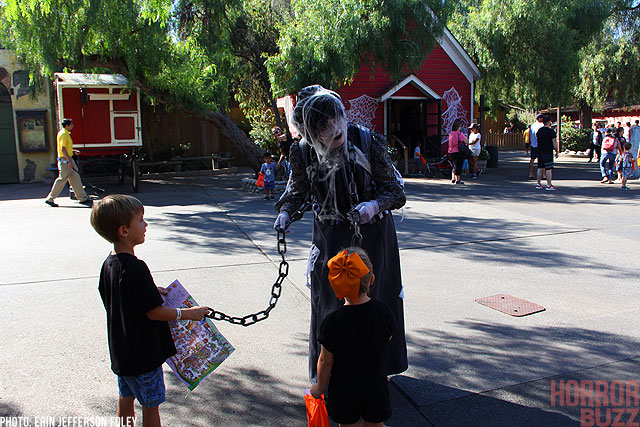 The Fiesta Village's celebration of Dia de Los Muertos is in slightly a different location this year. It still has some great photo ops and gives guests a chance to learn about this cultural celebration that has gained a lot of popularity over the past several years.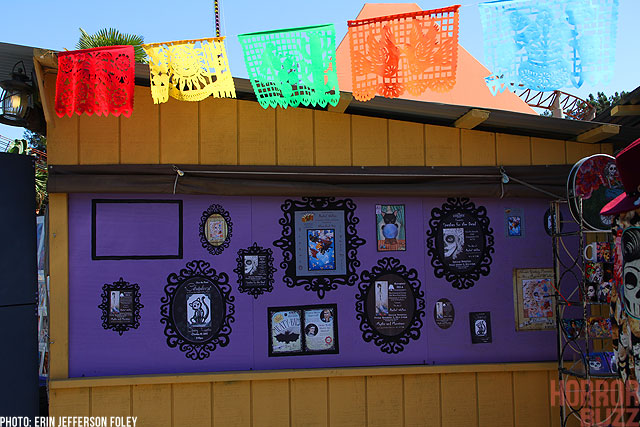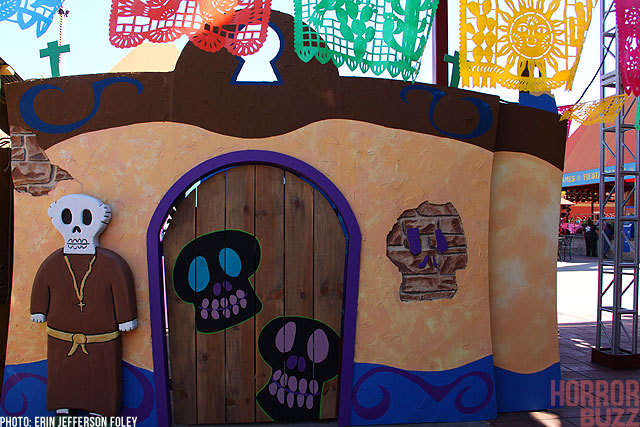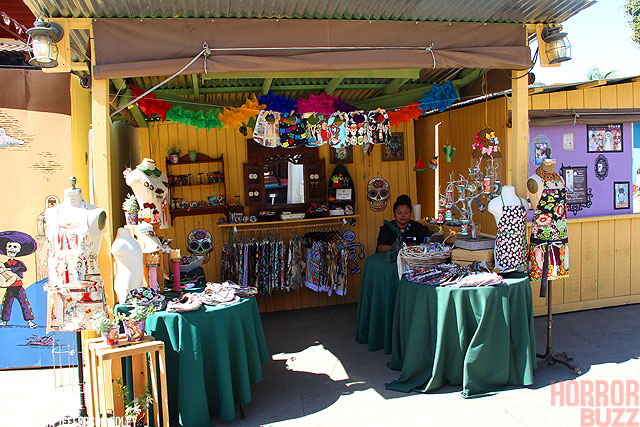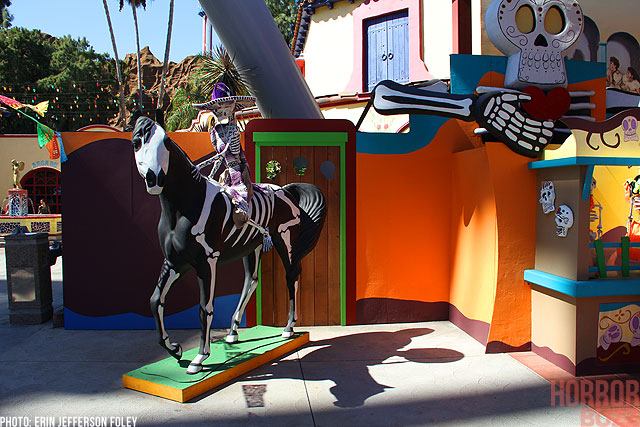 One of the standouts this year was the Ghastly Gallery at the Boardwalk Ballroom. I was impressed by the detail of the decorations in the gallery. From the murals to the talking knight, the decor was splendidly spooky. Other touches like the candlesticks and hauntingly handsome ghouls scattered on the walls gave everyone plenty of things to look at before the show. The scavenger hunt was a nice touch so that kids aren't getting bored waiting for Vincent Van Gross, the gallery curator, to start the show. The show itself is entertaining and well written (written by Tim Klega and Ken Parks with help from Jeff Tucker). It was also just long enough to keep everyone interested. The curator uses magic along with help from Lucy and some audience participation to create a "monsterpiece" worthy of hanging in the gallery. After the show, Lucy and Vincent Van Gross stay to greet guests and pose for pictures. Sadly, I missed this show last year. That won't happen again as it was the highlight of my day.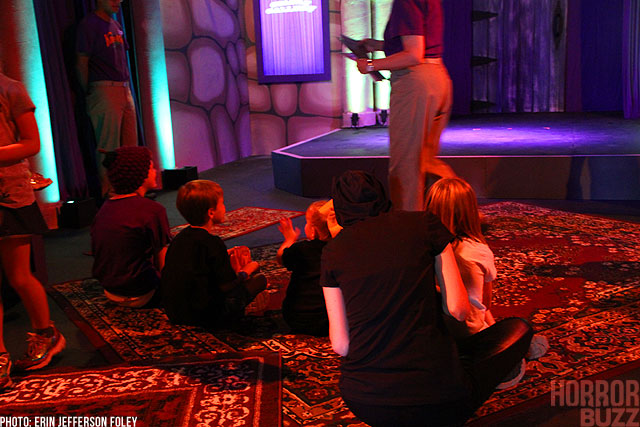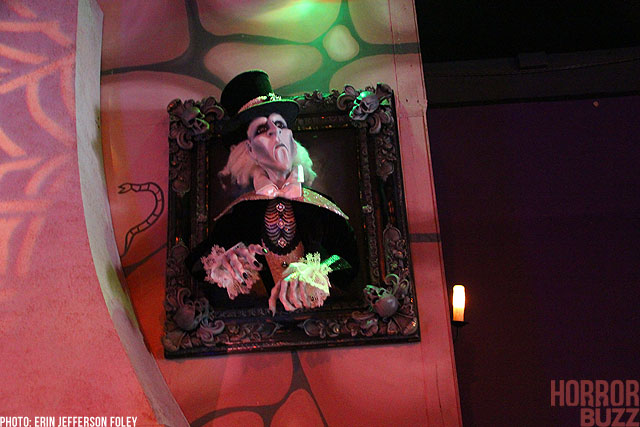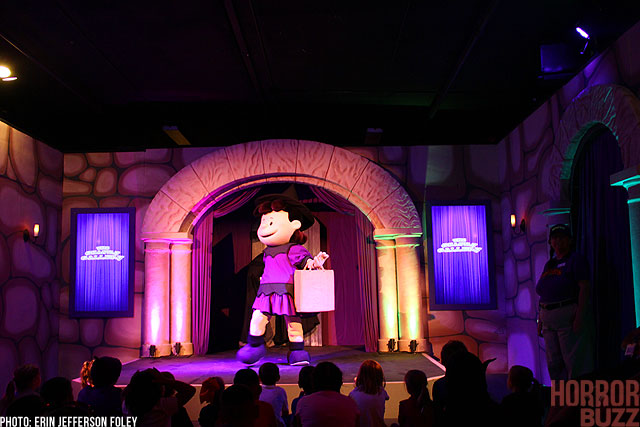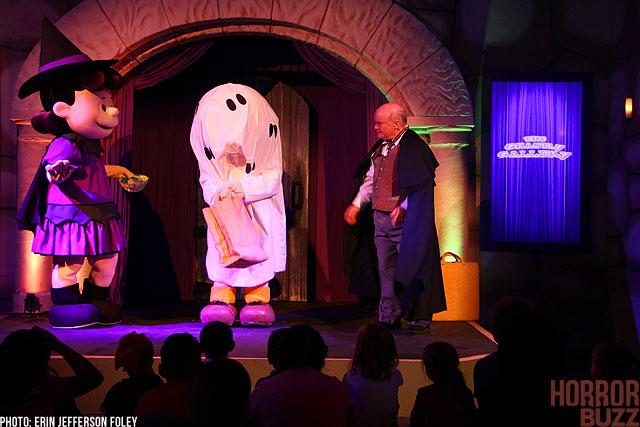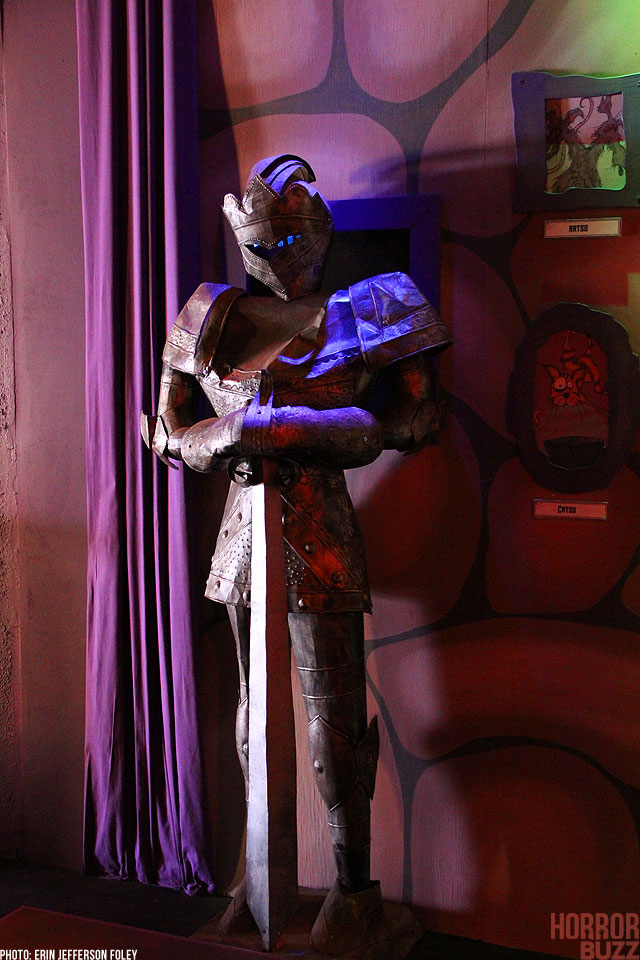 Camp Spooky was alive with costumed children running about while the Peanuts Gang sang and danced to Halloween favorites at the Camp Snoopy theater. Always the number one spot for younger children, you'll find some great photo ops in the camp.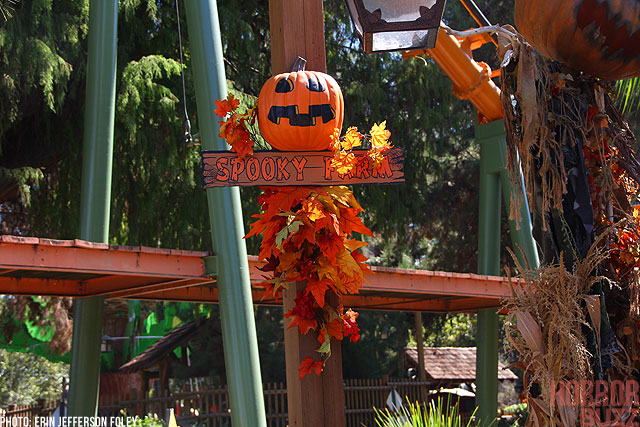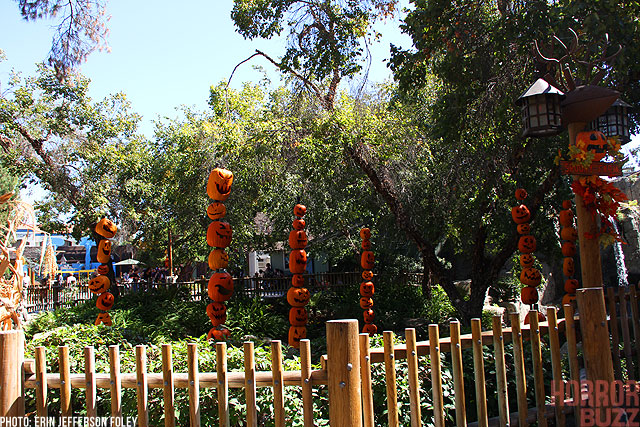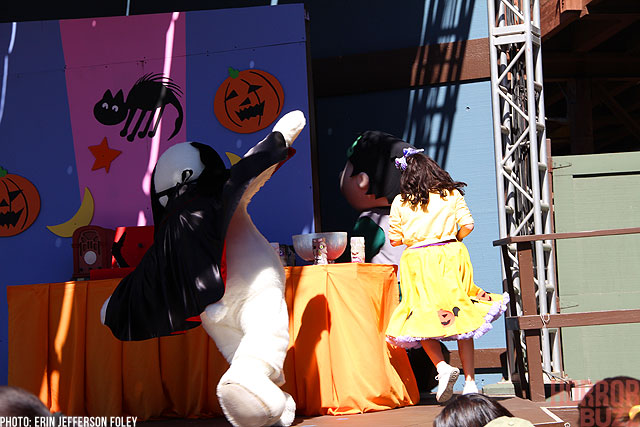 This seasons theming of the Grand Sierra Railroad was a wonderful addition to Camp Snoopy. Linus narrates as the railroad takes riders on a great Halloween adventure. The whole Peanuts Gang makes an appearance during the trip accompanied by some other traditional Halloween monsters. My own two monsters absolutely loved it. The Grand Sierra Railroad is a do not miss attraction.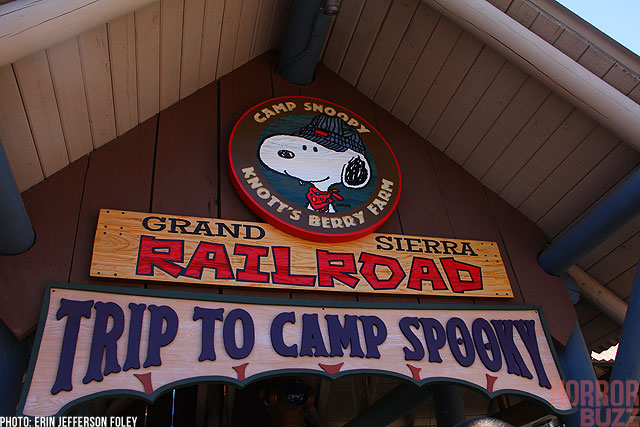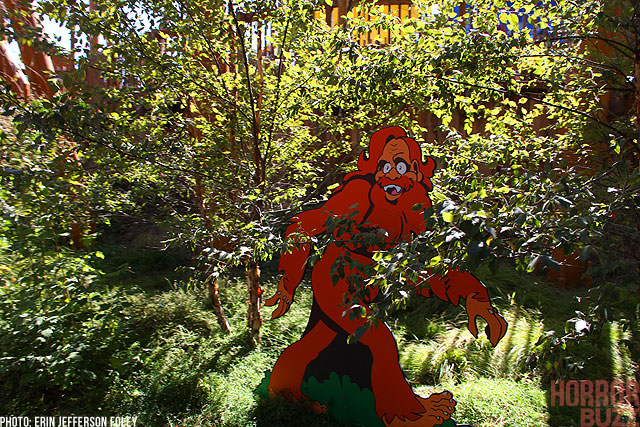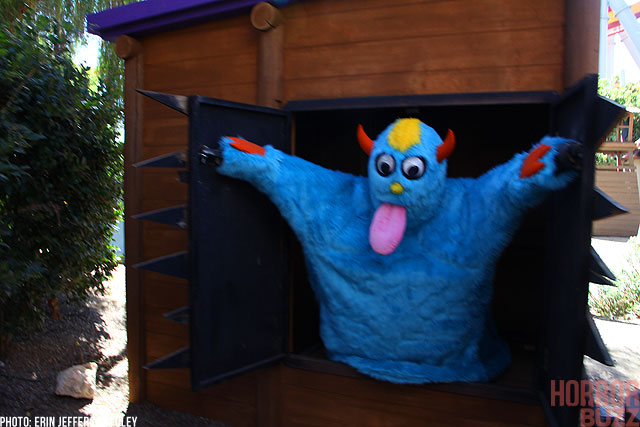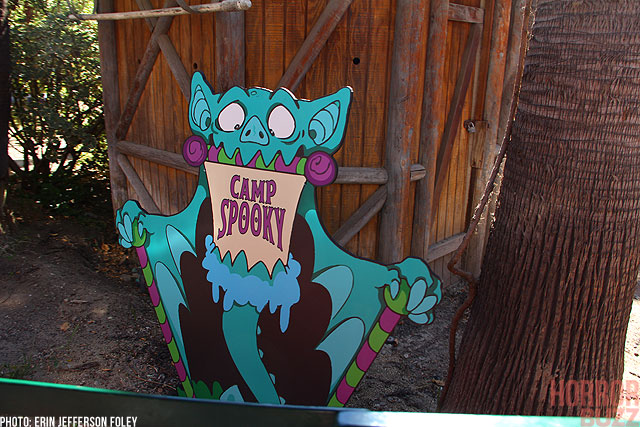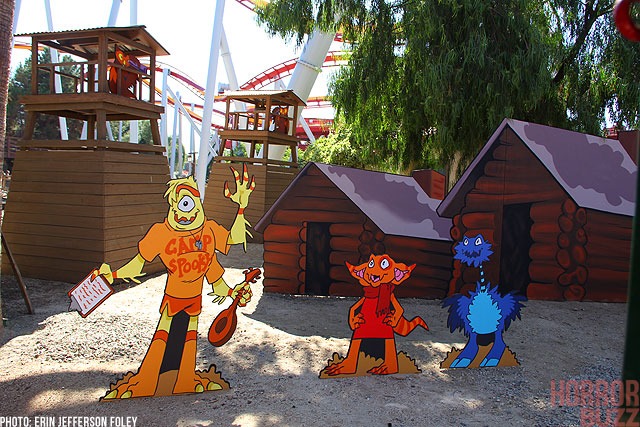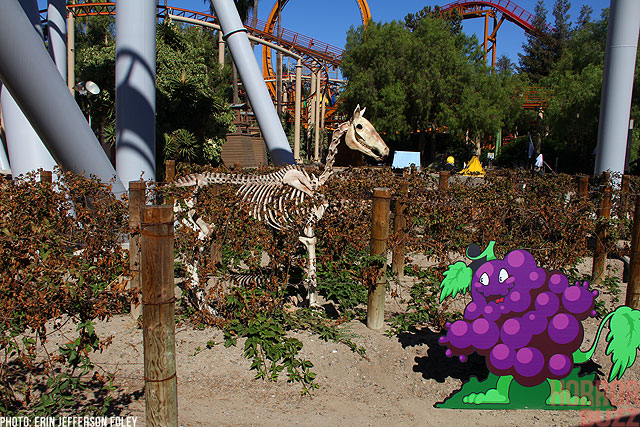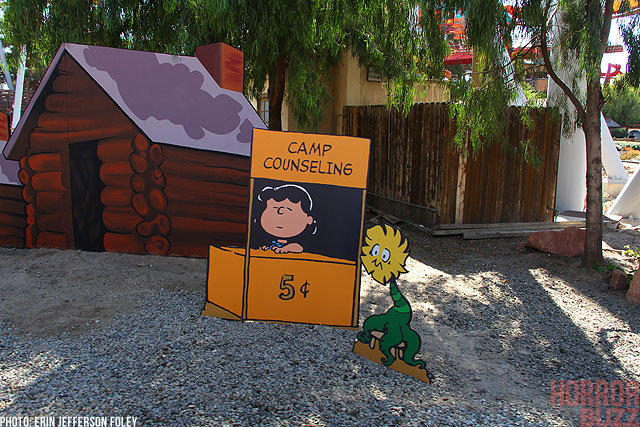 If you haven't made it out to Knott's this season, what are you waiting for? There is only a couple more weekends left before Spooky Farm makes its way back into the fog. It's a tremendous value and the perfect place to make more memories with your family. Happy haunting!
Grab your Spooky Farm Tickets here!