It's that time of year again, when the Queen Mary opens her doors to allow the denizens of Dark Harbor to come out to play. The last of the "major" haunts to open this year, Dark Harbor's opening night on Thursday was filled with frights, fun…and some issues as well. While some of the mazes were strong, there were some other things that could possibly mar your overall experience.
With seven mazes overall this year, it's also worth noting that none of them are situated within the dome this year. Instead, four are on the ship, while the rest have been moved into the main area. Sometimes, this works to their advantage…other times, not so much.
Let's talk about the mazes themselves before jumping into some general points that we believe are worth mentioning.
INTREPID
The home of the Iron Master returns this year in a marginal improvement. While we lambasted the lack of scares and use of chain link fences last year, Intrepid now is full of twists, turns, and some pretty decent scares. In fact, the very BEST scare of the night happened in this maze.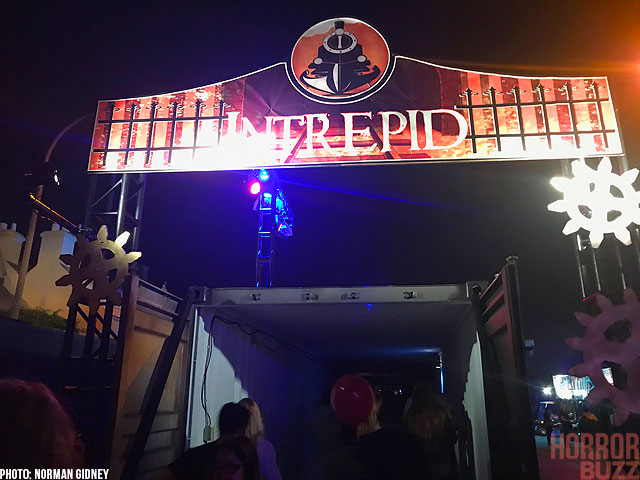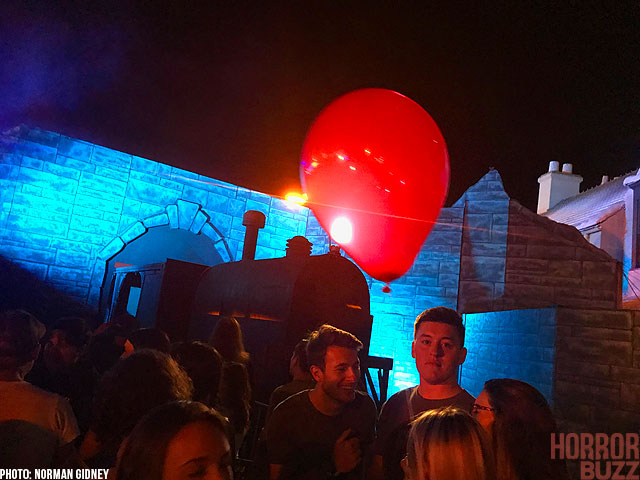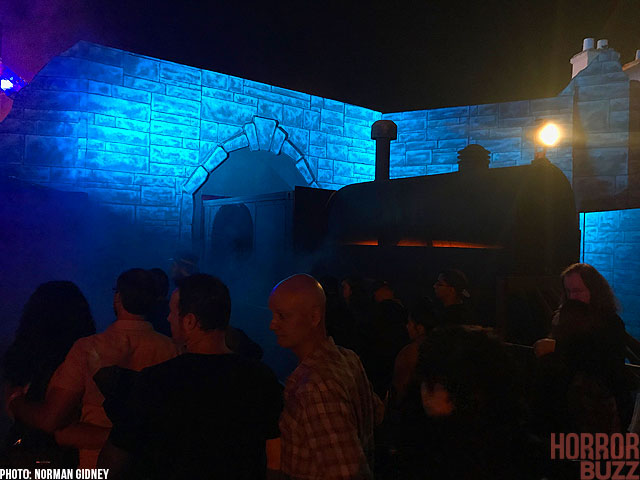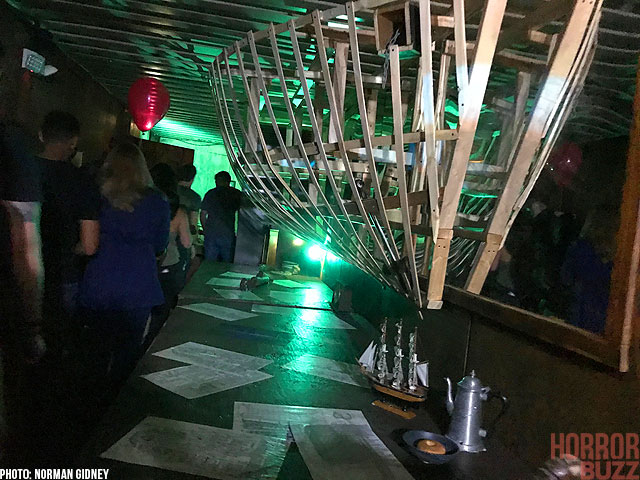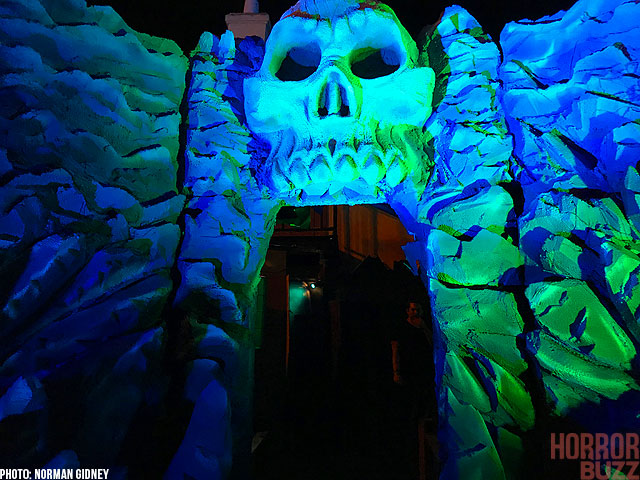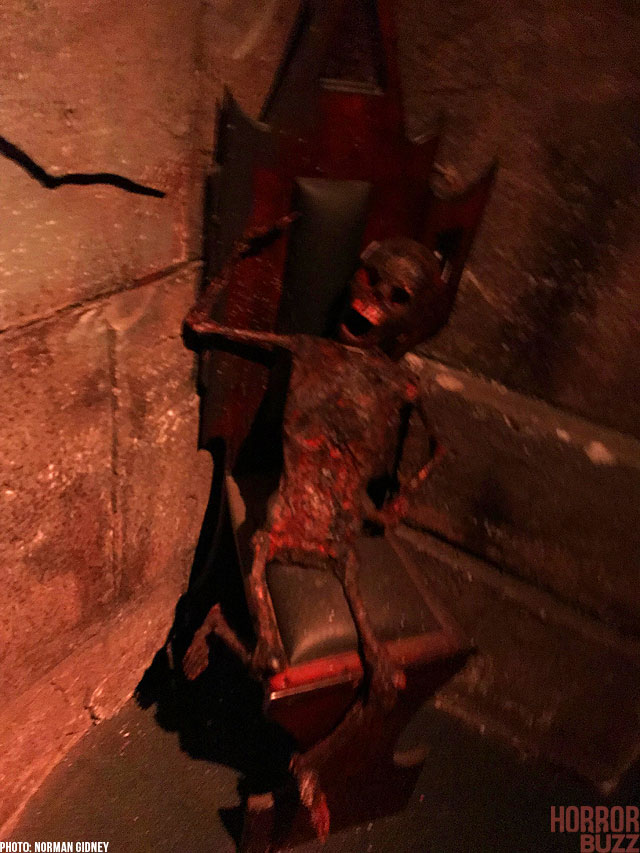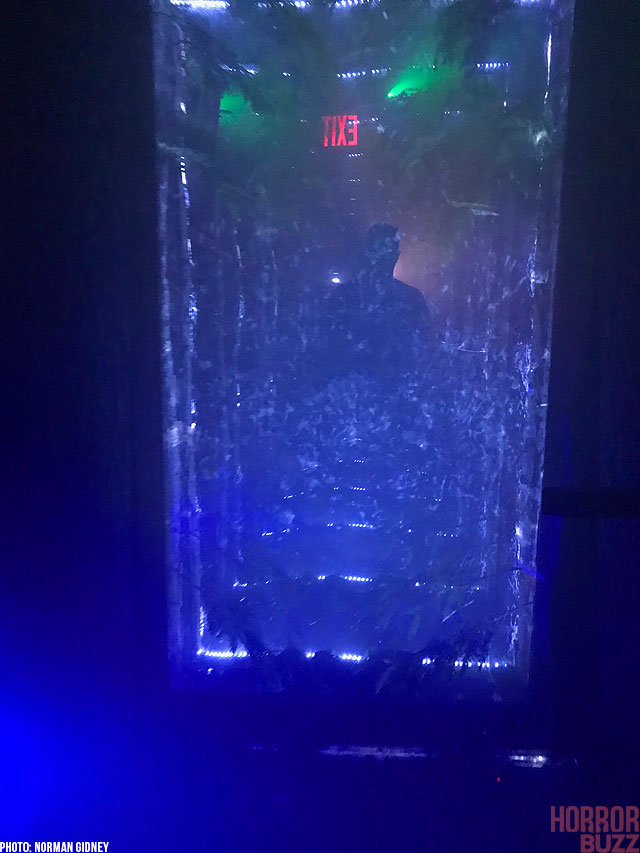 An updated train façade is still how you enter, and the first section does actually feel more like you're walking on a train now. However, the story does get a little murky at points, as we are suddenly off the train and walk into something akin to Castle Greyskull. The former home of the VOODOO maze now serves as the last half of this maze. Walking through the catacombs and swamp is relatively unchanged, and we're not sure of how exactly it fits into the overall story, but hey, it made the maze better.
In fact, the "best scare of the night" that I previously mentioned definitely made the entire maze worth it. We won't spoil the fun, but we will say the use of fog of green laser is used to great effect here, and even had the monsters laughing at how badly they scared me.
Definitely an improvement from last year…but we're still waiting for this one to shine.
CIRCUS
Once one of my favorite mazes, Circus has now moved away from the dome and just in front of the ship. Located under a literal big top, it still includes some of the fun and frantic moments from previous years, however, I can't but feel that it lost something during its move. I can't quite place my finger on it, but I feel as if there is indeed a bit of charm missing in this incarnation. It seems a bit shorter than before, and I was left wanting more.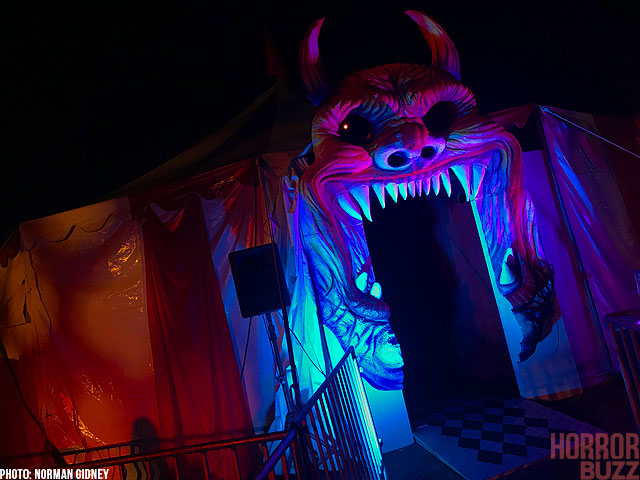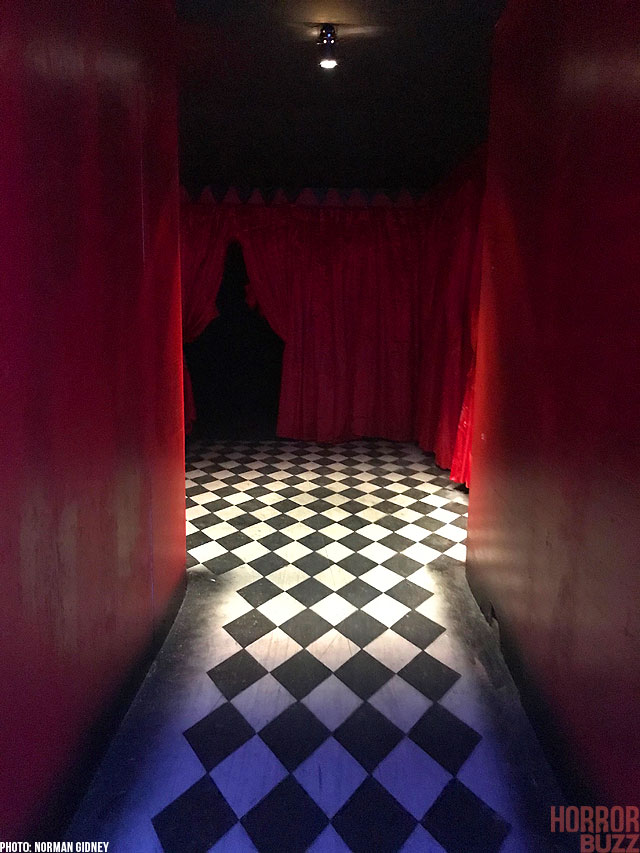 All of your favorite bits are still intact, though, such as the multi-door opening sequence, the hall of mirrors, and of course, the ball pit. I think this one just needs a bit of a refresh, just to make it whole again.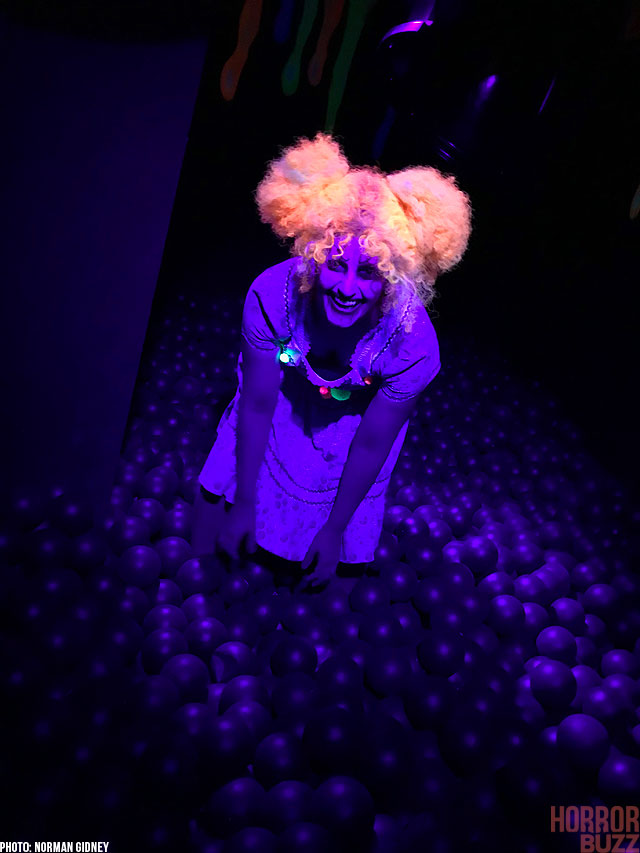 Circus plays home to one of the "secret bars" located within some of the mazes this year. It's kind of luck of the draw on how to get into it, but look for a Zoltar-like machine to see if you can check it out. This definitely was a fun addition, and a welcome surprise, with some fun decorations and even a chance to scare people yourself!
SOULMATE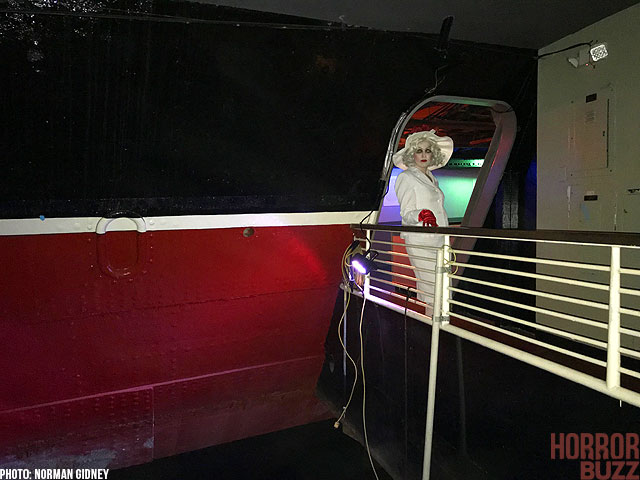 Graceful Gale's search for the perfect lover continues, as the maze seemed relatively unchanged from last year's refresh. But that's OK, because it works just as well this go-round as before. I really enjoyed the opening last year, where a pre-death Gale takes your group in while throwing compliments at the men and shade at the women. I was glad to see that back again, as it was a fun, immersive way to begin the maze.
But again, this maze works nicely, and it has some pretty decent scares. I still wish the ending was a liiiiittle bit stronger, but the rest of the maze makes up for it.


B340
The journey into Samuel the Savage's psyche is always a good time. It was made even more enjoyable this year, because I seemed to have gone in with a very small group, making it even more intimate all around. Turning the corners, while not being stuck in a conga line, is always a rarity but it helps quite a bit with the scares. I realize this won't be the same experience for everyone, but it was still a blast. Much like Soulmate, this maze works on many levels, and I was glad to see they didn't mess with something that is a lot of fun.




LULLABY
Lullaby continues to be the creepiest maze of all, with Scary Mary haunting you at every turn. Maybe I am remembering last year's incorrectly, but I feel as if this year there are a LOT of new show scenes here…and all for the better. We went through this first in the evening, so yet again, we were a small group. The scares came fast and furious in every direction, and every single Mary was on the top of their game.
We even got a pretty cool view of the pool that Mary (supposedly) drowned in, which made the maze even better. Definitely became my favorite this year, and one I went through a few times.




DEADRISE
The dead seamen are back at it again, and even in its new location and slightly different layout, Deadrise continues to be a lot of fun. There seemed to be less actors in it this year, but the ones that were present gave it their all as we navigated their ship. However, I think some of the water effects need to be turned down juuuust slightly, as some folks walked out soaking wet. That said, it was a slightly warmer evening, so hey, they cooled off!





FEAST
The newest maze this year revolved around the Chef of the Queen Mary, who has an inkling to make you the next main course. Located on the ship, I went through this twice, and I am glad I did. The first time, I walked away feeling slightly unimpressed, but the second time, later on in the evening, everyone was firing on all cylinders.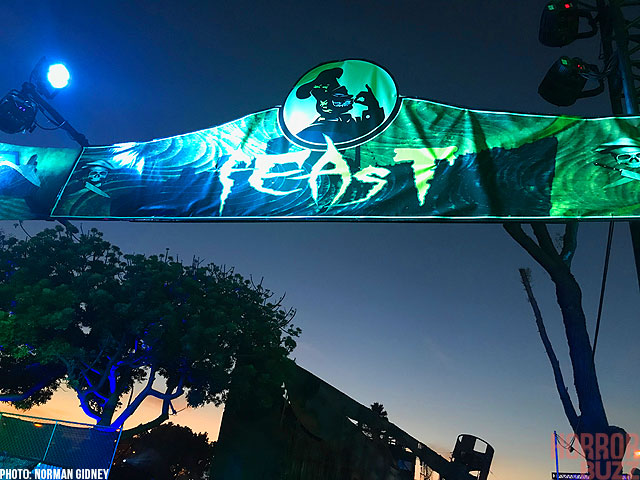 There were a lot of fun moments and set design here, such as crawling through the oven and making your way through the winding kitchen. Special shout out to the ladies in the freezer for giving it their all. This one actually turned out to be a lot of fun, and a worthy addition to the Queen Mary canon once they worked out the kinks.











GENERAL ATMOSPHERE
As per usual, Dark Harbor has a plethora of entertainment located on the grounds, in addition to all the mazes. Much like last year, it is kind of incredible how many stages they have scattered throughout, with acts scheduled every half hour or so. Everything from variety acts (like our friend Twirly!), magic (like our friend Micah!), aerialists, side shows, sliders, music, and more, there is never a dull moment at Dark Harbor.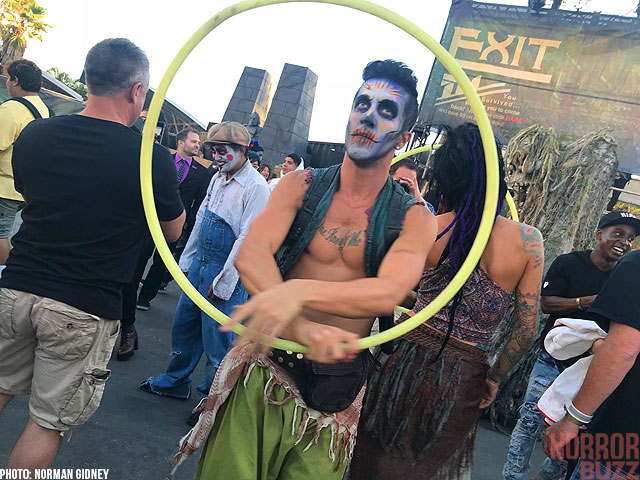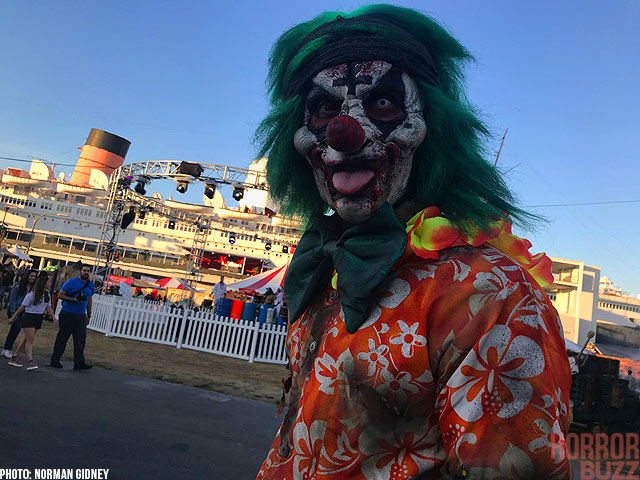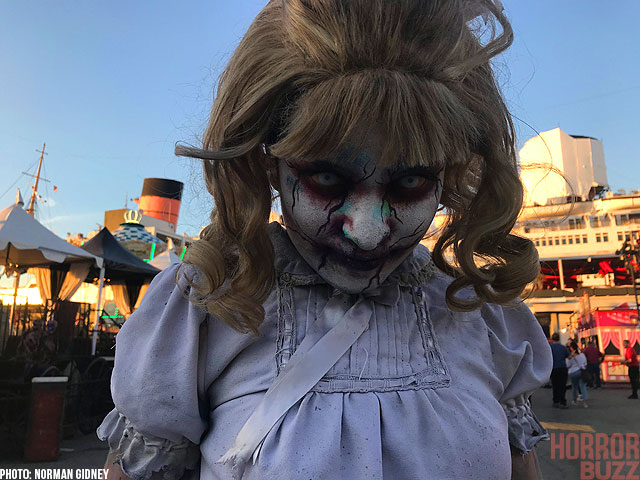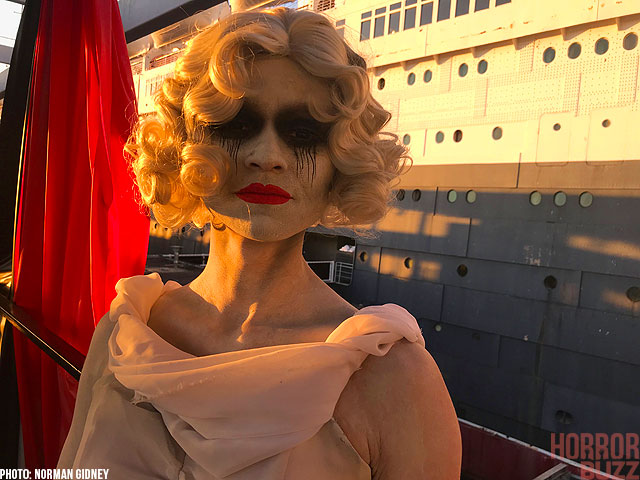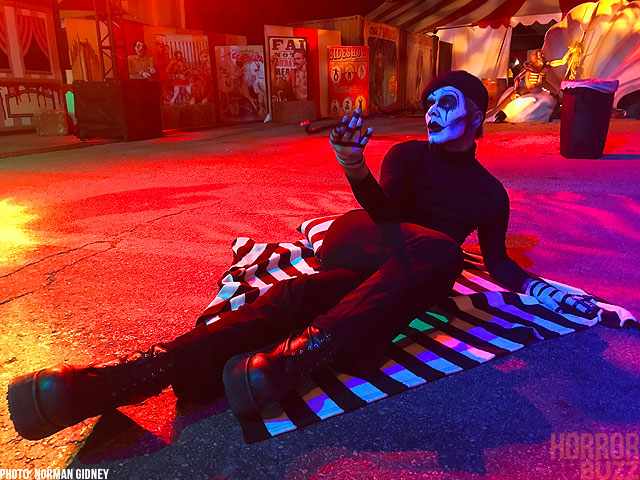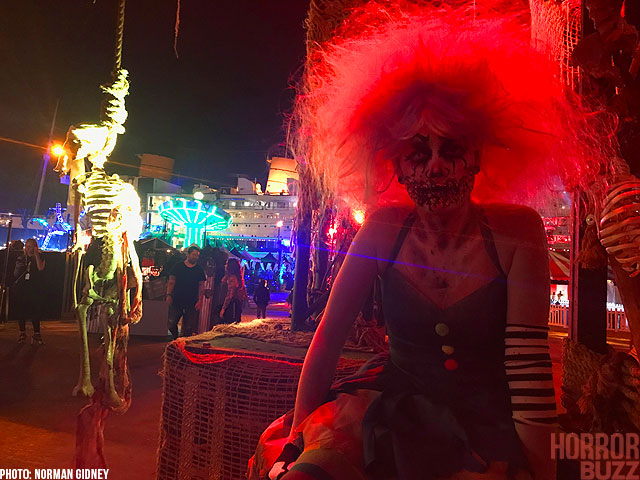 Of course, tons of monsters roam the grounds as well, including the main characters, so there is plenty of fun to be had. One of the things I love best about Dark Harbor is that the monsters in the main areas go out of their way to interact at times. I shared a moment with a clown and a sailor at one point while asking for directions that was completely random, unscripted, and while not scary, left me with fun lasting memory of the evening. Their talent is always fantastic, and needs to be commended on a job well done.
That said, there are plenty of things about these extra experiences that need to be addressed, such as…
PRICING AND UPCHARGES
It's no secret that Dark Harbor sells their tickets for a notoriously low amount; you can purchase a regular admission for $20 on Goldstar most days, making it an affordable and enticing option for the masses. However, this low price is the gateway to a series of unexpected upcharges that can seriously put a hurt on your wallet.
Parking
For starters, on Thursday's opening night, if guests arriving wanted to park in the lot right near the boat, as in years past, it would have set them back $40 (for comparison, parking for the day at Disneyland is $20 and Knott's is $18). Parking should never be that high, and the fact that it is left a pretty bad taste in a lot of people's mouths when arriving for the event. There were other parking options ($15 to park at the courthouse and take a bus ride, or $16 to park at the Long Beach Aquarium with the option to purchase an additional $8 cash-only boat ride across the bay to The Queen Mary), that seemed a little extreme.
UPDATE: In a very proactive move, Queen Mary Management has since taken steps to make parking off site a more attractive and convenient option. They have expanded the two and a half minute shuttle service to-and-from the courthouse to begin at 4pm and continue operations until 3am. Over at the Aquarium of the Pacific parking, they have now made the Dark Harbor Express boat service (operated by Aqua Link) FREE, dropping the $8 cash-only fee. Not to mention there are even a few new surprises in store for those hopping aboard this vessel. There are no signs that the $40 parking next to the ship will be lowered, but these are certainly steps in the right direction.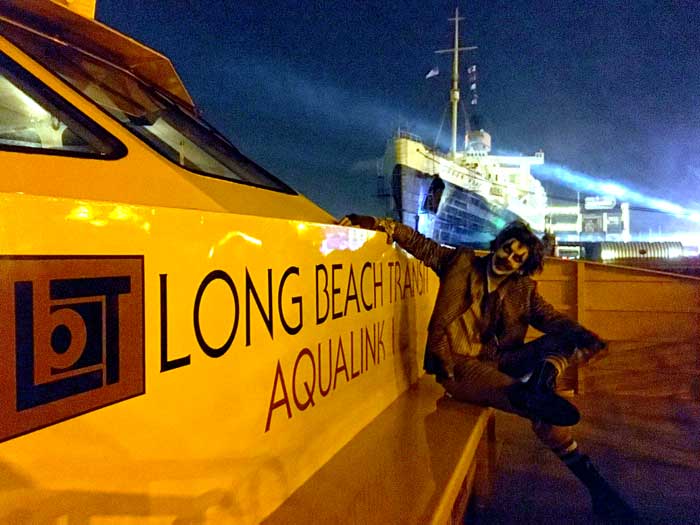 Food and Drink
The drink prices are also outrageous. One of their newest additions, The Meat Locker, is a bar made of ice and sub-zero temperatures. While "cool" looking, you won't even get inside without paying $18 a person. Granted, that $18 does include 5 half shots (2.5oz total)…but 5 half shots and the novelty of having a drink inside a cold room isn't worth it in my eyes.
The food prices are way too much, with a slice of pizza costing $8 and a bottle of soda costing $5. To make matters worse, I purchased TWO separate sodas that evening, from two separate vendors, and both were flat. Definitely not what I wanted for the money I spent.
I can understand the upcharges for things such as the swings and the 4-D film, because those are extra services they provide. However, the overall pricing of things inside the event is way too high, especially for what this event is. This isn't Disneyland, folks, but you're paying premium prices for simple, every day things. It's slightly disappointing, and one of the big negatives of the evening. I really believe that they need to restructure some of their prices, because it seemed like a lot of folks were unhappy.
CUSTOMER SERVICE
Which leads to the biggest point of discontent for some during the evening…the lack of good customer service. There were a few separate events during the evening that, if similar things happen to folks during the rest of the season, can lead to some very unhappy customers.
Now, both of the items we are about to talk about specifically relate to things during the media preview portion of the evening. While these are special cases, and not the norm for every day operations, the way they were handled is still very much worth mentioning.
One of the biggest instances happened in the RIP Lounge, and was when people waiting in line for almost an hour for food were turned away with no explanation. While I was not present for this particular incident, it was talked about by many during the rest of the night, and not in a good light.
While I cannot speculate, I can only relay what was told to me from many people; security came to make the announcement that food was no longer available, and began to escort people out. I can certainly understand if there was a emergency, and people needed to vacate the area. However, that wasn't the case here; they wanted people gone. The bigger problem was that there was no "making it right." People were simply told to leave, and there was no way in which the staff of the RIP Lounge offered some sort of resolution. While I do understand this was an extra given to media and VIPs, it also had them waiting in line took an hour. This is an hour away from the rest of the event, and they also walked away without food. There were lots of very unhappy people the rest of the evening.
Another incident occurred when an employee in charge of the front of the line section at Circus said that our wristbands were only valid until a certain time, and after, we had to use the regular line. She was insistent in that stance, despite there being no evidence of that being the case. Sure, she may have been misinformed, and I get that, but her attitude toward us was unacceptable. Eventually, she relented, and let us in, but getting to that point was not a pleasant experience. It should also be noted that no other mazes that evening said anything of the sort, so no issues were had.
These were just two examples of things of this nature throughout the evening, both relating to the media event and not. Customer service and relations leave lasting impressions on guests. A bad interaction can leave a bad mark on someone's entire night, often having them leave unhappy. No one wants to walk out of Dark Harbor, or any event, in a bad mood. Especially when, for the most part, we all enjoyed ourselves. The last thing anyone wants is an incident that marred the entire evening.
As much fun as Dark Harbor can be, I do believe their staff needs to be better trained on customer service issues. The mentality of some of the employees isn't going to win anyone over, and might even prevent guests from returning again. It may seem like a minor point, but it's definitely something that needs to be improved here.
CONCLUSION
Overall, Dark Harbor does offer some good scares, creative mazes, and bright spots. If you've been in the past, chances are you will enjoy it again. However, be wary of price gouging and upcharges. If you come, knowing you'll be spending a lot more money than you paid for the tickets, you should be okay. Still a fun event overall, especially if you enjoy the carnival-like atmosphere that permeates most of the evening.
For more information, and to buy tickets, visit them online at: http://www.queenmary.com/events/dark-harbor/