IT, one of the most anticipated movies of the year, is now less than two months away. Horror fans around the world are impatiently awaiting the September 8th release. HorrorBuzz, and other press members, were invited to a special event to meet and interact with the cast and directors of both IT and Annabelle Creation at San Diego Comic Con a few weeks ago.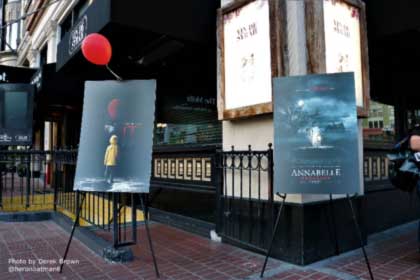 During the event, I had the opportunity to speak with the cast of both movies.
Chosen Jacobs said that best part about filming was the chance to be able to live in another time. Jack Dylan Grazer, Finn Wolfhard, Sophia Lillis, and Jeremy Ray Taylor all chimed in agreement. They also stated that it was hard to not have any cell phones on set, making jokes about short-shorts and riding bicycles around the set.
During the question and answer portion, the IT cast were questioned about how they would get into character. The entire cast agreed that director Andrés Muschietti really gave them free reign to portray their characters. They could try something, and if it didn't work, Andrés would step in to help them out.
I also got to spend some time speaking with director Andrés Muschietti. I asked him about the challenges of adapting such an iconic movie. He said that he wanted to make sure that he stayed true to the original material. It was difficult but he felt he was up to the challenge.
I asked him about the R rating and how that influenced how he filmed the movie. He said that having an R rating meant that he was able to really push the limits and make a truly dark movie.
Another point Muschietti wanted to clarify is that he LOVES the original adaptation of IT. He had very good things to say about the movie, actually admitting that he had just watched it again a few weeks ago.
One question that was asked; "Is this movie based on the children's interaction with Pennywise? Will we get to see the second half with The Losers Club as adults?" Andrés Muschietti was very tight lipped regarding this question, but states that it is something he wants to do.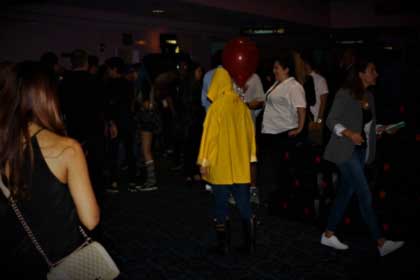 As an added bonus, guests were able to see three scenes from the upcoming movie.
Scene 1
The first scene that we were treated to was a very iconic scene from both the novel and the television movie. Without giving anything away, it was done very well and showed "The Losers Club" standing up for themselves.
Scene 2
The second scene really showed Sophia Lillis' character shining. The entire cast was great, but this scene in particular showed that the movie has heart. There is focus on character development, it was very easy to relate to the cast. The entire theater erupted in laughter, proving that Muschietti has created something very special.
Scene 3
The third scene showed something completely different, revealing the dark soul of the movie. This scene will be imprinted forever in my mind. It was meant to strike fear into movie goers, and it more than succeeded in doing so.
After seeing the three scenes we wanted more. Come September 8th, we'll get just that.
A special treat for me, personally, was when Anthony LaPaglia, who plays the father in Annabelle: Creation photobombed the cast of IT. I promised him that I would include this photo.