A couples' camping trip turns into a frightening ordeal when they stumble across the scene of a horrific crime.
"Nerve-wracking" is an oft-used (and oft-abused) phrase you encounter when reading about horror movies. I don't think I've ever used that phrase before in my reviews (feel free to prove me wrong), but here we are: Killing Ground is nerve-wracking. It's also full of suspense, it's ruthless, it has characters you really care about, and it kept my eyes glued to the screen for every single minute.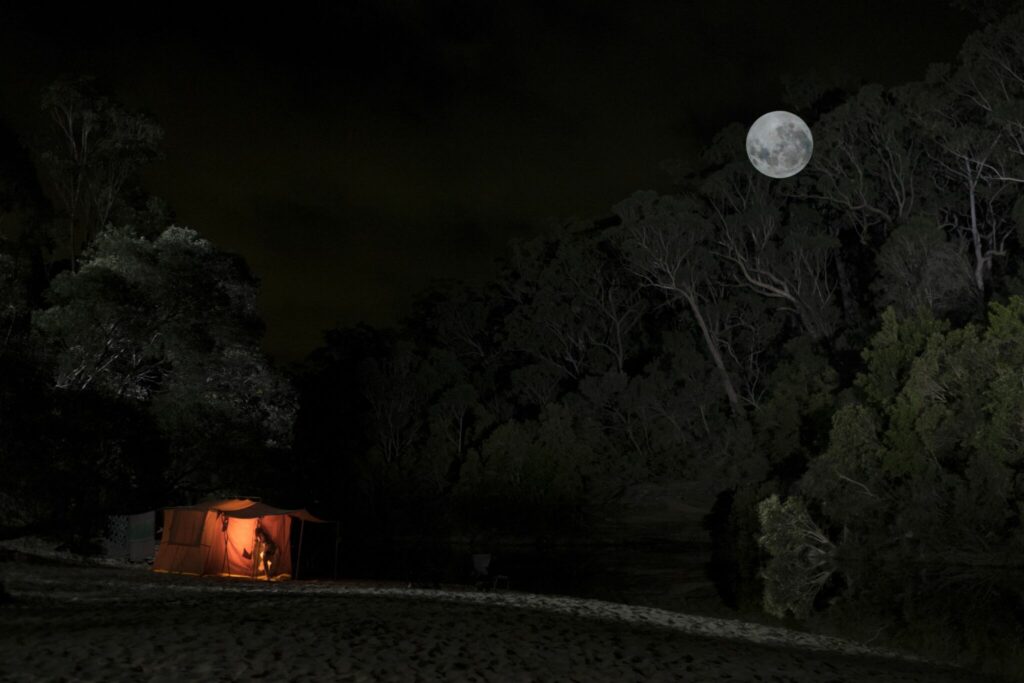 Sam (Harriet Dyer) and Ian (Ian Meadows) are a nice young couple off on a pleasant weekend camping out in a remote area of Australia on the shore of a lake. They pitch their tent a little bit away from another tent on the shore, which they comment on. The inhabitants of that tent are nowhere to be found. They give a collective shrug, assuming that the other family is hiking and will be back soon.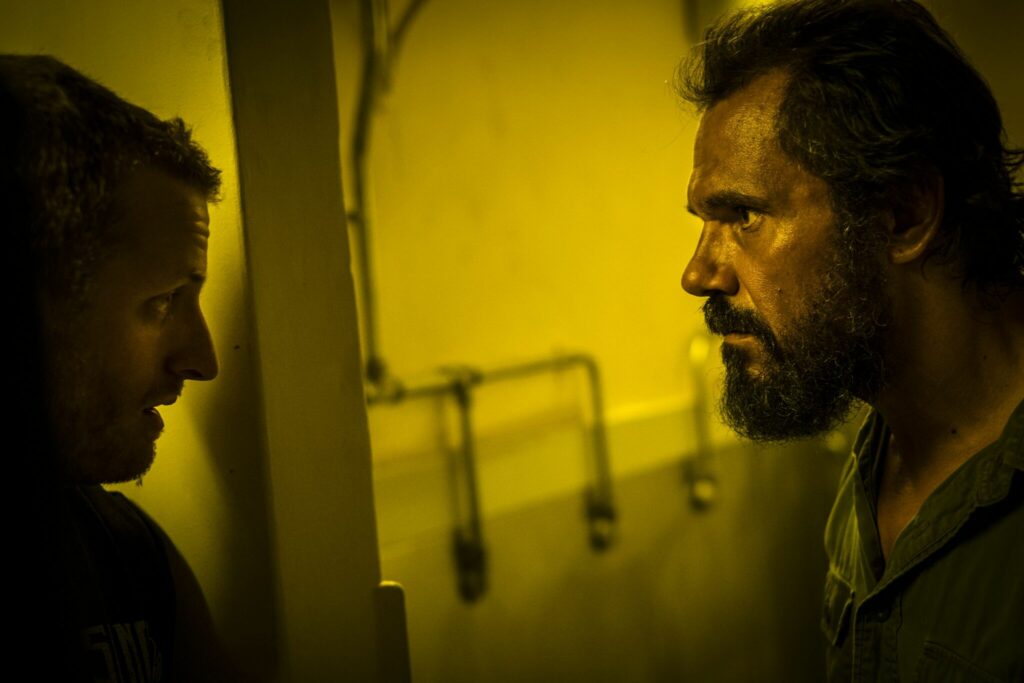 Meanwhile, ne'er-do-wells Chook (Aaron Glenane) and German (Aaron Pedersen) are at the local bar trying to chat up some gals who are not interested in them at all. We get the idea that they've done bad things in the past and will probably do bad things in the future, as they are lightly admonished to "stay out of trouble." We also see another couple, Margaret (Maya Strange) and Rob (Julian Garner) setting up camp with their two kids, teenaged phone addict Em (Tiarne Coupland) and toddler Ollie (twins Liam and Riley Parkes).
But we get a weird sideways feeling in our stomach when we realize that the tent Margaret and Bob are setting up is the same tent that appears abandoned by the time Sam and Ian arrive. We are seeing both couple at the same location, a few days apart in time. What the heck happened to the first family? And their kids? And what's going to happen to the new couple?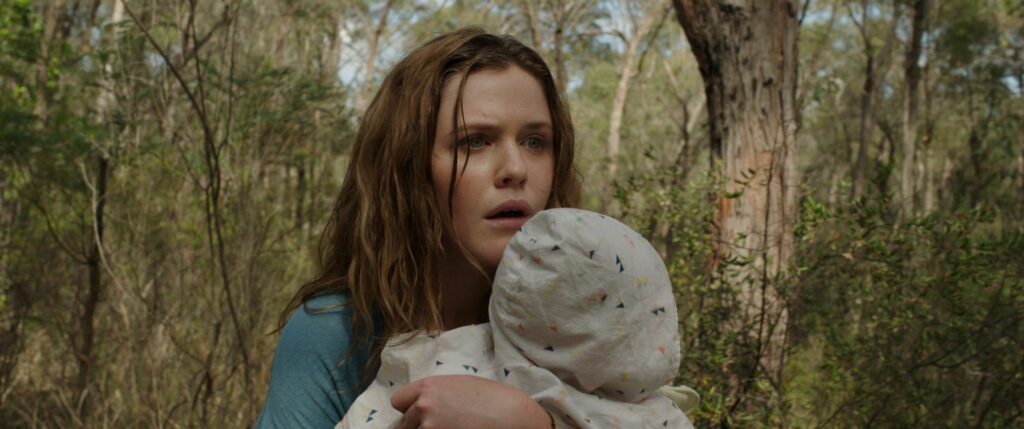 And that's when I knew this movie had me in its clutches. I'm not going to detail much else of the plot (I probably shouldn't have said this much, but there it is) because part of the fun is being utterly surprised, disgusted, gobsmacked, and, yes, nerve-wracked over how casually evil our antagonists are. Suffice to say there were many moments where my knees were slowly bending up towards my chest and my hand covered my mouth in anticipation. I may even have yelled out "Oh my God!" once. Or twice.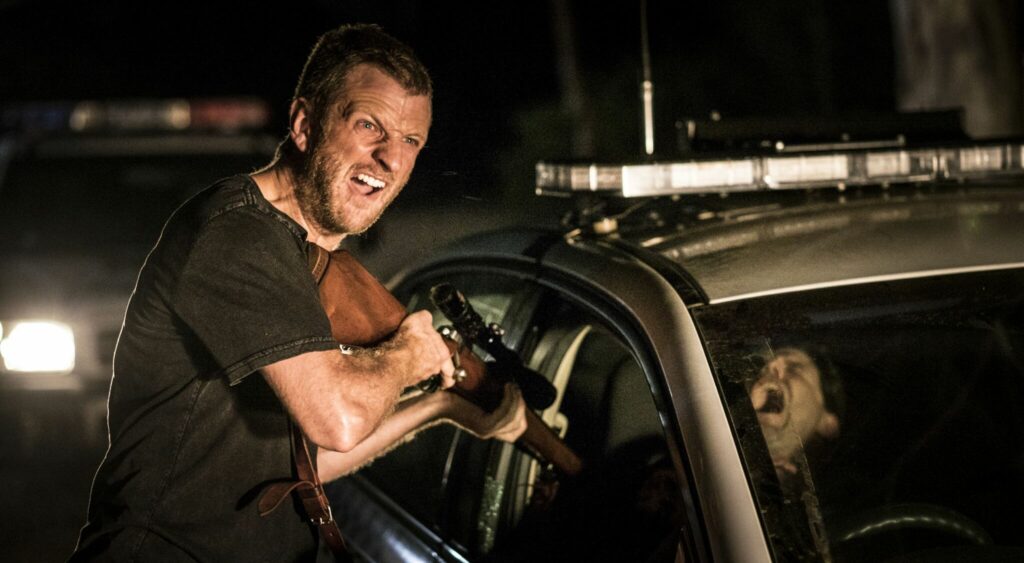 This could easily have been filmed as a torture-porn-in-the-woods yawnfest where the depravity is the only thing going for it. Luckily, writer-director Damien Power (for whom this is his first full-length film) doesn't take the easy way out. He builds sympathy for his characters (who are by no means perfect, but have just enough quirks and issues to deal with they seem like the perfect representations of every family and couple you've ever known). And when trouble comes to town, so to speak, it doesn't bust in with guns-a-blazing, either. It slides in slyly, offering a friendly helping hand–which quickly enough turns into a very bad man barking at a terrified girl behind a locked car window.
I have never been so disturbed by the sight of a lone child walking along a hiking trail. Still gives me shivers.
I do wish I had been able to turn subtitles on; the two baddies occasionally grumble their lines and use a bit of Aussie slang that I didn't quite catch, but that's my issue, not the movie's. Killing Ground is a spectacular debut from Damien Power and should be put at the top of your "Must See" list immediately.
Killing Ground
RATING:

R

Runtime:

1hr. 28Mins.

Directed By:

Written By: