Grinchmas is here at the Universal Orlando Resort and the citizens of Whoville are abuzz with activity. Yes, this family friendly monster, The Grinch, has made his way down from Mount Crumpit to learn the true meaning of Christmas in a live stage show, character dining, and character meet and greets nestled in the Suess Landing area of Islands of Adventure.
Universal Orlando Resort, renowned for its annual Halloween Horror Nights celebration, turns a page after the scary season is over. Instead of a park full of monsters they focus on one, very fuzzy, very frumpy, green malcontent. Instead of scares, they deliver a heartwarming live stage show inspired by the classic children's book HOW THE GRINCH STOLE CHRISTMAS.
We enter Islands of Adventure and, once inside the park, we make a sharp right at the lagoon and head into Suess Landing. The area is festooned with whimsical Christmas decorations on the already painterly aesthetic of the land.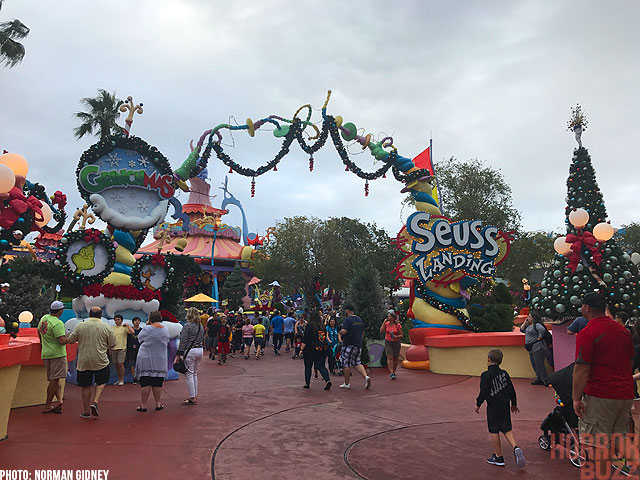 We find the temporary archway with the big Grinchmas banner that leads to the flagship show and we make our way in.  A word of advice here, If you plan on seeing the live show, get there plenty early as the lines can get insane.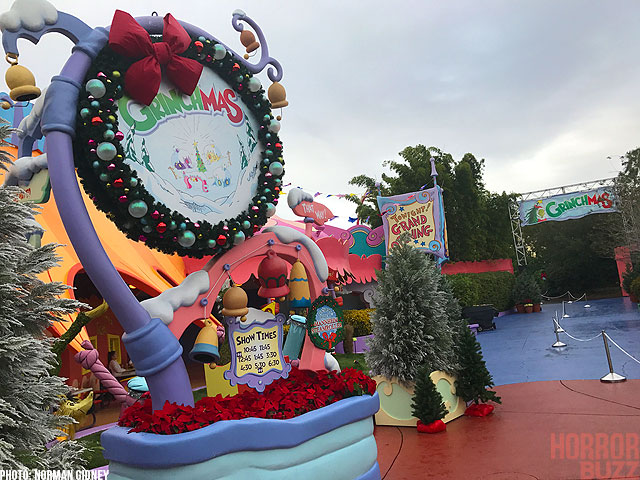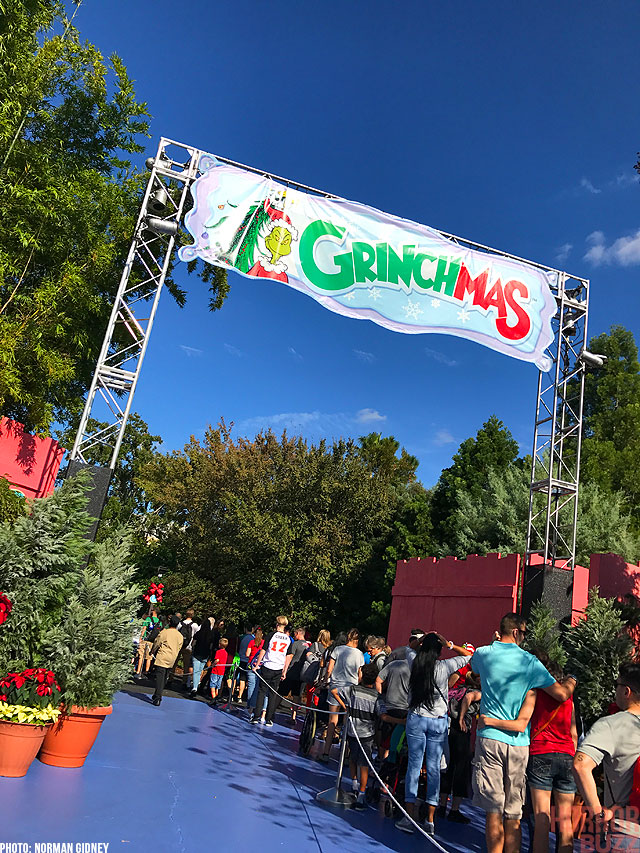 Utilizing the sound stages on property, Universal created a temporary theatre complete with stadium seating and a fully constructed set on a huge stage. In contrast to the Hollywood counterpart that focuses on more intimate moments of storytelling, this is a massive, glitzy show featuring special effects, dance numbers, songs from Mannheim Steamroller, and Max the Dog.

We enter the theatre and we see Max's dog house is already decorated to the hilt. Turning another corner we have made our way to the theatre itself. a massive, stadium with a heavy rake, making it easy for everyone to see.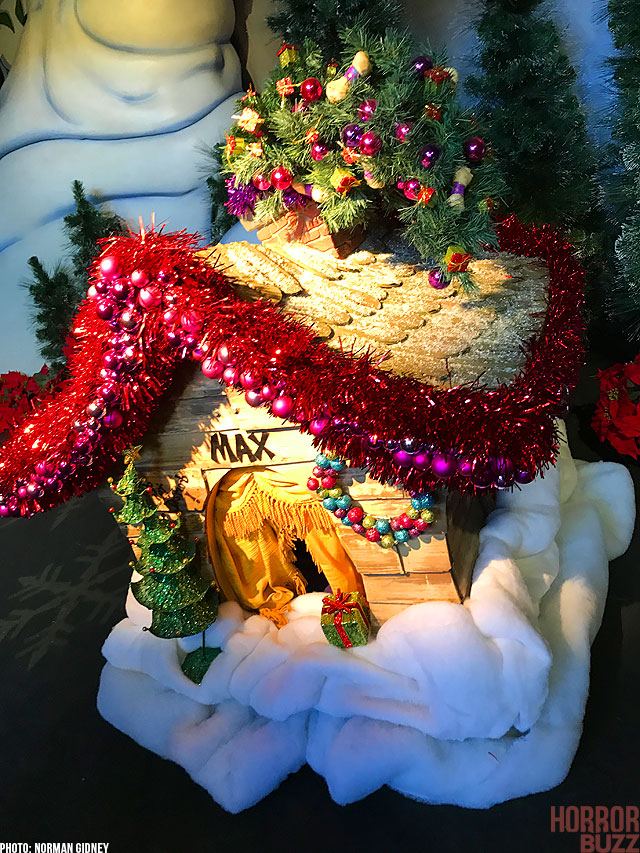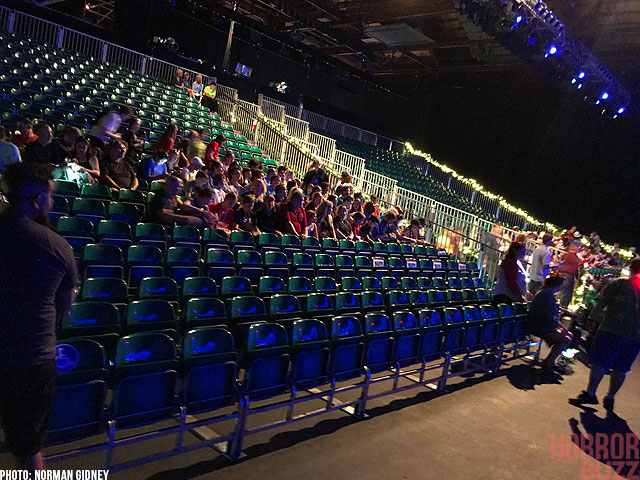 We are all seated, the lights went down, and we begin to see why this show is a sought-after, Orlando holiday tradition. The stage exploded with color and activity. Bright-eyed Whovians sang, danced and cavorted on the stage.








These folks love Christmas. That much is certain. The problem is they live near The Grinch. He happens to bristle at their singing, the festive lights, and pretty much, happiness in general.

The Grinch sneaks down from his lair atop Mount Crumpit and plans to steal all Christmas cheer from Whoville including the decorations, and, of course, all of the presents. We are then treated to a rendition of "You're a mean one Mr. Grinch" Complete with Max The Dog en tow.





Of course, The Grinch can't steal the Christmas Spirit from the Who's and, in the process, learns its true meaning.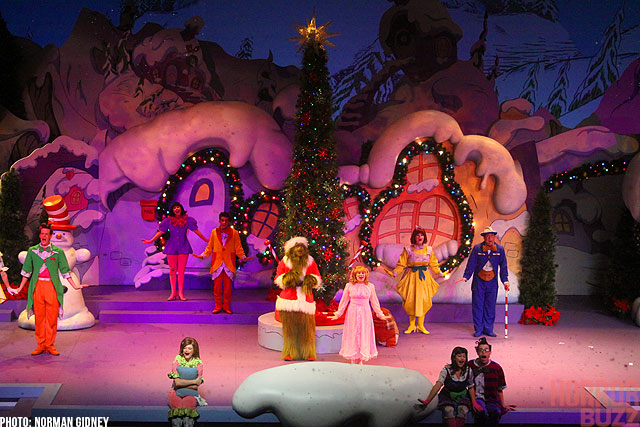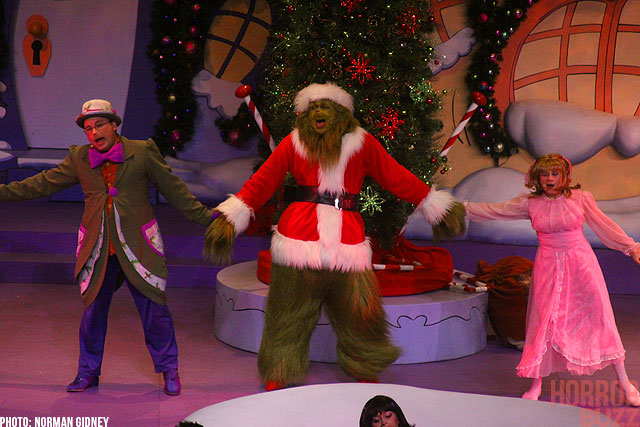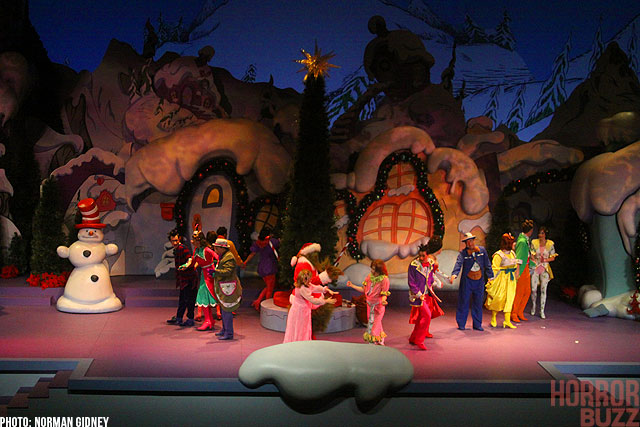 This feels like the go-to Christmas pageant for Floridians. It's cheesy, broad, and indulgent, but there is something there. There is something that keeps pulling thousands of eager theme park lovers out of the Floridian sun, and into a wintery, candy-colored wonderland. This is a beguiling, spectacle of the warm and fuzzies that tells us things are fixable, even in the face of a big green monster. What's more, the monster can be won over. Plus there is a dog so there's that.
If you haven't seen Universal Orlando's HOW THE GRINCH STOLE CHRISTMAS you owe it to yourself to do so. This IS family entertainment that is perfect for the holiday season. An impressive staging in a whimsical set, and snow.
Outside in Suess Landing there are rolling opportunities to meet the citizens of Whoville as well. That's not to mention the photo-op meet and greet in the bookstore. Stop by and say hi to him.

Grinchmas™ Character Dining
In another chance to rub elbows with the Who's during Grinchmas™ you can have breakfast to start your day of Holiday Cheer and meet The Grinch himself!  MORE INFO HERE
Options include…
breakfast buffet including Green Eggs and Ham Platter
Continental Fruit and Yogurt Platter;
All-American Platter; Pancake Platter; and Combo Platter with pancakes, sausage, bacon, hash browns, croissant, and eggs. (All platters are available in adult and child portions).
You get One (1) digital photo with The Grinch™ (via My Universal Photos™) with Breakfast.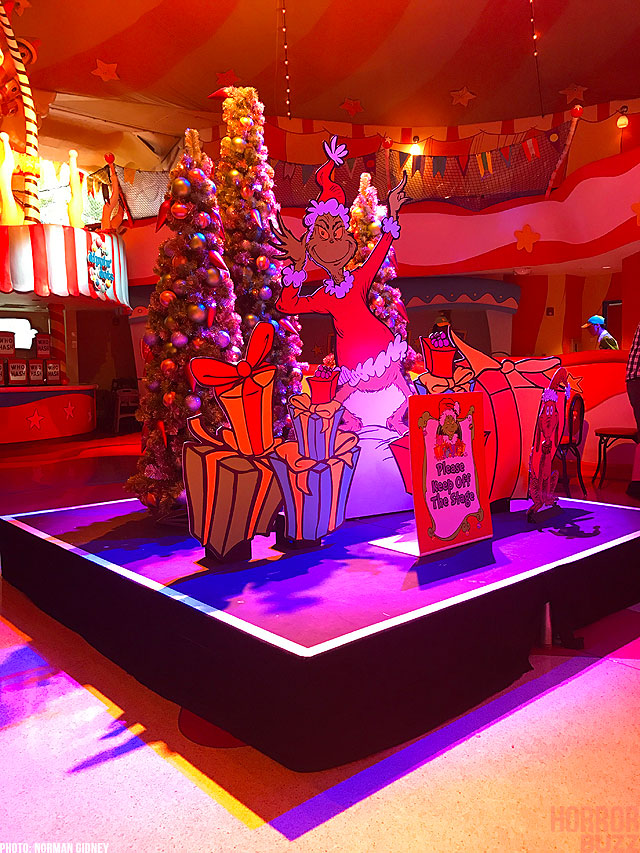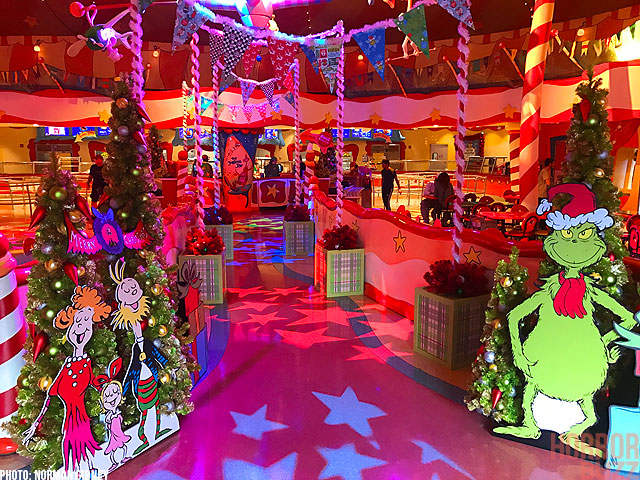 Get down to Islands of Adventure to see what the Grinch has in store for you. Of course, that isn't all that the Universal Orlando Resort has to offer for the holidays. Over in the Universal Studios park there are concerts and a fabulous Macy's Parade. Check back for that article soon.