Let me get this out of the way first: Brooke Adair Walters has designed some of my favorite haunt mazes in the last few years. Talented and twisted, Walters has innovated and astounded me since I moved out to California, long before I even knew who she was. She left Knott's shortly after I started attending Scary Farm, but her designs and innovations left a long lasting effect on me.
Many of you in the Southern California area no doubt recognize her name, as she has worked tirelessly at scaring you for years. Long before she was designing the scares, she was creating them herself, working as a monster on the Calico Mine Train. At the same time, she was also helping to paint sets for Knott's, when something struck her: "Wait…I can help design this stuff?"
Walters created her own degree at Chapman University's Dodge College of Film and Media Arts (where, funny enough, I now work). Her advisor, Adam Rote, helped her cater her New Media degree toward Production Design, a decision that paid off handsomely later after she graduated in 2006.
"Daniel Miller, a designer at Knott's, asked me if I wanted to work together on a maze, and so the next year, Doll Factory was born," Walters remembers.
Doll Factory was just the first of many mazes she designed for Knott's, including others such as Forevermore, Terror of London, and the still amazingly popular Trick or Treat. And as a personal aside, Trick or Treat is still in my all-time favorite mazes, hands down. The look and design of it are fantastic, and despite being a few years old now, it still continues to astound.
"My policy in life is to always say yes, to branch out and try new things, and that is basically how I got started designing for Knott's," Walters said.
While working Scary Farm, Walters also took on a supervisor role, where she hired, auditioned, trained, and supervised over 1000 of their monstrous talent. She taught them to become their characters, how to move, and so much more.
"They were like my kids, you know?" she said. "I loved them, each and every one."
Though she got her start during Scary Farm, Walters also branched out to work for Knott's overall, working as an entertainment designer for them before moving up to work for parent company Cedar Fair for many years. She designed décor, stage shows, and more year round. However, her heart still continued to beat for all things scary.
Though she took a break from the scene for a few years, Walters came back with a vengeance to the haunt design world this past summer, designing Blood Offering: The Curse of the Iron Witch, for the ScareLA convention in August. This all new, original maze took up an entire ballroom, and showcased some fantastic new effects to fit into the "witch" theme that the convention had going on.
"This was the first time I really did a maze without being under the umbrella Knott's, so it was a scramble to get to opening day," she explained. However, she credits her amazing crew with helping her to get it done.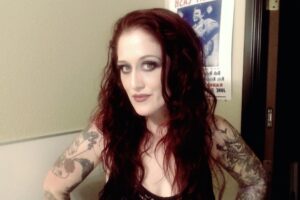 "Actually building the maze was a challenge, because we couldn't load in until Friday morning, and we opened Saturday morning. We were there until 1AM the night before, until they kicked us out, to get it done," she said.
Returning to the haunt world lit a fire under her again, and now she is back to doing this as her passion. In fact, she recently opened up a brand new company, Cunning Fox Creations, to take on new design work.
"With Cunning Fox, I want to push envelopes," she said. "I want to do all the things I ever wanted to do, and then some. I want to explore new technology."
Walters has plenty of plans for the future, with more ideas brimming out of her head than ever before.
One of her goals is to open a seasonal haunt, something that would open a few times a year, and cater around the holidays. Each one would be vastly different, making sure it continued to surprise those who visited.
"If we open a few times a year for a few days, and sell out, I am OK with that. I don't want to push too many things out a year, because it's all about quality and not quantity," she said. At the moment, she has a few potential locations that she is considering using, but hasn't set anything in stone yet. But she is ready to live by her 'innovate or die' mantra.
"I want to do an overnight event somewhere. I want to do an escape room. I want to work in VR," she said. "Basically, I keep throwing ideas at the wall to see what sticks. I always tell people, nothing is too crazy, nothing is too out there, let's just see what works."
When asked if she had any words of wisdom for people, she had quite a few things to say.
"Making connections, and then working and maintaining those connections, make success," she said. "Follow your craft and do It passionately. Learn to sell yourself, and your ability to show people who you are and how good you are at what you do. Get out there and don't be shy."
As fans of Brooke, we here at HorrorBuzz are excited to see what she comes up with next.
To keep updated on what she is doing, visit her online at: www.cunningfoxcreations.com