Nestled in a quiet little suburb of Irvine, CA, the street of Goldenrod hosts row after row of quaint, proper, middle class homes. Well-trimmed lawns, curbside mailboxes, and the warm glow of house lights  seen from the well-kept sidewalks complete a picture of idyllic suburban comfort.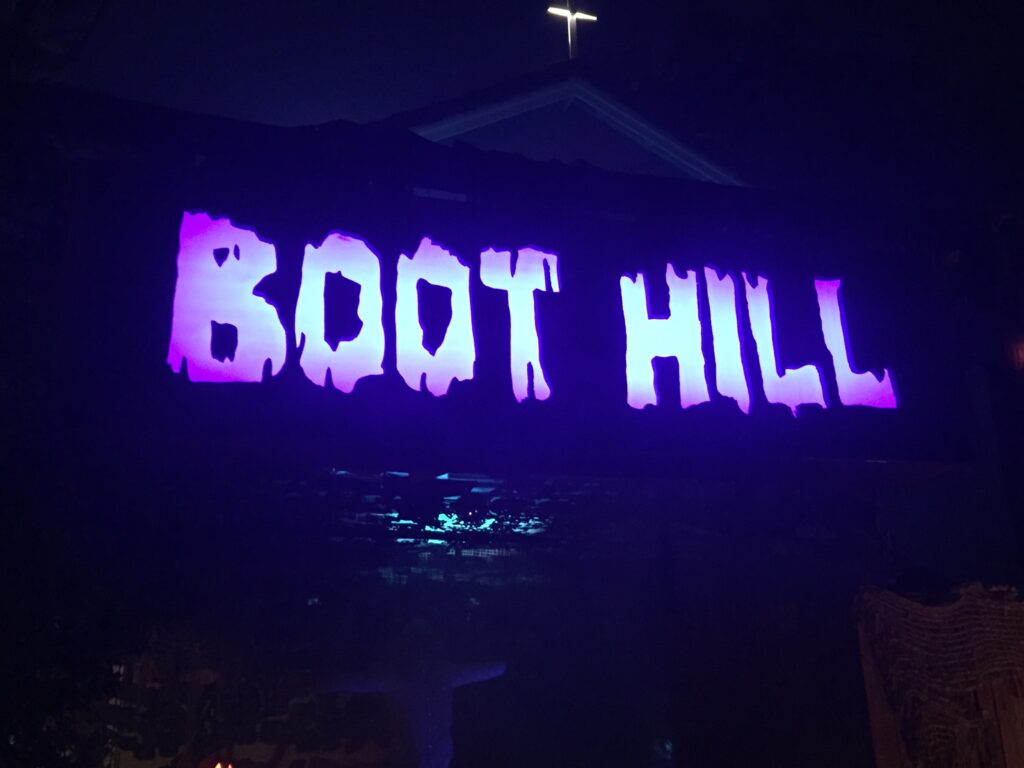 Until you get to number 16.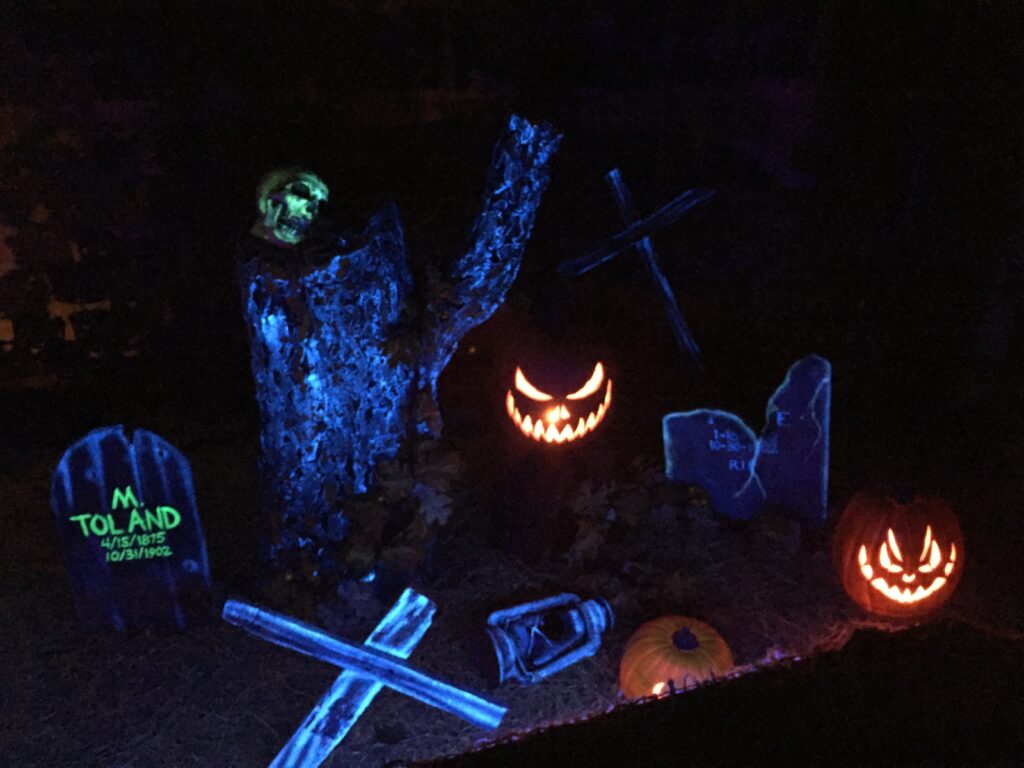 That house is no longer there. It has been swallowed up by the infamous Boot Hill, a haunted graveyard that hosts all manner of spooky effects, high-quality decorations, and quite a few undead ghostly cowboys out to scare the tarnation outta ya!
As you approach Boot Hill, your eyes get little overwhelmed at everything there is on display. There is a silhouetted gun showdown that plays for about a minute, and then repeats to give some backstory n the haunted graveyard. There are professional full-sized props (like a large skeletal horse), a mercantile booth for shirts, buttons, and donations to CHOC hospital, a photo op with a talking pumpkin–and all that's just outside on the sidewalk.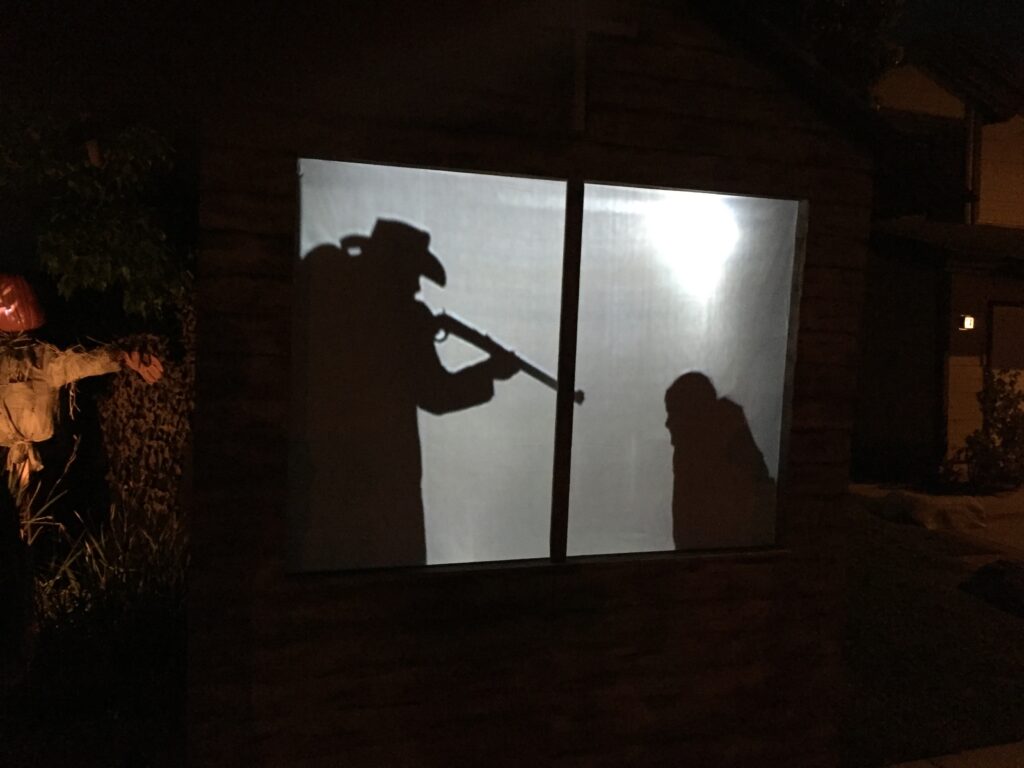 Once you enter Boot Hill proper, you're treated to a glowing graveyard full of spooks, evil jack-o-lanterns, and very cleverly-hidden jump scares. I was totally caught off guard by one, and it made me giggle like a school boy.  Kudos to whoever was **redacted to preserve scare**. Good job!
This is definitely a family-friendly scare zone, relying on mood, atmosphere, and the occasional startling sound to get its point across.  Even though Boot Hills takes up the front yard and driveway of a normal home, I marveled at the excellent use of space; it seems much much bigger on the inside than from the outside. The TARDIS of home haunts, hehehe.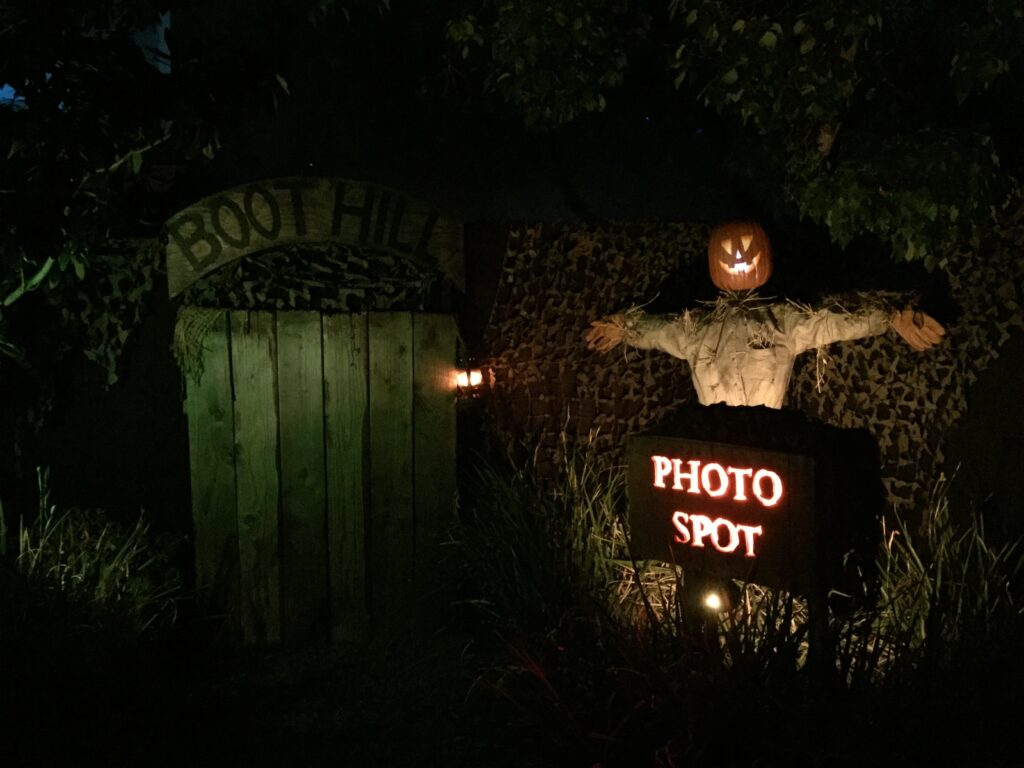 Boot Hill is open Fridays and Saturdays until Halloween, with slightly different hours on Halloween night. Their website for directions and hours is below. Uncle Mike sez check it out, podnah!