After a flurry of complaints, Cedar Fair announced that they were closing their brand new haunt attraction FearVR:5150 at Knott's Scary Farm, California's Great America in Santa Clara, and Canada's Wonderland near Toronto. The attraction, which used Samsung VR, powered by Oculus, put guests in the role of a newly admitted patient at a mental institution who were in the process of being admitted when a dangerous, perhaps even demonically possessed, patient named Katie breaks  loose and is wrecking havoc.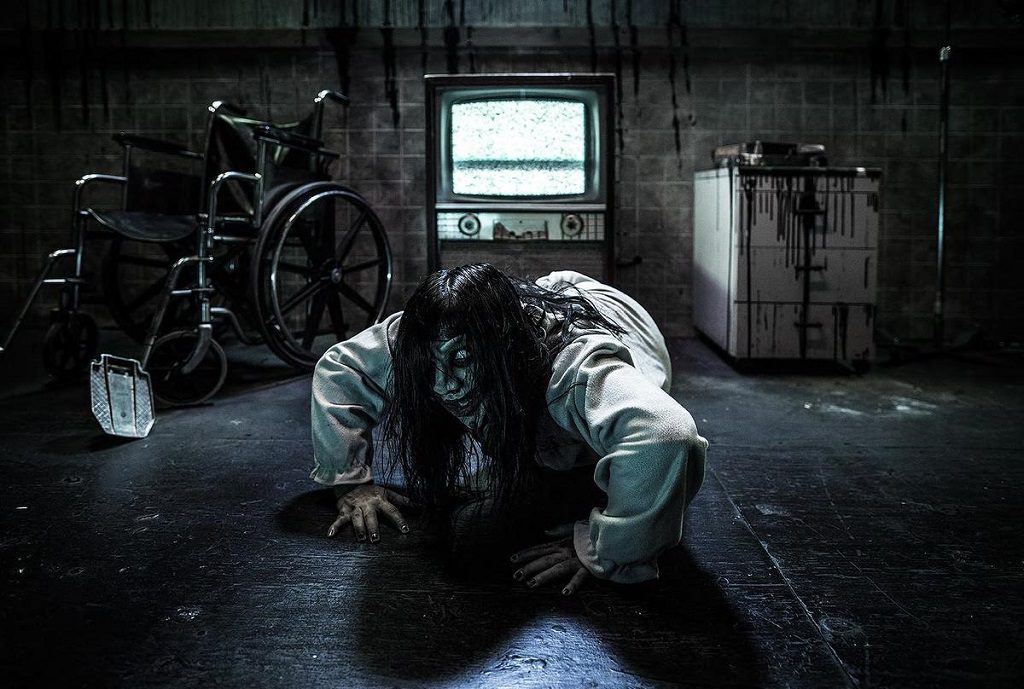 After viewing a very tongue-in-cheek video that clearly depicted the danger as a telekinetically powerful, demonically possessed patient, guests were led down a hall, seated, and strapped into chairs fitted with physical effects that were synchronized to the action they were about to see. They were then fitted with a VR headset and noise-cancelling headphones. Once the experience began, guests became a patient, strapped into a wheelchair, at the mercy of the staff that were trying to maintain control of a hospital as Katie, the monster, continued her attack.
According to multiple sources, including the Orange County Register and Los Angeles Times: "Mental health advocates nationwide emailed Knott's and Cedar Fair administrators expressing their concern over the last week, that the portrayal of a possessed girl in a hospital as part of a virtual-reality horror show stigmatizes and denigrates individuals with mental illnesses."
The Orange County chapter of the National Alliance on Mental Illness complained to Knott's about the attraction. Just before Knott's Scary Farm debuted the attraction last week, Knott's removed the code "5150" from the name. While caving to the cries of inequity, Knott's Scary Farm defended their choice to push boundaries in a statement released to press by saying, in part, that their Halloween events are "designed to be edgy, and are aimed at an adult-only audience." In fact, Knott's clearly recommends that the event be experienced by those 13 years of age or older.
Leading the charge against Knott's and its "controversial attraction" is a man named Ron Thomas and LA Times staff writer Steve Lopez. Thomas lost his son, Kelly, five years ago when the 37-year-old was beaten to death by Fullerton police officers who lacked training to deal with the mentally disturbed. In hearing that there was a Halloween attraction that referenced 5150, Thomas was understandably concerned. According to an article in the Los Angeles Times, columnist Steve Lopez interviewed Thomas on his attempts to investigate the offending attraction.
"I couldn't get in," Thomas said. "There were so many people waiting to get in."
Instead, he talked to people as they exited and asked them to describe FearVR. They told him they were strapped into seats as if being admitted to a hospital, and then were transported into a frightening scene of mayhem.
"Virtual reality-wise you're led to believe you're in some kind of institution," Thomas said, and a patient "is on the loose … and she's coming for you."
Doing what he felt was his due diligence, Thomas knew this was offensive.
"It's so insensitive," said Thomas, whose son called out to him for help as he was beaten by police.
The term 5150 is a section of the California Welfare and Institutions Code (WIC) (in particular, the Lanterman–Petris–Short Act or "LPS") which authorizes a qualified officer or clinician to involuntarily confine a person suspected to have a mental disorder that makes them a danger to themselves, a danger to others, and/or gravely disabled. From a creative  and operations standpoint, the device of being strapped into a wheelchair allowed for the creators to keep guests in position as a series of mechanical effects poked, prodded, vibrated, and blasted air on guests as they viewed a virtual reality video on a headset. Aside from the confinement, the 5150 term had little more to do with the experience.
Haunt kicked off Thursday, September 22nd and, after just three days of operation at Knott's and two days at Great America and Canada's Wonderland, Cedar Fair closed the VR experience stating, "Over the past week, we have heard from a number of people expressing concern that one of our temporary, Halloween attractions – Fear VR – is hurtful to those who suffer from mental illnesses," the statement said. "Contrary to some traditional and social media accounts, the attraction's story and presentation were never intended to portray mental illness."
Shannon McGrew, Editor in Chief of the site NightmarishConjurings.com stated her position clearly and eloquently as both a haunt fan and one who has required psychiatric help in the past. We suggest you read her honest article here.
While the advocates for mental illness were loud and clear with Cedar Fair, we at HorrorBuzz feel that the real victims have not been heard. The real victim here is being overlooked. How do the demonically possessed and those with telekinetic powers feel in being used as a device for horror? Every year, countless caricatures of demonic possession, devils, and demonic monsters are used as a device to instill fear in guests paying for a frightful experience. We reached out to representatives from the Church of Satan, whose devotees actually are ridiculed and stigmatized on an annual basis during Halloween to get their perspective.
In an emailed statement, Magus Peter H. Gilmore, a High Priest in the Church of Satan stated, "Halloween is a time of "fun fear" for most Americans, so we expect that there will be many evocations of fantastic monsters including vampires,
ghosts, werewolves, demons and the now over-used zombies. Mental hospitals are a staple for horror films, as casual research would show, and thus work as exaggerated atmospheric settings for frightening fiction. No reasonably intelligent person would view such presentations as being meant to portray actual mental illnesses or as condemnations of people who suffer from such maladies."
We can only assume that, along with the Telekinetic Association of America, the National Association of Social Workers, the Wheelchair Foundation, The National Black Hair Association, the Skinny Girl Foundation, would be pleased by this closure. Gilmore commented, "Sadly, we now live in a society wherein far too many people quite wrongly think that they have a right not to be offended, but that is an attitude found primarily in dictatorships which silence dissent and diversity."
Members of the Orange County chapter of the National Alliance on Mental Illness complained to Knott's about the attraction. Just before the premier last week, Knott's dropped 5150 from the name,
explaining its decision in a note to NAMI chapter President John Leyerle.
NAMI chapter President John Leyerle stated, "By closing this ride down, they've moved things away from a negative place," Leyerle said. "We see this as an opportunity to talk about this if they are open to that." Progress indeed. However, Gilmore argued, "The attitude of most Satanists and fellow freethinkers is that if you encounter something you've experienced by choice and don't enjoy, simply move along and find something else that is more pleasing." In the face of modern political correctness, He continued, " It is easy to not listen to music or view programs or films that you might find not to your tastes. Surely nobody was forcing anyone to enter Cedar Fair's FEARVR:5150. If the pastor and other members of his church find the attraction to be offensive, they need not attend it. And they can express their opinions in their church or via whatever other media they would like to use. But, if other people were enjoying it, a rebuttal of the pastor and his followers' thinking, and it was making money for (Cedar Fair), then forcing it to shut down is censorship that is quite contrary to what Americans should expect in a nation that has a tradition of freedom of expression, a right, in fact established in the First Amendment of our Constitution."
Gilmore closed his response with, "If those who own and run Cedar Fair felt it was in their best interests to capitulate to a vocal minority's prejudice, then it is on their heads as it is their business. If a majority of local people stood up and expressed their desire to see this attraction, possibly it would be reinstated?" A fair point. If you feel that the initiative went a little too far, You can also sign this petition asking for the return of the virtual reality experience. SIGN THE PETITION HERE. Regardless of your thoughts on the matter, you are already wrong as you will invariably offend someone intentionally or unintentionally. Best to stop creating and stop trying to entertain.