Six Flags Magic Mountain has been upping their game considerably over the past few years. After renovating their flagship maze into Willoughby's Resurrected, then delivering TERRORtory Twisted to accompany the steampunk motif, the creative team has attempted to outdo themselves. Aftermath 2: Chaos Rising is an all-new maze that is the largest in the history of Fright Fest. Next they have delivered a scare zone based on one of the most successful movies of the summer, Suicide Squad.

With all this heavy fire power how could they possibly fail? Let's head into the park, tell you about how Fright Fest works, and give you an idea of what to expect.
MAZES
Magic Mountain does something rather unique in how it approaches the Halloween Event.  Unlike other major theme park haunts or Halloween events, Magic Mountain remains open as the park undergoes the spooky transformation to Fright Fest.  Announcements are made park wide, and slowly, the sun goes down, fog machines fire up, and monsters appear.

If you are in the park you are free to roam and enjoy the awesome scare zones throughout the park. If you feel like  you want to up the ante a little, then you can buy a wristband to go into any of the 7 mazes. The regular passes that grant you access to the mazes costs a reasonable $15.00.  However, we would actually recommend that, if you are going to do the mazes, just grab the Express Maze Pass for $30.00
You can grab the passes ahead of time online too HERE
AFTERMATH 2: CHAOS RISING
Chaos reigns as renegades threaten to overtake the city and release a deadly virus …

In the aftermath of a recent cataclysm, the region is overpopulated and under-resourced.  A Renegade Faction is currently trying to take control of the city. Rumors abound that the Renegades plan to destroy the Bio-Containment Center.  If they are successful, the Renegades will release an ancient parasitic virus and contaminate the local populace and allow them to overtake the city and the already infected patients may also be set free.

Will you survive Aftermath 2: Chaos Rising, the park's largest outdoor maze ever built?
Yes, from the creative forces that brought you Aftermath, comes Aftermath 2: Chaos Rising.  Explained to us by Creative Director on the project, David Wally, Aftermath 2 is a prequel of sorts where we learn how things got to such a desolate state in the first incarnations of this popular property.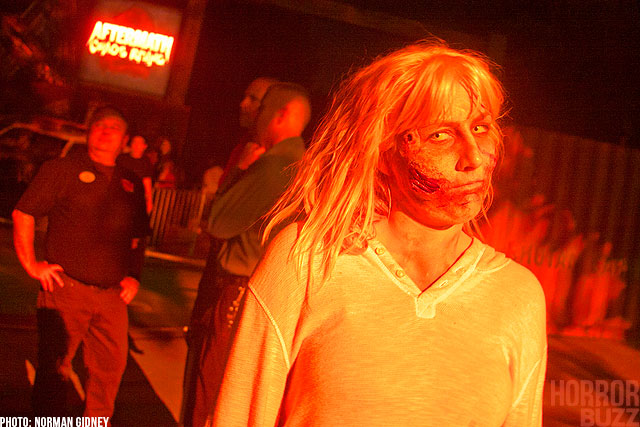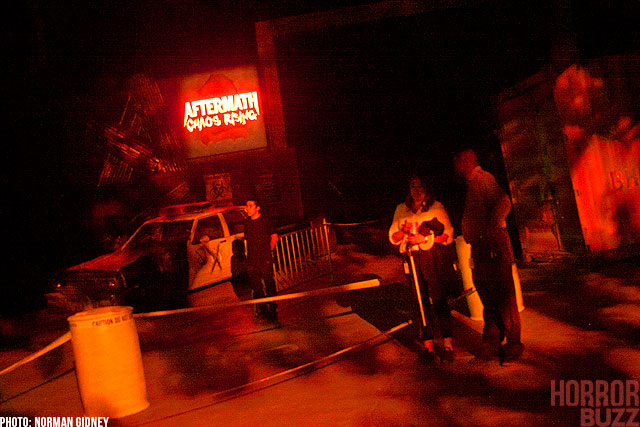 Situated in the new scare zone The Ruins, and constructed on the old concrete pad from the now-gone Deja-Vu coaster, Aftermath 2: Chaos Rising starts off screaming and doesn't stop. There has been a viral outbreak and we are being ushered through the mayhem by frantic police and military. The idea is obviously to get to safety and decontamination. The problem is that things are quickly spiraling out of control and we have no other recourse but to run.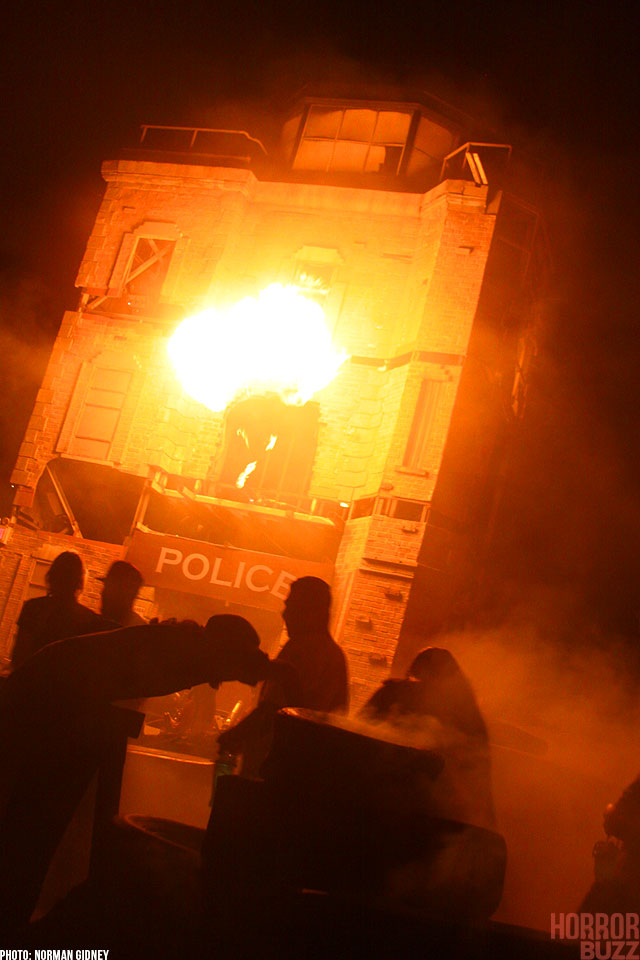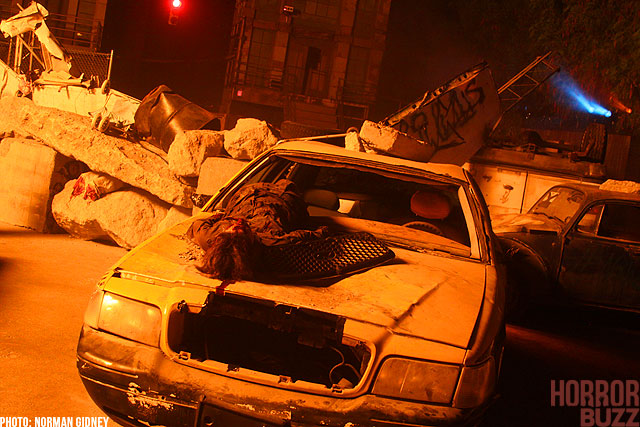 There is a lot of good here.to begin with the scope of the walkthrough is staggering. It has the largest footprint of any Fright Fest maze ever. That fact allows a huge space to be filled with the leftover sets recycled from the demolished Batman Stunt Show Arena. There is a particularly interesting element halfway through the maze in which there is no general path. Guests are allowed to wander through a large area of rubble, attempting to make their way to the obvious destination. Here monsters have maniacal fun misleading, chasing, and otherwise disorienting terrified visitors.
Notes, if you are wondering, are few but there are some. A set up of sorts would be welcome. Other mazes in the park have them, (Red's Revenge, Vault 666, Toyz of Terror in 3D) and a short set up with sudden sirens and urgency of WHY we need to get to safety would be most welcome, acting as a sort of starting pistol in a race to safety. The talent here too, while fully invested, would do well to pace themselves. The amount of shrill screams and lunges in this maze alone made my own through scratchy.
Compelled to share his thoughts, Columnist and Technical Director for HorrorBuzz, Ken Toghia wrote the following for inclusion in the article.
It's always nice to see a larger haunt take a risk and try something different, and Six Flags really stepped out of their usual fright fare for this one.  It's open air.   It's quite massive in footprint.  It has a huge population of eager contaminated inhabitants ready to snarl in your ear.   They have some wide open spaces that are like scare zones within the maze itself, and wonderful fire cannon effects placed throughout.   The citizens were very eager to scare, quick to attack, but unfortunately only screamed two things at us…either: "Get out of here!", or "Get to decontamination!"

This zone could quickly be something very amazing and I hope that it will continue to evolve because I like the boldness of the approach.  Two things I would hope for:

Tent the back end of this experience, more darkness, and some claustrophobia would be welcome after the zig-zag path through the city streets, and a great way to really ramp up the final scares.

Character development and tag-team scares.   If there was a large set piece anywhere with a large hiding spot it was very easy to know where the scares would be coming from.  Change it up, have  a character draw us in with some backstory, suffering, fear…anything other than "Get out of here and get to decontamination!"  It will allow the monsters to come in from the back or the side for the "kill"  It's honestly the only way to make those enormous spaces work, and not every oddly parked car should have a monster ready to jump at us.

Keep at this one Six Flags…keep dialing it in.  It's great fun, a wonderful concept, and a great step forward in overall scare diversity for the park.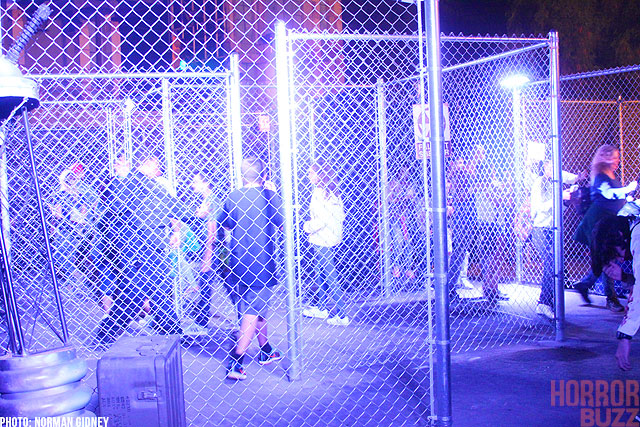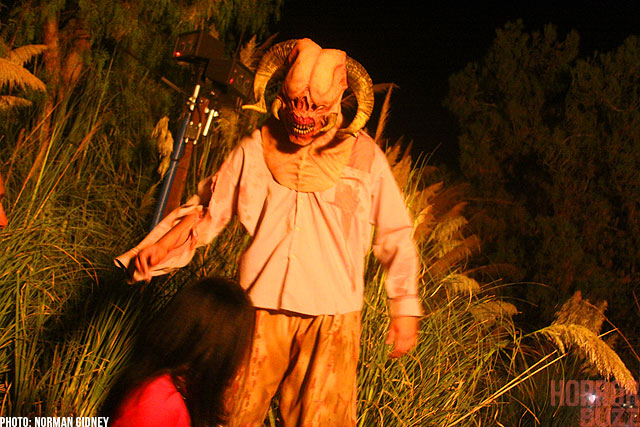 Really that hits the nail right on the head.  Keep dialing this one in Six Flags. We know you can do spectacle, but the trick is to do story too. If you get that down we are forever yours.
Willoughby's Resurrected
The manor on Sky Tower Lane was the largest house on the block, but it was very run down. The owners, Mr. and Mrs. Willoughby, had not been seen in years and the mansion never had visitors. Extended family members had hopes of renovating the abandoned property to make it beautiful to sell. Groundsmen and construction workers began visiting the house to make repairs but would never be seen again. Are you able to find the missing Willoughby family?

As you roam the house for clues, beware when the lights begin to flicker. If you see any flashes bright light or feel the breath of cold air on your neck, you will know the Willoughby Mansion's evil spirits have been resurrected!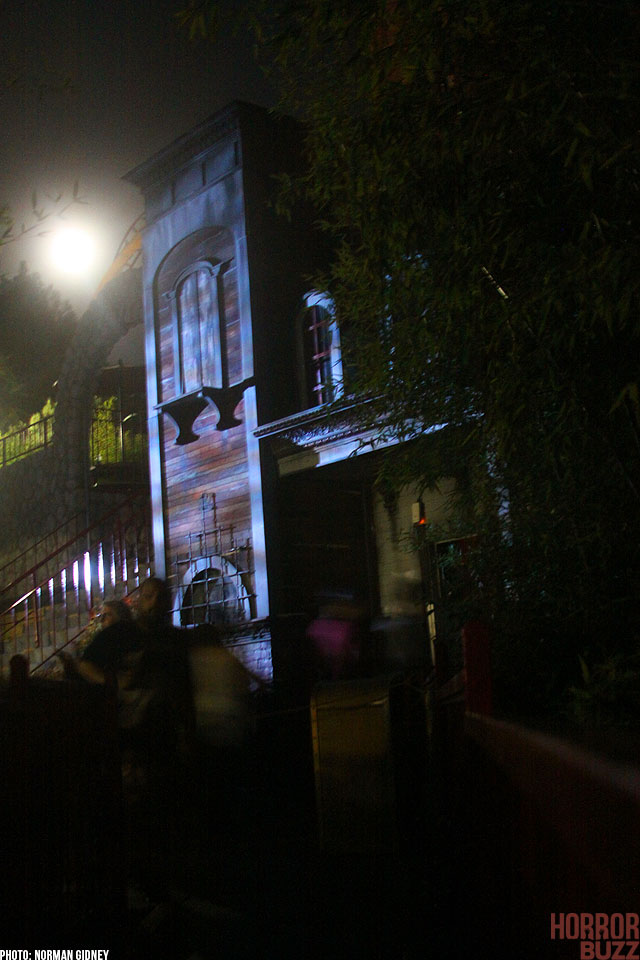 Willoughby's Resurrected. Hmmmmm.  Yes the scenic is lovely with tablets of beautiful sets, giving the impression that we are in a massive mansion. There are some nice digital effects as well, with portraits morphing into demonic monsters and the like. Yet in our particular walkthrough, something felt a little off.  When we DID encounter talent, they were on their game.  The ghouls had the time of their after-life taunting us when we found them.  This is still a very worthwhile maze if you have not been to Fright Fest yet.
Willoughby's Garden of Darkness
Dare to roam the haunted gardens of the Willoughby family. This dense labyrinth of man eating plants and evil apparitions is no playground for the faint of heart.
Garden of Darkness has been a maze in the dark for some time now.  A plywood maze with cargo netting draped over the walls and passageways, the idea begs for a revitalization. We have been through this garden many times with the same shrubs attacking us. Let's see what would happen if we found out why the garden is haunted? Give us something more to do that to keep anticipating the next boo scare.
Red's Revenge
Still the most beautiful of all the mazes at Fright Fest, Red's Revenge tells a foggy story about, well, Red's revenge. Entering a humble, rustic home we are told to pay attention to the set up of the story and urged to be careful in the woods.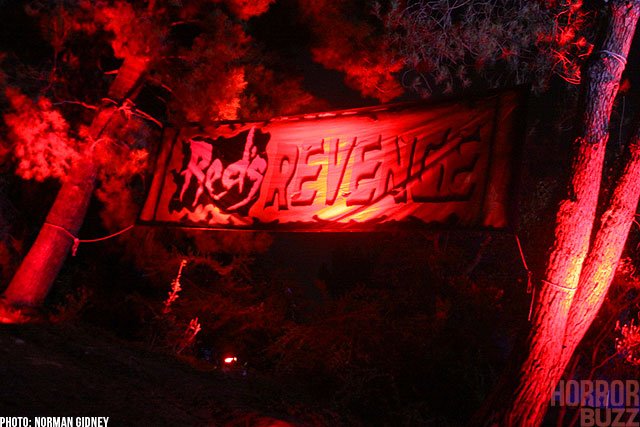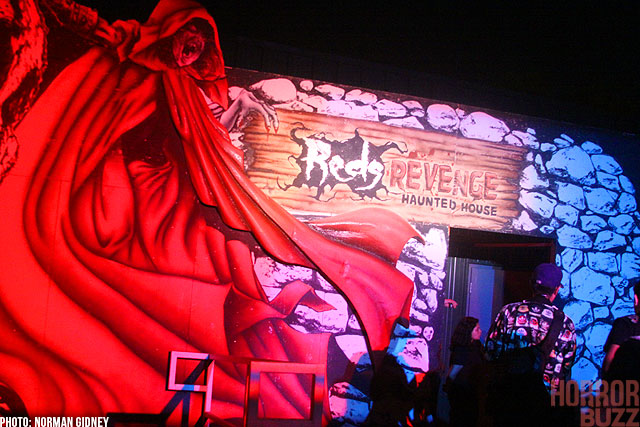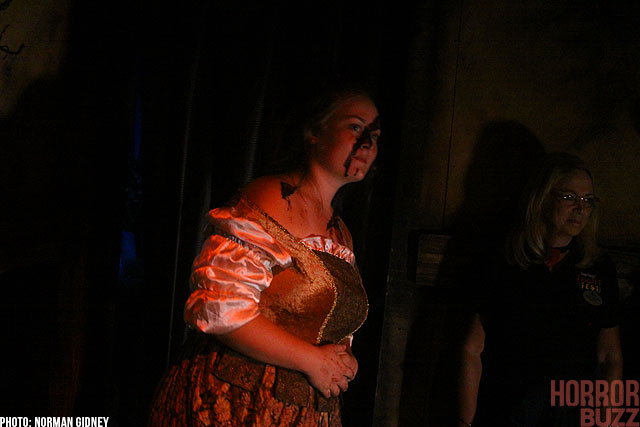 Venturing out we pass through a menagerie of fairy tale tropes and scenes.monsters lurk everywhere and our job is just to get out of the woods safely. That proves to be a problem. When the jump scares aren't nipping at your heels you are in awe of the set pieces that, by any standard, are remarkable.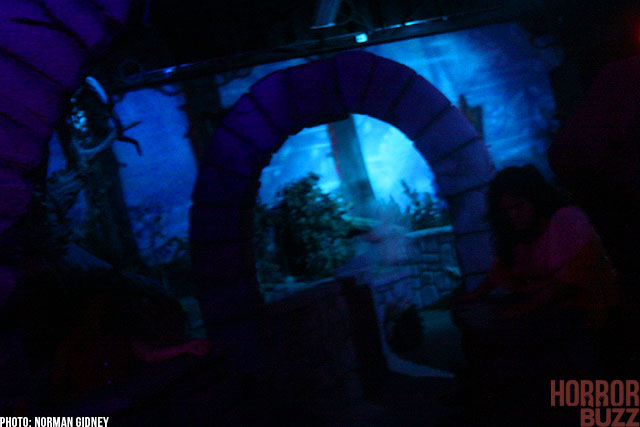 While not the most terrifying this is certainly a journey to take. Colorful, atmospheric, and remarkably fleshed out, Red's Revenge is something to see.
Vault 666
If you dare to enter, be aware of your surroundings at all times. Unknown animal like screams have been heard deep within the unsecured vault.
One of the grittier mazes, Vault 666 pits guests against an army of half-man/half-animal creatures that have escapes from their cages in a facility. Matching the gore is the attraction's wicked sense of humor. Things aren't as rosey and cheery as they seem as chaos seizes the tour you are in and all hell breaks loose.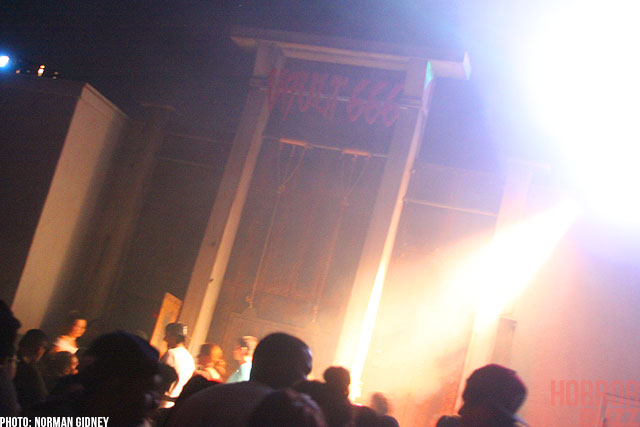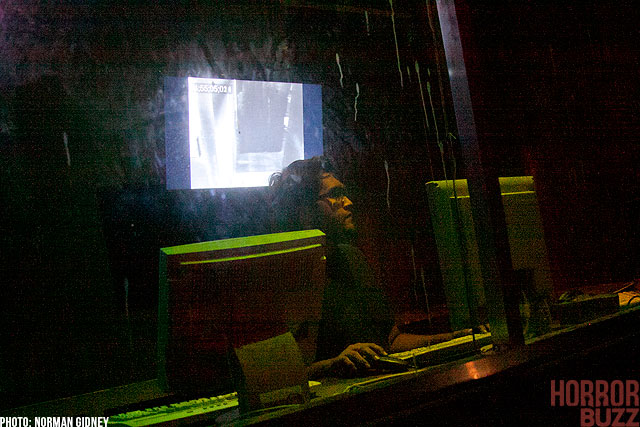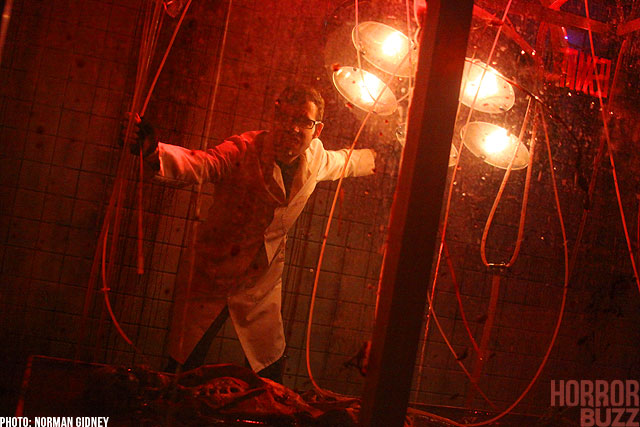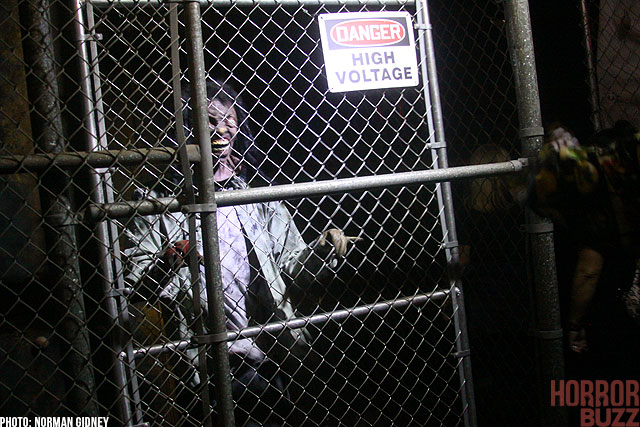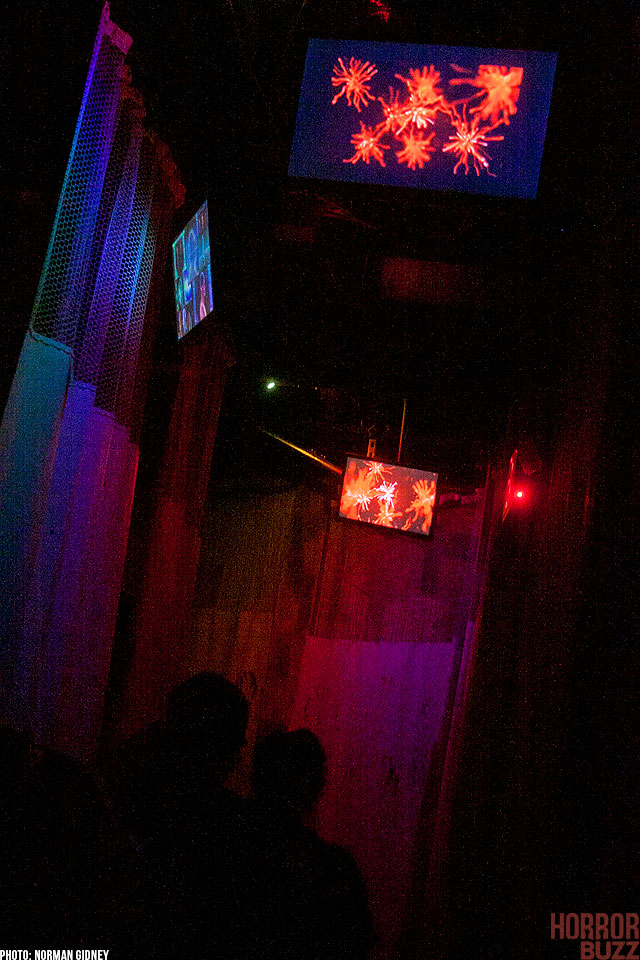 Another one not to miss.
Toyz of Terror 3D
This defunct toy factory is now haunted by a chilling turn of events that took place when the admired inventor went psychotic, adding demented spirits to his beloved toys.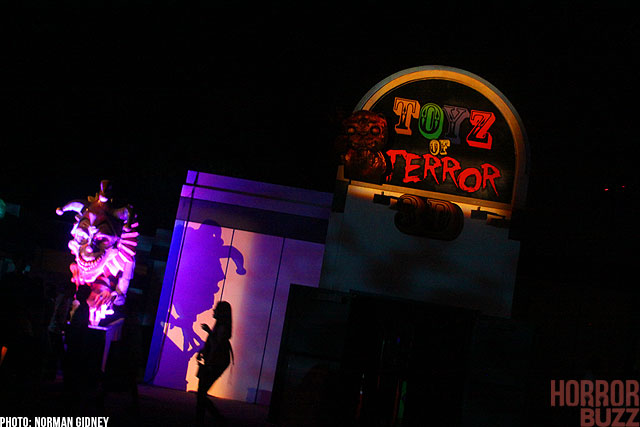 Not for those afraid of clowns or dolls, Toyz of Terror 3D is a riot of color and scares, again with a playful sense of humor. Wearing Chroma Depth glasses and trapped in a toy factory, we encounter monstrous clowns, evil toys, and trapped victims.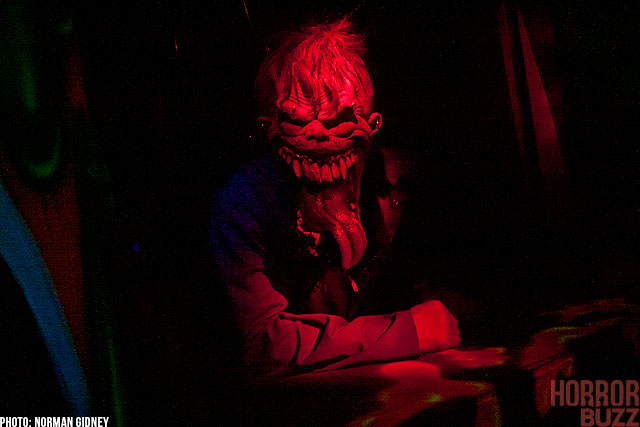 For a good laugh and a free scares, not to mention eye-popping visuals, Toyz is a real kick. Another one not to miss.
Chupacabra
Come face to face with this elusive blood-thirsty creature as it terrorizes a local Dia de los Muertos festival.
Oh Chupacabra. I had no clue the maze took place on Dia De Los Muertos. I had no idea why there was a werewolf in the maze, and had it not been named after the Mexican legend, I wouldn't have had a clue what we were supposed to be running from.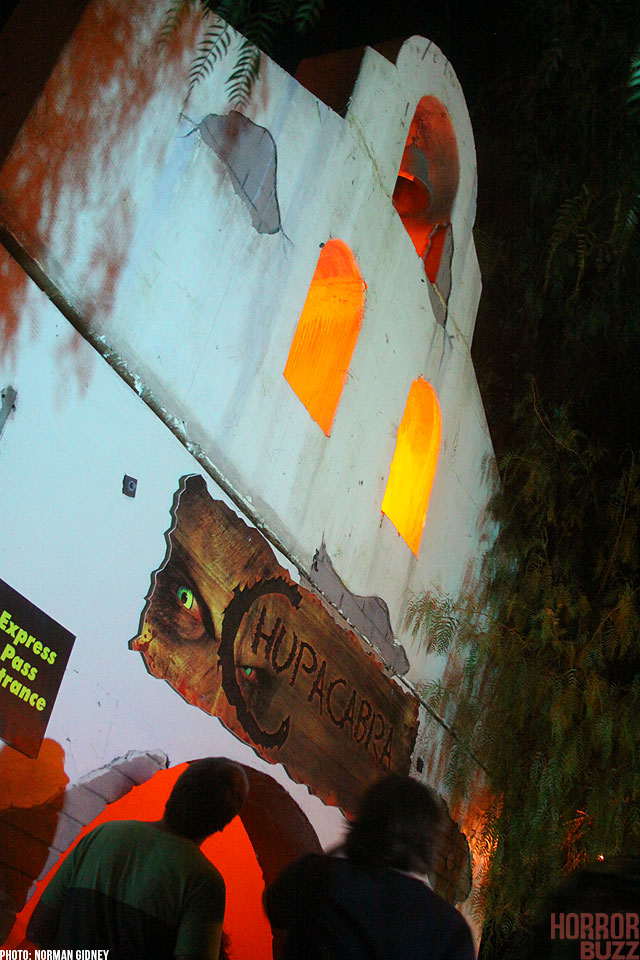 Chupacabra has been a maze that is long in the tooth for a while.  Situated in the former queue of Revolution, this walkthrough is a confusing mix of plywood, fog, and costumes. The talent here is all game. Many of them are remarkable and give it everything they have. But there isn't any there there. Give this idea the money it deserves or let it go.
SCARE ZONES
The Scare Zones are where Six Flags features some of their best ideas and their finest talent. This year we get an impressive collection of scares that give the mazes a run for their money.
Suicide Squad: The Six Flags Fright Fest Experience
This year's stunning new scare zone will transform the Park's DC UNIVERSE area into DC' Midway City, where some of the "Worst Heroes Ever" from the film Suicide Squad will be roaming the streets.
The big new scare zone at Magic Mountain Fright Fest is based on one of the biggest films of the summer. Suicide Squad takes over the DC Universe area of the park and, let's be honest, it looks amazing. Is it scary? Not really. It is a dubious fit to create a scare zone from an action film to be sure. The Magic Mountain team gives it their very best though and, while not scary, is an impressive place to be.
Three photo ops with the three most popular characters from the movie are here. Meanwhile monsters run through the area and just and punch near guests. If the opening weekend crowds  are any indication, this place will be a madhouse all season long.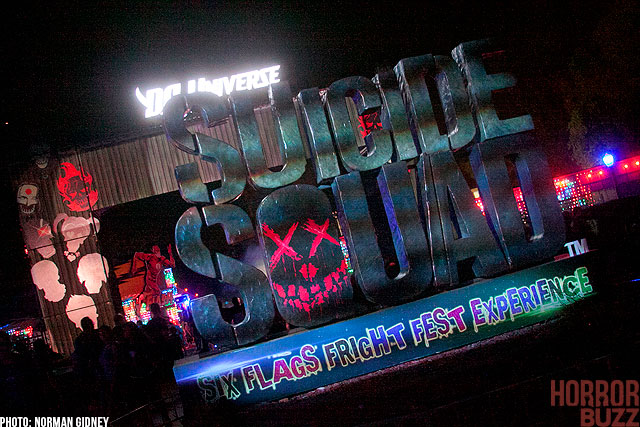 Again, Ken felt compelled to share his thoughts and we offer him the floor now.
As much as I would like to say this was a fantastic overlay and "zone,"  I have to say I was really disappointed in this area.  First of all it should be called what it is, a decorated character meet and greet area with characters from the movie Suicide Squad.  The projections on the walls of Gotham are nice, and the character makeup was great, but this one just was a crowded mess of people taking selfies with Harley Quinn and the Joker.  There were one or two mangled henchmen trying to work the crowd but it was a space that needed the mayhem on par with what the Joker is capable of delivering.  You seldom if ever hear me saying, "You know what?  This scare zone needs chainsaws."  But in this case a band of crazed Joker baddies ripping through the massive crowd and stirring it into a frenzy would have been welcome Fright Fest fun.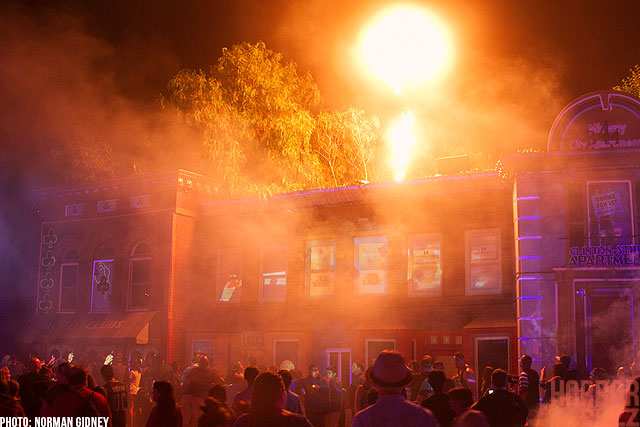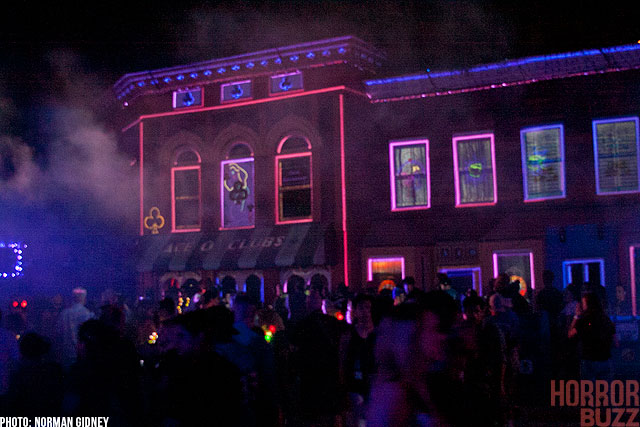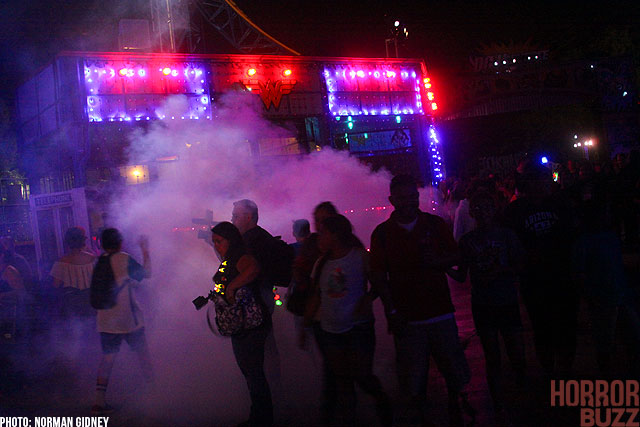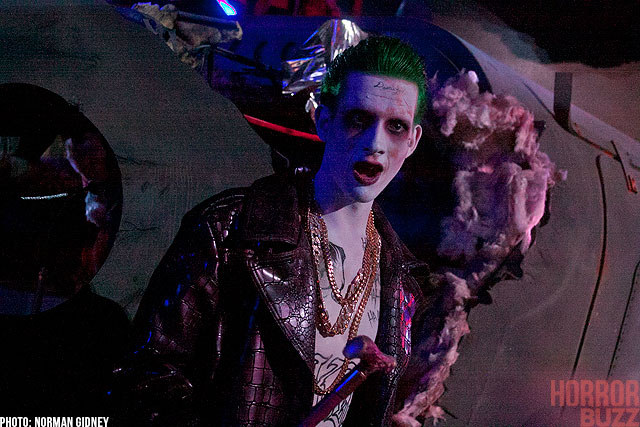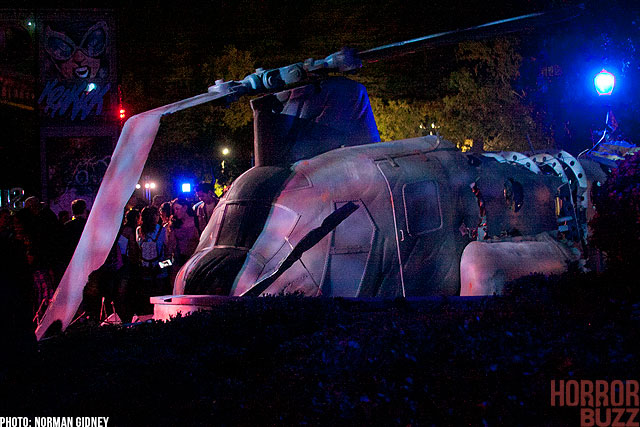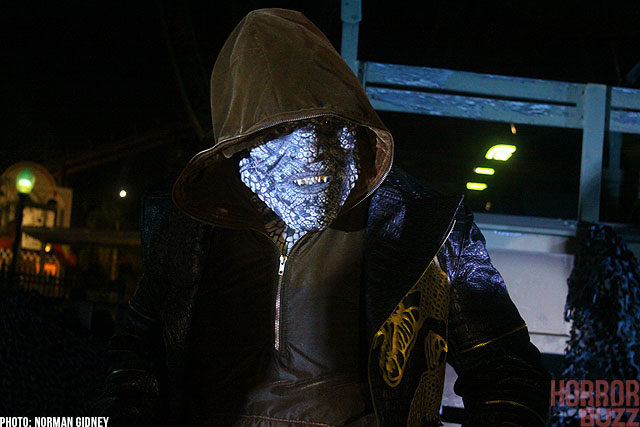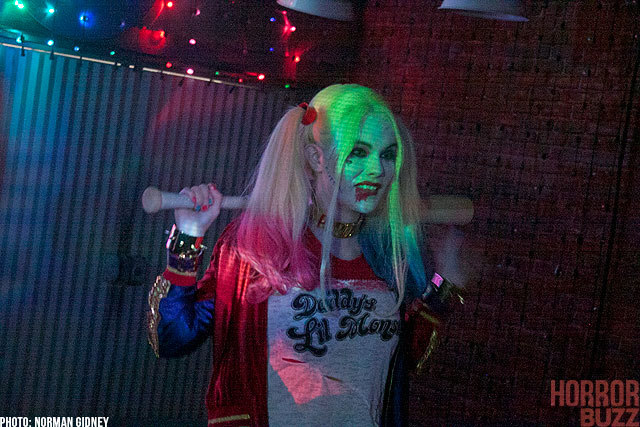 The Ruins
Marauders have set up camp on the outskirts of the city.  Beware of their deadly survival instincts as you dare to enter Aftermath 2: Chaos Rising. Located near Apocalypse.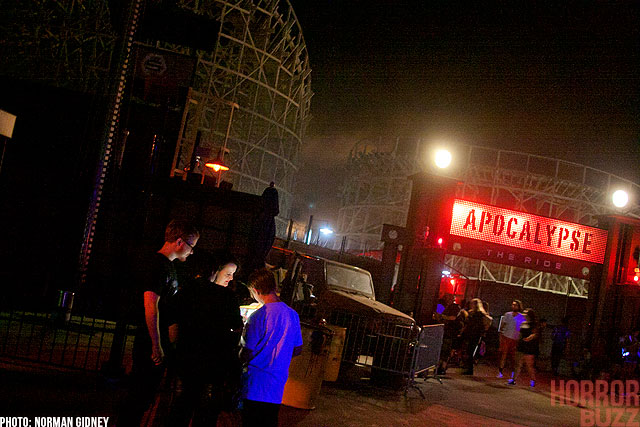 A simple themed area leading to Aftermath 2 Chaos Rising, mustangs and marauders are running amok. The zone isn't much of anything but additional theming and a few energetic monsters.
TERRORtory Twisted
The Screampunk District has been transformed into the biggest scare zone ever where steam-spewing mechanical beasts relentlessly hunt down their victims.  This steampunk-themed nightmare makes you wonder … is it man or is it machine?  Enter if you dare…
Visually stunning, Territory Twisted reaches its second year at Fright Fest and it looks amazing. A mix of metal and steam, mutant steam punks bounce around and interact with guests in a way that reminded me of Knott's brilliant CarnEVIL scare zone.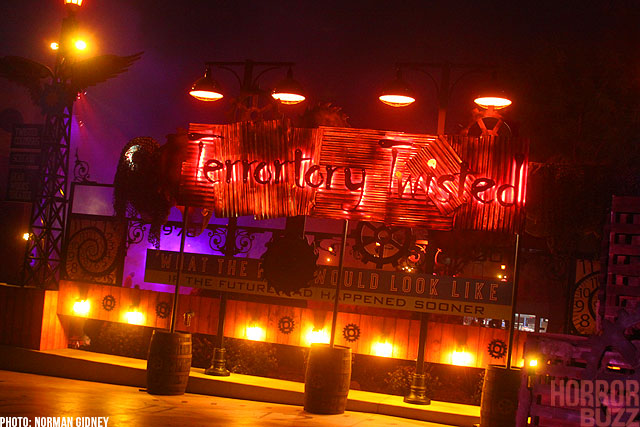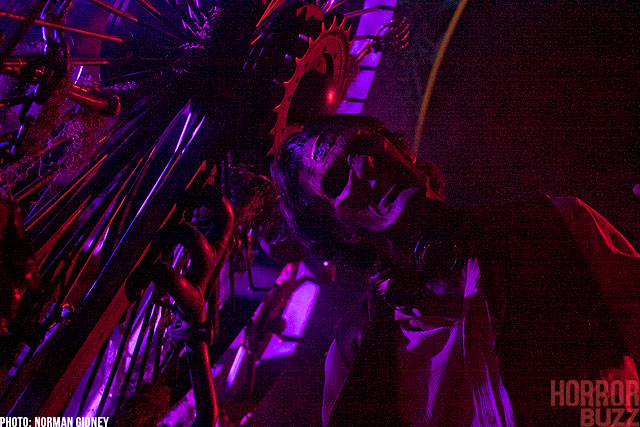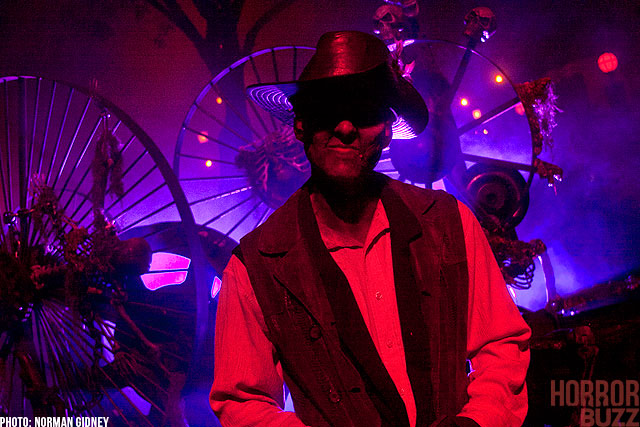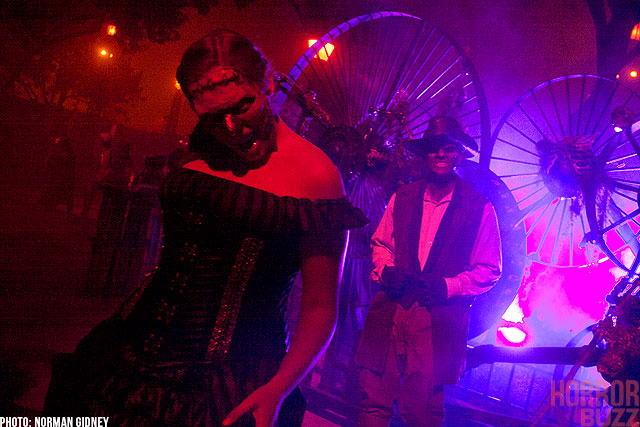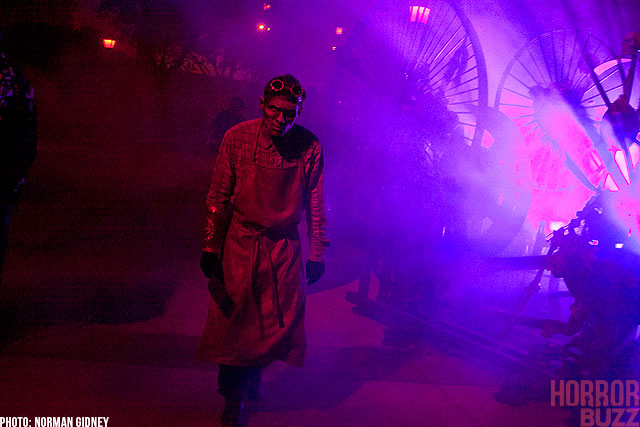 Nice work all around here to everyone involved. The fighting design pops, the costumes are great, and the talent, in particular the stilt walkers, are remarkable.  Good job.
Demon's Door
Welcome to HELL… Once you enter you will feel the immense heat that is the underworld. Beware of the demonic creatures and be prepared for your mind and body to be completely taken over by the evil spirits that await you, and slowly ripped apart. Located in Main Gate area.
Another one of our favorites, Demon's Door is how guests first enter the park as it is at the front gate.  Pillars of brimstone loom as demonic creates move about, skulking around corners and frightening guests. The talent in this zone are what make it phenomenal. What could easily just be a throw away idea becomes something far more sinister and fun due to the remarkable abilities of the talent.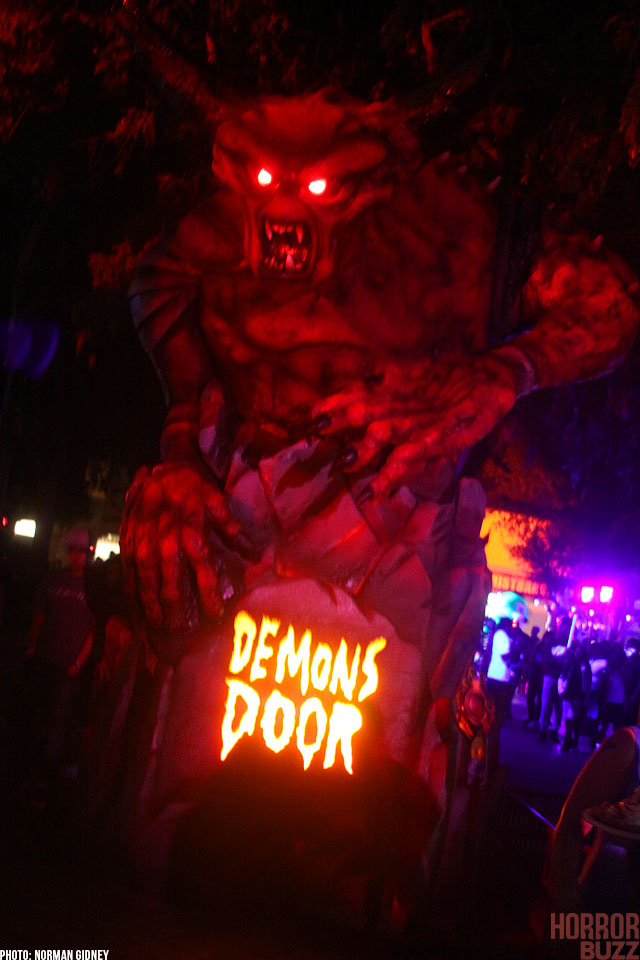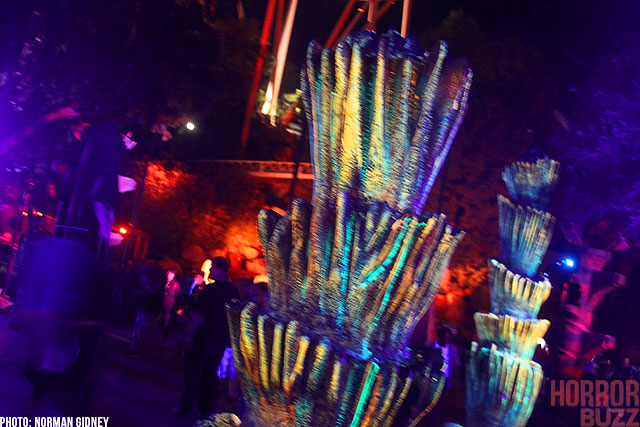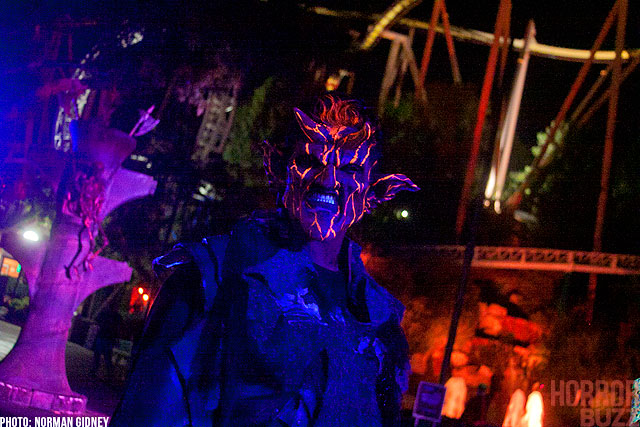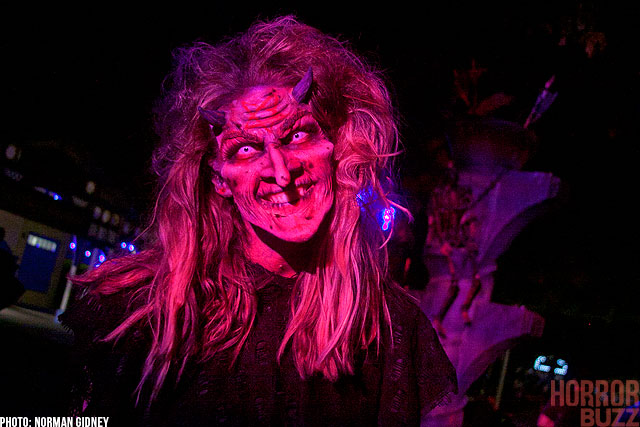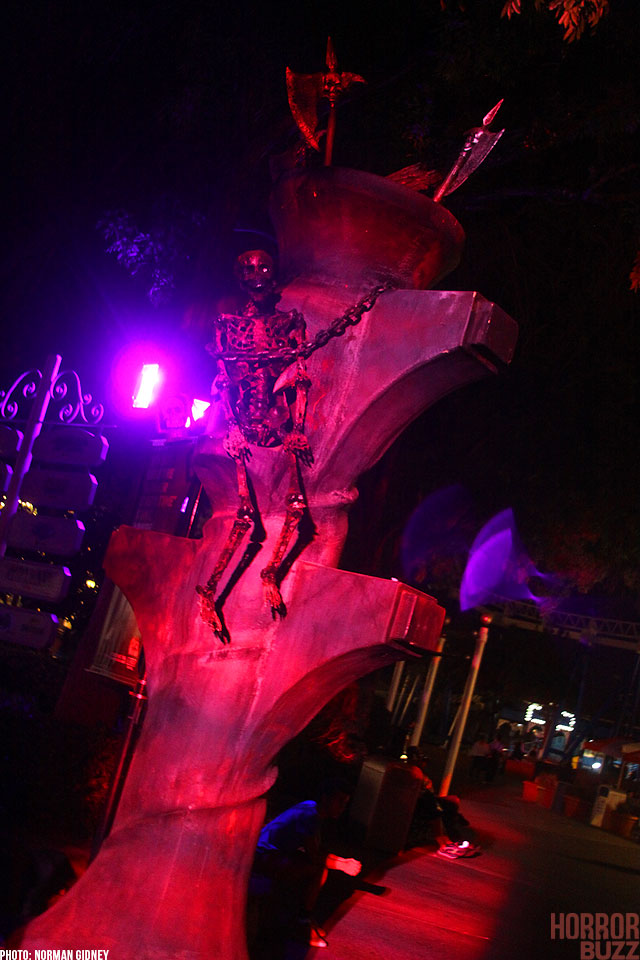 Zombie Xing
Beware of the undead as they travel in packs scavenging for their next meal.  They may try to steal your bodies as they make their way from one haunting field to another.
Oh well. I guess you can't always run into zombies at Zombie Crossing. The three separate times we trekked through this scare zone there was nary a flesh eater to be found.  In the past, the area was thick with fog and zombies could literally hide in the fog, inches from guests faces. We are chalking this up to our bad timing as this has normally been a great zone.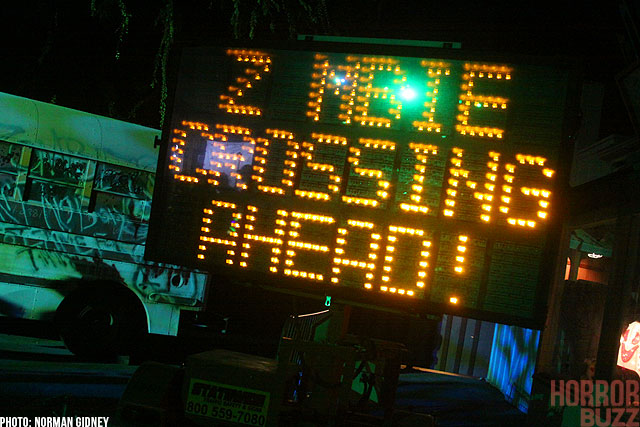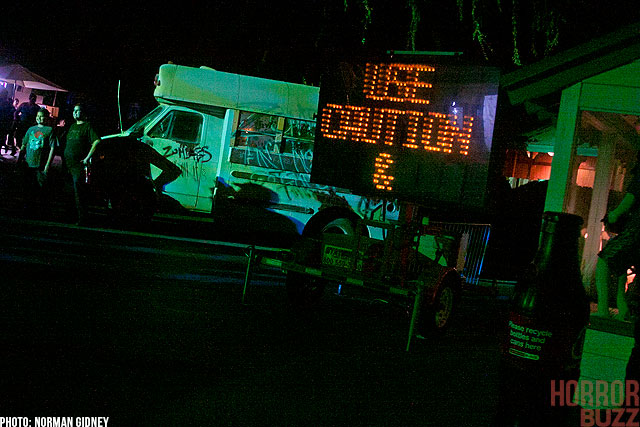 Exile Hill
The dead have risen and are looking for new souls to take on this dark and sinister hill. They are relatives of the Willoughby's and protect their haunted estate at no cost.  Located on top of hill by Sky Tower.
A sort of catch-all theme, Exile Hill houses the undead as you cross through it on order to get to Willoughby's or Garden of Darkness.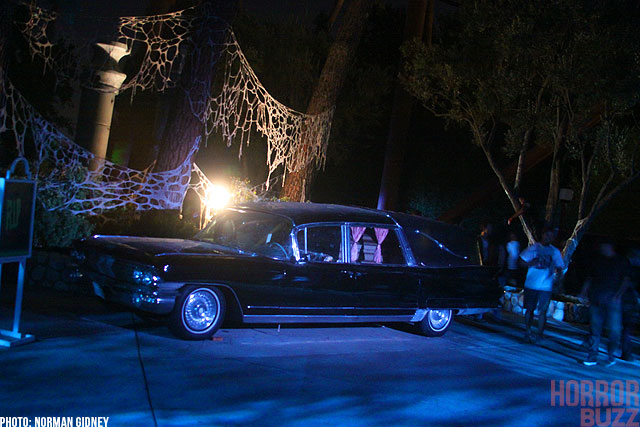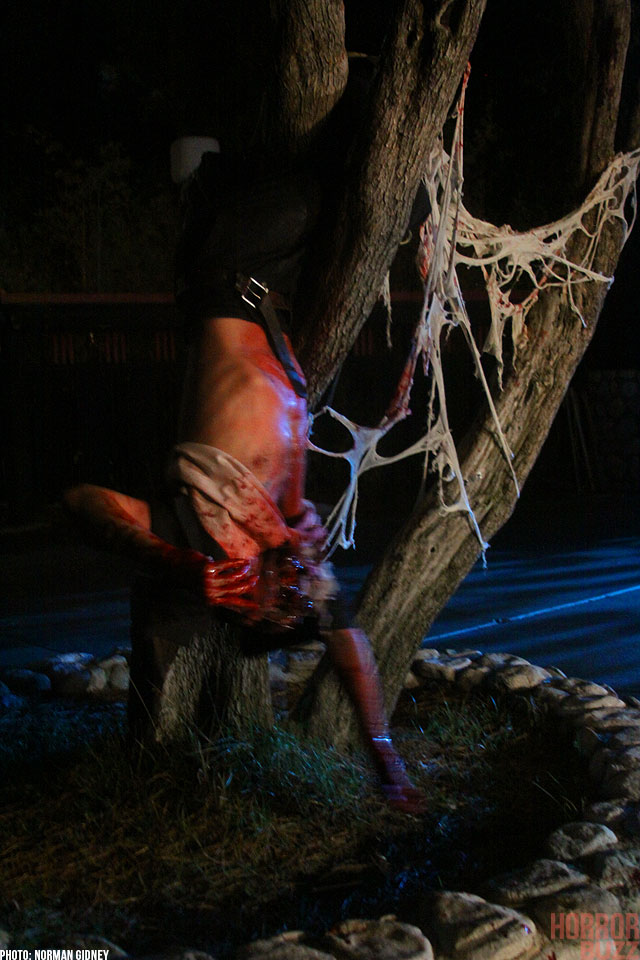 Nightmares: A Twisted Fantasy
This evil nightmare has never been so edgy as your favorite bedtime stories take on a haunting and twisted glow. These creatures seem friendly at first, but don't let their sweet glow fool you.  They would like nothing more than to show you the end of their story.  Located between Viper and Tatsu.
Another staff favorite, Nightmares delivers jaw dropping colors and visuals with eerie scares to create the quintessential scare zone. Ken felt compelled to write once again here…
This delightful zone at the top of the mountain was magical, and creepy and a delight to experience.  Yeah it's black light, and it's bright, but it's colorful, twisted storybook like characters work that rather steep mountain trail skillfully utilizing the distractions overhead and relative sense of well lit safety, to invoke an almost endless variety of look over your shoulder startle scares that bring a childlike smile to my face every time.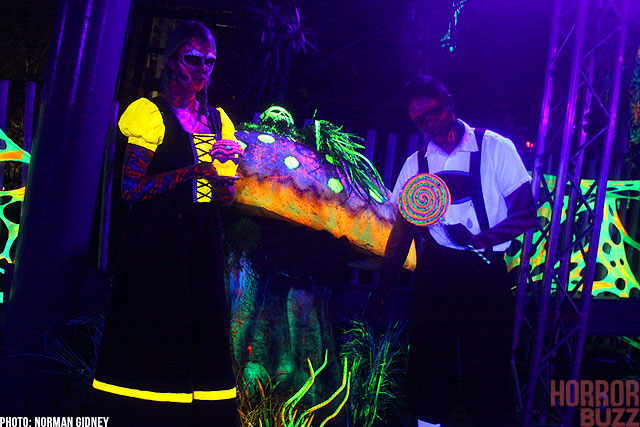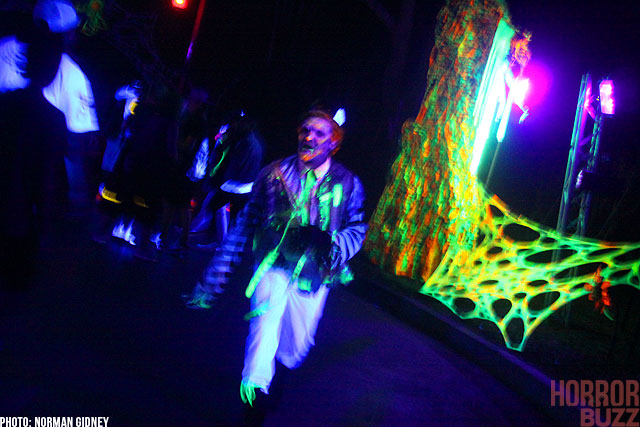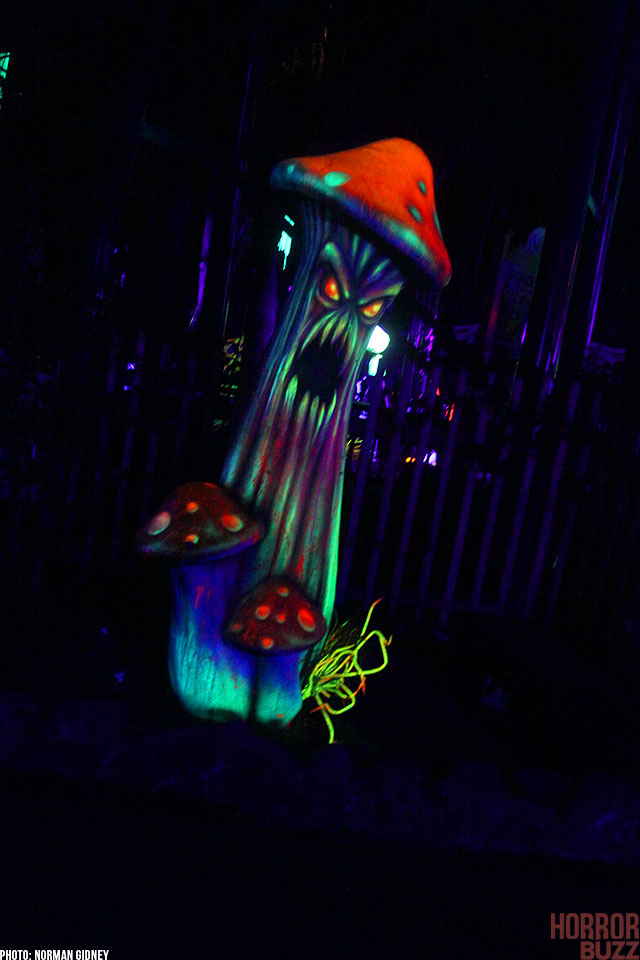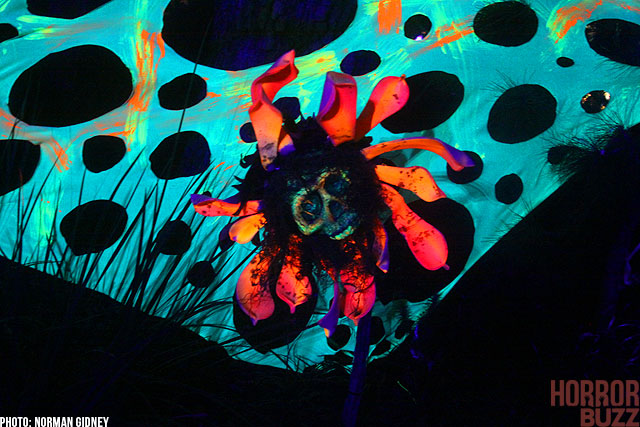 That wraps things up for us as we leave Six Flags Fright Fest and begin our journeys to more haunts for the season. While just fine as a haunt, the prices for Fright Fest, along with the style in which guests can choose how to experience the event, puts this event up there as one of the top Haunt Events in southern California.
2017 SEASON PASSES
Purchase four or more 2017 Season Passes now and get:
Free visits for the rest of 2016 including admission to Fright Fest
Free upgrade to Gold, free parking and free Hurricane Harbor
Save 68%!
For a limited time only: