We are excited to report that one of our favorite horror experiences from last year is returning.  CreepLA 2nd Installment Pulls Participants Into an Interactive Real-Life Horror Film Hair-Raising Experience beginning September 15th.
This original and disturbing creation of horror will once again crack open its doors shining a light into the darkness that CREEPs within us all. With its 2nd installment and in a new location, CreepLA participants will be immersed into a re-imagined world of twisted and intimate terror where the lines of reality and performance art are blurred leaving participants questioning everything.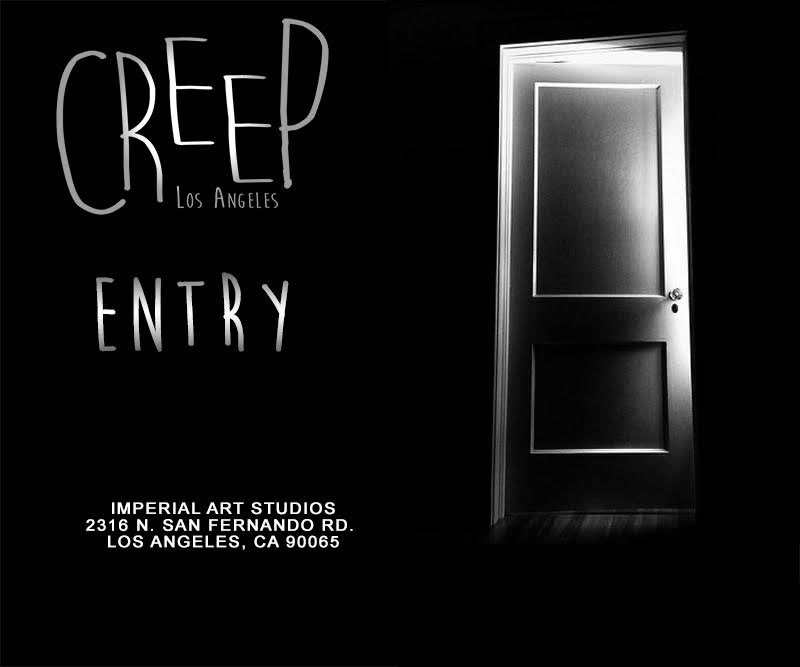 CreepLA's sophomore experience and over 12,000 sq./ft. of CREEP space tells a fluid story of a controversial 1970's artist full of angst and terror trapped in his own dark world. As guests arrive they are escorted into the CreepLA lounge where over beer, wine or signature cocktails (who doesn't like cocktails?) they are introduced to the story that is about to unfold. This all-new pre-show lounge sets the tone with a dark and eerie aesthetic and even the bartenders can't be trusted with reality. In the lounge, small groups (even individuals) are invited by CreepLA characters into hidden scenes, intimate encounters and frightful situations by members of the ensemble.
The experience is limited to groups of 8 at a time. As the experience begins they are then lead through the doors where the story moves through various connected vignettes. At CreepLA, the only thing people are certain of is uncertainty itself. "We're thrilled to bring back CreepLA's 2nd installment, ENTRY," said CreepLA Founder, Justin Fix. "From more characters, more space and a stronger storyline inspired by the cinematic styles of Directors David Lynch and Stanley Kubrick, this year's CreepLA is sure to thrill even the most savvy horror fan."
Each multi-sensory show will last for roughly 45 minutes, but guests are asked to make a 90-minute commitment to the entire experience. With over 12,000 square feet of area, the new CreepLA experience is larger than ever and will feature a cast of 28 actors set in various vignettes that feature notable film and television stage sets all of which work together to tell this year's CREEP story.
From the twisted mind of CreepLA creator, Justin Fix, CreepLA opened its doors in 2015 with several of Justin's friends coming together to help create Los Angeles' most authentic scream experience. "We're really excited to bring back a new CreepLA show this year in a bigger and better space," said Fix. "Our show is a departure from other scream experiences as we fully immerse our guests in the show leaving them questioning what's real and what's part of the show. This year, we have some truly diabolical twists and turns for the show."
CreepLA is also thrilled to announce their collaboration with Crypt TV and their philanthropic partner, The Art of Elysium. A percentage of the proceeds from the CreepLA will benefit The Art of Elysium, a non-profit organization that features programs designed to help those in the midst of difficult emotional life challenges through creative exploration and expression. They bring artists into communities of need in Los Angeles, allowing them to share their personal journeys of creativity with individuals of these areas and inspire them to move forward in their own.
Performances run from September 15th through Halloween on all weekends with some weeknights available.
Tickets range from $40 – $50 dollars.
Please visit www.CREEPLA.com for more information. @CreepLosangeles #CreepLA #Creepitreal