Last year, CreepLA burst onto the scene, and created a name for themselves with their fun, scary, and yes, creepy, experience. This season, I am eagerly anticipating their sophomore year, which promises more creeps than ever before.
I was lucky enough to have the opportunity to chat with Justin Fix, the man behind CreepLA, to learn a bit more about him, the show, and what's in store for the future.
Growing up in the Midwest, he participated in the local haunted houses, before moving out to Los Angeles to pursue acting.
"I got interested in film and TV, but also had a variety of side jobs to make ends meet," said Fix. "I always wanted a place to work, and put up art and self-expression. It got to the point where I was tired of talking about the job, and decided to create the opportunity for myself."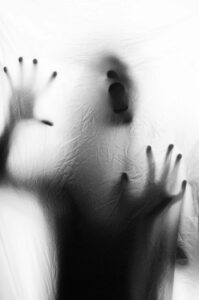 Having a theater background, he always liked great, immersive theater companies, and wanted to create something like that. He loved horror and thrillers, and thought creating something around the fall season would be ideal, having a built in crowd to give something new a chance.
One of the things I loved most about last year's show was the randomness of some of the scenes. Each segment was different, and creepier, than the last, running the gauntlet of all sorts of "creeps" that one could experience in life.
"That randomness was one of our strengths, but also one of our biggest complaints," explained Fix. He told me that last year, they wanted to play with the idea of who or what a creep actually is, and play in different environments with it.
"This year, we will introduce a new type of creep, and tell their story. We wanted to come out as a brand first, and make a blanket statement on the word 'creep', but now explore the idea of a true creep, a specific type of person," he said.
The story will follow a controversial, 1970s artist named Erebus Burwyck, who set out to explore the dark side of humanity, and express it through his art. While doing so, he managed to find something more terrifying than he could have ever imagined. After disappearing in 1974, a cult-like following came about in his absence…one that wants to spread his legacy, and whatever else he found within the darkness.
During The New Hauntness Midsummer Scream panel, Fix said that this year's show would be more personalized for people who went through it. I asked him to elaborate a little bit.
"I hate the conga line effect that some theme parks have at their haunt events, because things always get missed. Last year, we were able to get about 200 people through every night. By that nature alone, it was a more intimate show," Fix said.
Fix prides that CreepLA focuses on the talent he has hired, and talked about their great chemistry.
"We have a strong ensemble cast of 28 people. Some of them will be acting together, but others will have to hold a room the whole time, by themselves, and they can absolutely do that," he said.
Though the plan is to cycle people through in groups of 8, the plan is to separate everyone, and eventually have them leave as individuals. Some scenes will interplay with each other, having the guests' stories intertwine here and there, but everyone will ultimately have a different experience.
"It's a journey of self discovery, so at the end, everyone will talk about the different things they saw. I like to call it 'intimate terror', so everyone will have their own takeaway," Fix said.
This makes me excited, since it will add to the repeatability factor, allowing people to go back, and not have the same experience all over again.
I remarked that last year, I loved how we went between being passive observers in one scene, and then active participants in the next.
"I love that there are some characters that ignore the fourth wall, and then others come and break it. I love playing with the rules of the 'run of show,' and we allowed people to flow in and out of scenes. To me, this plays into our Creep title; people can creep into scenes, but can also be the creeper in them," he said.
CreepLA this year will be somewhere between 70-90 minutes, making it one of the longer immersive experiences of the season.
"We wanted to make it more of a night out with friends, and not have people coming out going 'what do you want to do now?'", Fix said. "We want them to be transported into the space, and be surprised by what we have in store for them."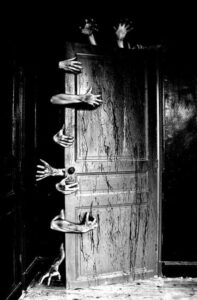 Fix was so passionate when we spoke that when he said that being able to do this was a dream come true for him, I didn't doubt him for a second.
"It's great to create this opportunity for ourselves, but people showing up, and appreciating it, that's the reward. It really is a childhood dream come true," he said.
His enthusiasm for this year was infectious, and while I was already looking forward to it, his talking about it makes me anticipate it even more. A big thanks to Justin Fix for taking the time to chat with me, and let me peek behind the curtain a bit.
If you're attending ScareLA this weekend, you can check them out for a taste of what's in store, but I also urge you to visit their website to purchase tickets for their show. It runs on many dates from September 16 through October 31.
Visit them at: www.creepla.com