As lights went down in a half full second stage at the Long Beach Convention Center, excited applause came from the enthusiastic gathering of what could only be called Delusion devotees. Fans came to drink in what Jon Braver and company were planning to present to the world in "His Crimson Queen". The panel consisted of Jon Braver, Jackie Kreterfield, Niyia Mack, Kevin Williams, Ian Momii and moderated by Sean Decker.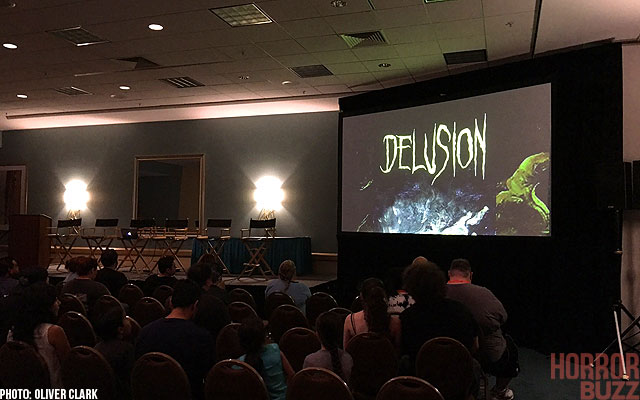 "Going through a script by Jon Braver is like going through the stages of grief. First is disbelief and ends with acceptance." – Production Designer, Kevin Williams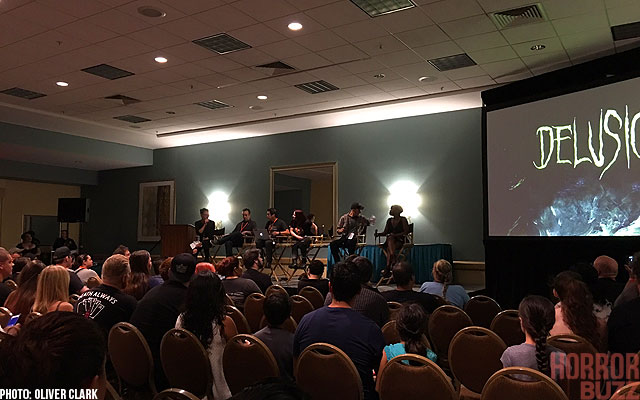 The quote above sums up the journey taken by the production staff of Delusion. The production team shared their stories of how they came to be part of the Delusion production; almost all did it by attending a show in 2012 or 2013 then emailing the producers asking how they can be part of the team. All of the staff brought previous theater experience to the Delusion team which was quickly put into place, as the productions become more complex in their actor requirements and venues (in one case they had to take three weeks to rebuild parts of the mansion to make it safe for their performances).
Jon places his trust in the audience to do the right things and interact when expected. In addition he believes in hiring the best actors possible with the ability to think quickly on their feet. Improvisation is key to keeping the show going in times of uncertainty. He then presented a video of one such event where two actors had to improv a performance designed to delay a group from entering the next scene as they exited the previous scene. To make things more challenging, the actors had 2 minutes to come up with a scene designed to last at least 5 mins without telling the other actor what they were doing. In the video we see that this scene was played out to a confused group of Japanese nationals, some of whom spoke little English, and a more confused actress trying to lead her group to the next scene.
One of the greatest challenges in putting on an interactive theater production is that there is no "back of house". In some cases the scene rests are done mere seconds after one group leaves which requires the production team to hide behind walls or under floors. So venue dictates which elements of Jon's original story gets in placed into the final production.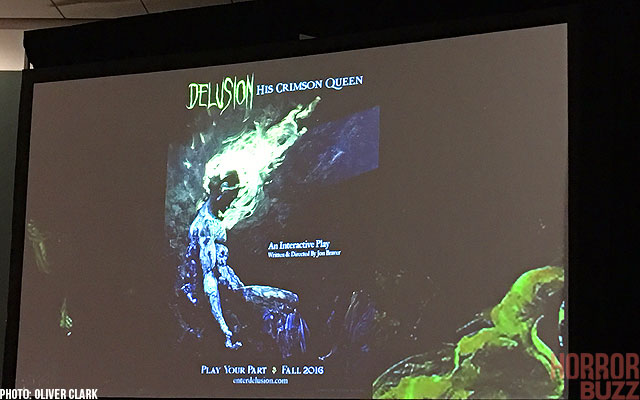 His Crimson Queen, a tragic love triangle. Jon and Co where pretty tight lipped on what the story is. What he did offer was that, the story involves you being children of a woman who is coveted by a strange man (from the story board there is a seated figure with a head engulfed in flames. It reminded me of Hades). Who the man is, is not made clear, though he seems to be central to reason why both you and your father go looking for her. Along the way you learn more of who you are and your abilities. The setting for the play will be near the mansion used in the 2012 production "The Blood Rite" at a villa in the West Adams neighborhood.
During the panel Jon admitted he is not a horror fan, and as such he wants to make this an old fashion story like The Shining. A more fantastical and supernatural feel, with a horror tone to some of the elements, is what we can expect in "His Crimson Queen". Oh and for those who were in attendance, a special treat was offered, special pre-view tickets for Sept 29, 30, and October 1, 2. It pays to show up.
Oh and by the way, here is the teaser trailer.
Delusion: His Crimson Queen from Jon Braver on Vimeo.