THE MOTEL 6 Feet Under  was one of our top 10 haunts from 2015 and we were elated when we found out that they would be returning for another year of fear at Anaheim's Business Expo Center on October 7th, 2016. Located across the free way from Disneyland. Not ones to rest on past success, and always looking to improve the level of hospitality offered, the Motel has decided to slowly introduce the public to their new staff, The Boo Crew
They are back with more ways to disorient and dismay their victims guests. At the end of 2015, Motel 6 Feet Under surveyed guests asking the simple question, "What was the most terrifying aspect of the MOTEL?" And one of our characters won, hands down, above the rest.
The Motel 6 Feet Under crew is giving HorrorBuzz an exclusive first look at each of the 5 new characters on the boo Crew. Each Day we will share another monstrous fiend that will await you when you check in.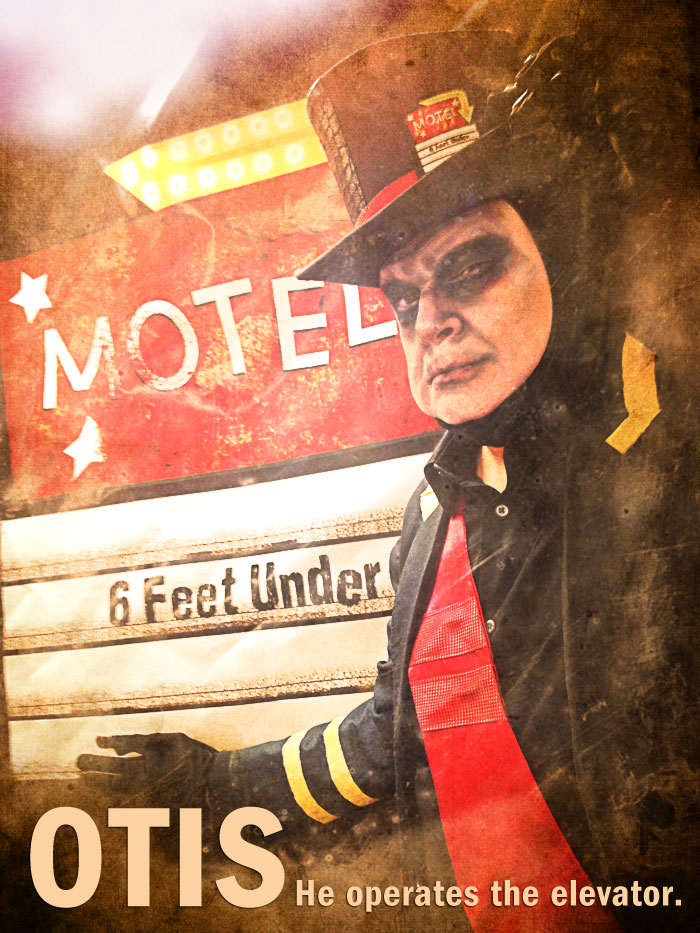 OTIS. He operates the elevator. And lets Mable push all the buttons, all the time. So the elevator gets stuck. A lot. Life with Otis has its ups and downs. He's been watching Mable push those buttons a long time. So if you get into his elevator, whatever you do, don't push his buttons.
A creepy new elevator operator. Nice. Let's hope we don't run into him on a bad day.  Check back tomorrow for another revelation!