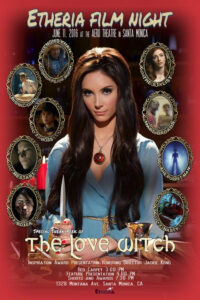 Grab your tickets to the Etheria Film night and enjoy a fabulous night that will showcase a progressive slate of genre films directed by women for an audience including producers, managers, show runners, distributors, and genre fans. 
Women are fierce plain and simple. They make exciting, provocative, entertaining, fantastic, and terrifying films that entertain, enthrall and captivate. Etheria puts the women directors who make genre films and TV in front of the people who want to hire them. Past official selections have included films from directors Axelle Carolyn (Soulmate),Rose McGowan (Dawn), Karen Gillan (Coward), Chloe Okuno (Slut), and Amber Benson (SheVenge), among others.
Etheria Film Night (www.etheriafilmnight.com) Will also be honoring Jackie Kong with the Etheria Inspiration Award on Saturday, June 11, 2016. The Inspiration Award is presented to people who have inspired women to write and direct genre films & TV. Past recipients include Jane Espenson ("Once Upon a Time"), Lexi Alexander ("Punisher: Warzone"), Jennifer Lynch ("The Walking Dead"), and Mary Lambert ("Pet Sematary").
Jackie Kong is a director, producer, and screenwriter known for irreverent comedy and over-the-top horror films. In 1983, she made her feature film debut as director with the low-budget drive-in horror film The Being, which starred Martin Landau and Jose Ferrer. In 1984, she folled up by directing and co-writing the breakout comedy Night Patrol, featuring Linda Blair, about a Los Angeles policeman moonlighting as a stand-up comedian. Kong received a Platinum Video award from the RIAA for Night Patrol, which became a college-party film staple. Night Patrol was a major worldwide theatrical success, setting the stage for Kong to direct the comedic cult horror film Blood Diner, released in 1987.
In addition, Etheria is proud to be hosting the world premiere of Jill Sixx's latest horror short The Stylist starring Najarra Townsend.
"Jackie Kong is a bad-ass,"
 says Festival Director 
Stacy Pippi Hammon
. 
"When we talk about inspiration, it's not just the films, but the attitudes that we look up to. Kong's unflinching determination to tell the stories that she wants to tell is so affirming to so many women. Combined with her having directed some of the most iconic genre films of the 1980s, this attitude makes her stand out as someone we would love to honor. She's punk rock."
Etheria Film Night 2016 – June 11 Aero Theatre Event Trailer
from
Heidi
on
Vimeo
.
We are excited to see what delicious fun these talented women have in store for us. Won't you join us?