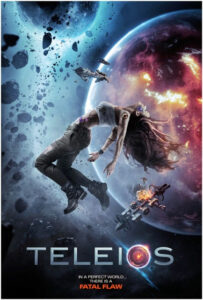 Ian Truitner's Teleios
A Sci-Fi Action Thriller in Deep Space
World Premiere at the Sci-Fi London Film Festival May 1
Thousand Mile Media just announced the world premiere of Ian Truitner's action-packed sci-fi thriller Teleios. The pic will screen for the first time at the 16th London International Festival of Science Fiction and Fantastic Film on May 1st.
Teleios stars Sunny Mabrey (Species III, "Once Upon a Time"), Michael Nouri (Flashdance, "Damages"), Lance Broadway (Olympus Has Fallen), TJ Hoban ("It's Always Sunny in Philadelphia") and Mykel Shannon Jenkins ("The Bold and the Beautiful"). A rescue mission for one man turns into a battle for survival as the "perfect" rescue team starts to fracture.
Sci-Fi London Film Festival World Premiere:
5:00 pm, May 1, 2016
Stratford East Picturehouse
Salway Rd, London E15 1BX, United Kingdom
Encore Screening:
9:00 pm, May 4, 2016
Stratford East Picturehouse
Salway Rd, London E15 1BX, United Kingd
Grab your Tickets here:
http://sci-fi-london.com/festival/2016/programme/feature/teleios