As I've previously mentioned, in my other life, I'm a semi-professional magician and because of that, I've been very lucky to meet plenty of amazing people.  One such person is my good friend, mental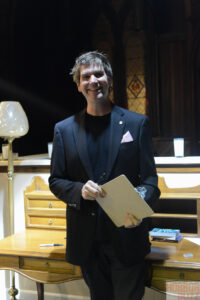 ist Maurice Lord. I'd first met Maurice in line for a show at The Magic Castle, and through the course of our conversation, discovered we had similar tastes in magic. Maurice was kind enough to invite me to test performance of his new act. Considering he'd be presenting his act inside an actual mortuary, how could I say no?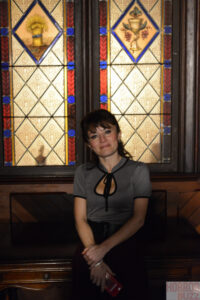 With my lovely friend, Elif, accompanying me, I made my way up the 101 freeway to that quaint sea side town- Santa Barbara. The drive was surprisingly pleasant with little traffic and fair weather, ocean views and friendly conversation, and we made it up there with plenty of time to spare.
The mortuary was a rather  stunning venue. Quaint and very small townish on the outside, with an almost 'American gothic' vibe inside. Since we'd gotten there so early, I took a few minutes to look around and take a few images while Maurice set up. Soon, however, the other guests started to arrive (including a magic luminary) and it was time to begin the show.
I won't detail the exact feats of mental ability that Mr. Lord demonstrated for us. I don't want to spoil anything for my readers when they finally get a chance to see him live, (And mark my words, I think that time will be sooner rather than later.), but I will say that I was very impressed.  If this was a rough 'test' performance, I can't wait see the show when it's deemed 'ready'.  Maurice's final demonstration alone was astounding, and his easy going and entertaining demeanor kept me engaged through out the all too brief show. So between the eerie charm of the venue's setting and Maurice's stellar show, this was well worth drive up the coast.
Well done!
Now, I'd like to take a moment to tell you about an upcoming project of mine. I'm very excited to present a handful of theatrical seances in the coming weeks with my friends over at Sinister Pointe. If exploring the world of the spirits is something that might interest you, I urge you to join us in the dark… you never know what might happen.  We still have a few tickets left so click here for more information!
As always, if you'd like to stay up to date with what I've got going on, follow me on Twitter and Instagram and you can email me at 52 Halloween@gmail.com
Stay Scary!