Can you remember the first movie that really scared you? Laugh all you want, but mine was Ghostbusters. I was maybe five years old and watching it by myself with my parents in the next room and that library ghost frightened me so bad I went running to them!  Considering my love for all that's fearful and frightening, its no surprise that it became one of my favorite movies. So when I heard that my friends at Creepshow Cabaret would be putting on a burlesque Ghostbusters tribute, I knew I'd have to check it out.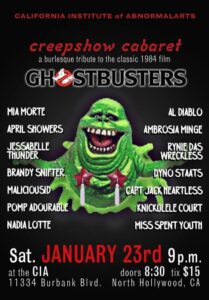 In their own words: 'Creepshow Cabaret is a Los Angeles based alternative burlesque show specializing in the strange and unusual!' I first saw one of their shows a few years back at Zombie Joe's Underground in the NoHo Arts District and totally dug the dark vibe. It was also my first time seeing live sideshow performance. (And if you haven't seen live sideshow, brother, you need to.)
Like their previous tribute show, Silence of the Lambs, Ghostbusters was hosted at the California Institute of Abnormal Arts, or CIA for short.  It's a crazy concert venue slash sideshow and circus museum located in the NoHo Arts district. You know you're in for a good time when you purchase tickets through the ear hole of a giant man's head.
The show itself was great. Co-Hosted by Al Diablo (who had a spot on Louis Tully impression) and Mia Morte, it, for the most part, featured sexy people portraying characters from the Ghostbusters movie and then taking their clothes off. Sexy people like Rynie Das Wreckless (who you might remember as Chucky from Week 1's adventure) as Jeanine and MaliciousSid as almost screen perfect copy of Egon.
Now it wasn't all stripping- magician Dyno Staats channeled his best Dan Aykroyd and demonstrated how the Ghostbusters' famous ghost traps worked. There was also a brief ukulele interlude by Knickulele Court.
If I had to pick a favorite among all the stand out acts (Seriously, they were all great) it'd be a coin toss between Pomp Adourable as Slimer and Ambrosia Minge as the Stay-Puft Marshmallow Man.  Pomp is an extremely talented balloon artist, and his slimer costume was mad out of balloons. Words can not do it justice (And sadly, photography wasn't allowed.) but it was breath taking.  Ambrosia literally tore the place up as Stay-Puft before lighting marshmallow pastie tassels afire and spinning them. It was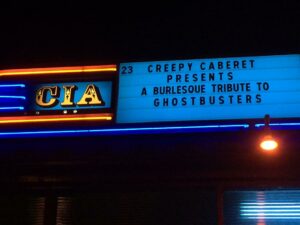 breathtaking.  Sadly, all good things must come to an end, with Egon and Ray being joined by Jessabelle Thunder's Winston showing up balloon proton packs and destroying Stay-Puft.
There was bright side to that though! They made s'mores out of her remains and passed them out to the audience afterwards. Which is a pretty sweet way to end a show.
 I'm sorry if you missed this fantastic show, but the good news is that Creepshow Cabaret has another tribute show coming up on March 19th. While it won't be Ghostbusters, it's something just as good- The Shining! For all the info be sure to like them on Facebook.
As always, if you'd like to stay up to date with what I've got going on, follow me on Twitter and Instagram and you can email me at 52 Halloween@gmail.com
Stay Scary!