The big furry, green guy is back folks!  Yes, The Grinch has returned to Universal Studios Hollywood bringing the annual "GrinchmasTM" celebrations now through January 3rd 2016.  The theme park celebrates the Who-lidays with The Grinch, his faithful dog Max and the Whos from the town of Who-ville.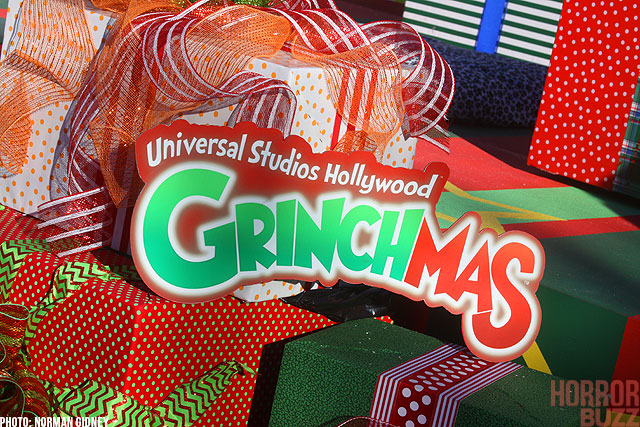 The The Universal Plaza is the central celebrations spot  for "Grinchmas", acting as the staging for a number of family-firnedly activities that include the lighting of the whimsical, 60-foot "Grinchmas" Tree.
Martha May Who-vier and the Who Dolls will take the stage by the "Grinchmas" tree performing high energy musical sets to usher in the Christmas season with sass, pizazz, and of course, jazz hands.  At night the  The Wholiday Singers perform nightly a cappella concerts featuring a mix of Christmas favorites and pop rock.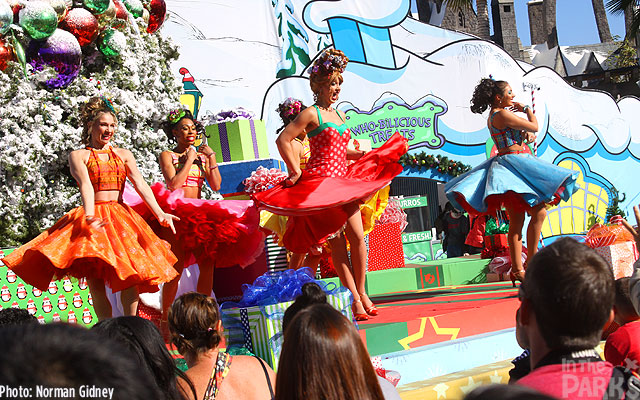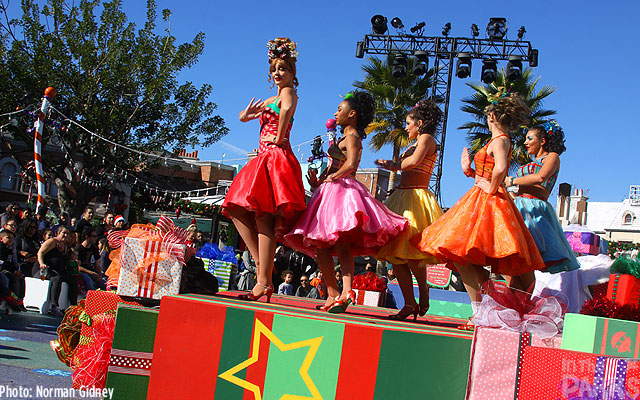 Long before Jack Skellington bridged the gap between Halloween and Christmas in 1993's The Nightmare Before Christmas, The Grinch was already a household name. Dr. Suess' How the Grinch stole Christmas was first published in 1957, later adapted into a Christmas special in 1966. It was this nasty green monster who made scary and merry a popular combination long before anybody "Made Christmas".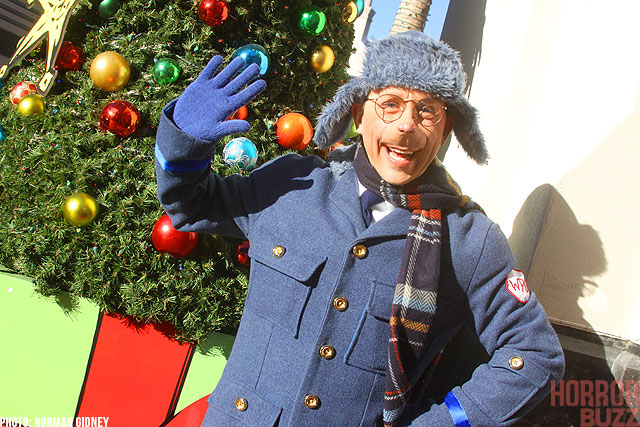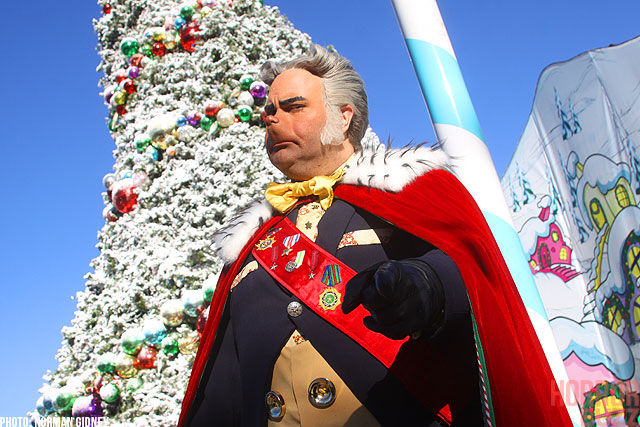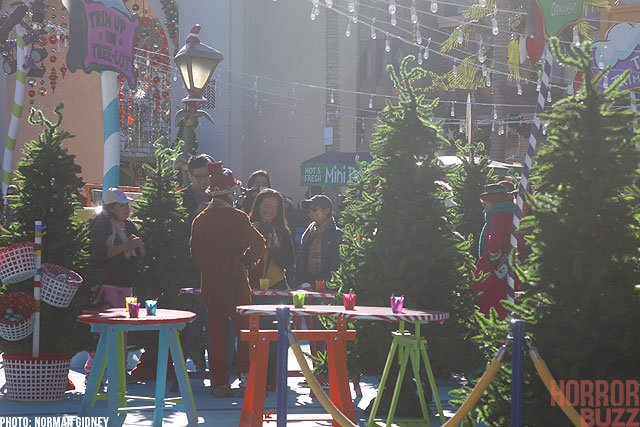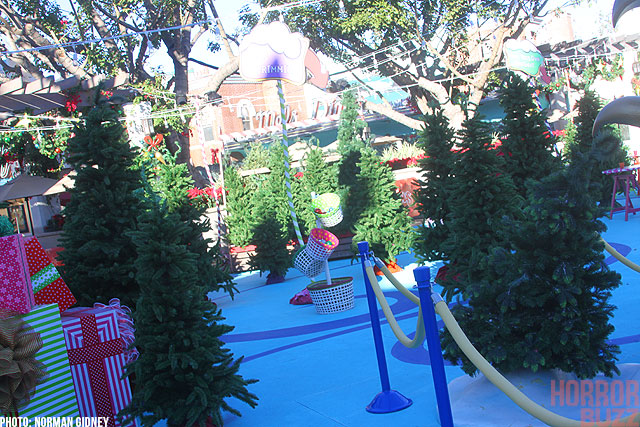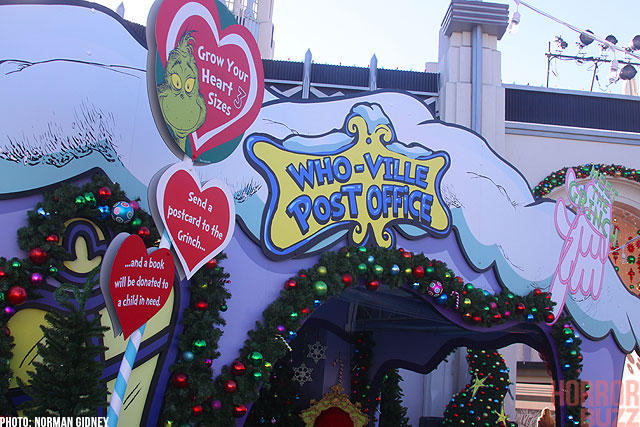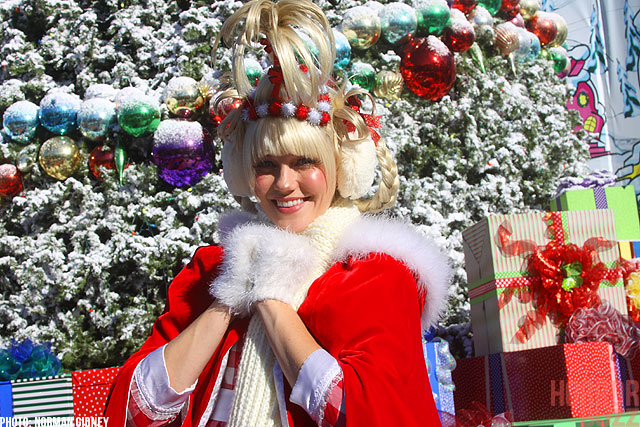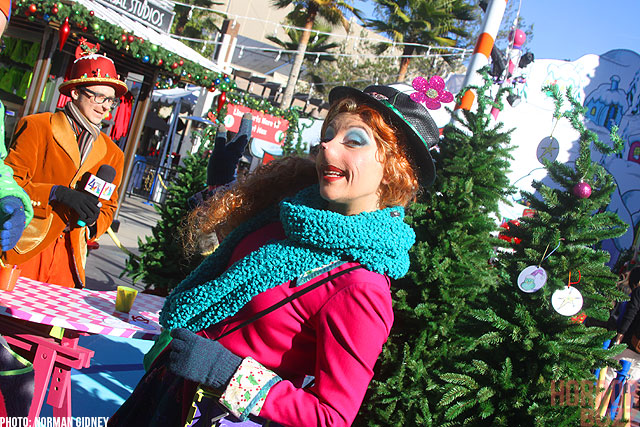 Talking to the Grinch
We had the opportunity to chat with the Grinch as he was overseeing Grinchmas celebrations at the park recently.  The gregarious, nefarious, and hilarious 6'5″ fuzzball was making nice with his fellow Who-vians and helping with the "Grinchmas" cheer as we chatted.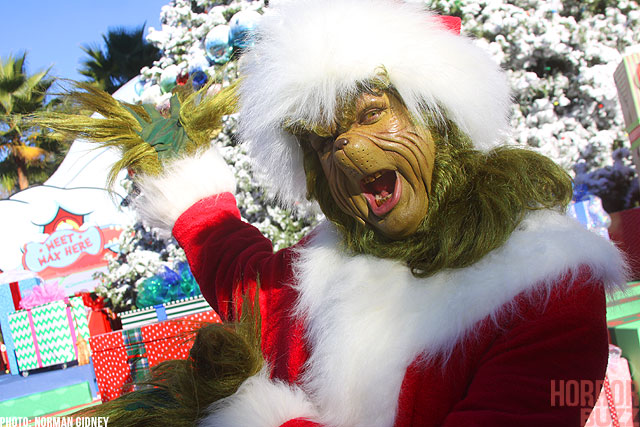 HB: Hello Mr. Grinch!
Grinch: Hello HorrorBuzz!  Delightful to see you.
HB: As one of the original trailblazers in pairing scary and merry, what is your main goal with the Grinchmas celebrations?
Grinch: Well first of all there are a lot less to be afraid of here at Grinchmas.  The idea here is to give the citizens of Whoville a place to have fun and to celebrate the reason for the season, which is of course me.
HB: So no hatchets or knives, nothing to scare away the kiddies?
Grinch: Oh no, no, there isn't a single spider or malevolent toy to be found. This is all about the spirit of giving and being with family.
HB: Wonderful.  Can you tell us what our younger little terrors might enjoy while visiting Grinchmas?
Grinch: Well, of course there is me. But, other than that guests can visit with Max, my dog.  You know max don't you?  Many people mistake him for a reindeer.
HB: Yes we met with him.
Grinch: And you took a picture with him too right?
HB: Yes we did.
Grinch: Well you can also visit the Whoville Post Office you know, you need to share your good deeds.  You can also build your own ornaments at the "Trim up the Tree" lot or decorate a cookie or listen to Cindy-Lou Who read a wonderful Grinchmas story.
HB: This all sounds like so much fun.  No scares, but a lot of monstrous, Christmas fun for kids and families then?
Grinch: Yes! Also go check me out on the Studio Tour.  In fact I have to head out there now. See you later!
And with that the Grinch grabbed Max and headed out to the backlot.
Here are some pics from the Grinch on the Studio Tour
Activities in the Universal Plaza
Below is an official listing of all activities taking place in the Universal Plaza during Grinchmas
Who-ville Post Office – Visitors will have a chance to partake in the "Grow Your Heart 3 Sizes" campaign when they share their good deeds on a postcard and mail them to The Grinch. In return, Dr. Seuss Enterprises, L.P. and Random House Children's Books, the publishers of Dr. Seuss's How the Grinch Stole Christmas!, will pay it forward by donating a book to a child in need through First Book on behalf of the sender.
Trim up the Tree Lot – Guests can design and personalize their own "Grinchmas" ornaments to help decorate the venue's other "Grinchmas" trees or take them home as a keepsake.
Who-bilicious Cookie Dec-Who-rating – Freshly baked gingerbread and Christmas tree cookies will be available for purchase, and guests can create their very own amazing treats with an assortment of delectable frostings and tasty toppers.
Story Time with Cindy-Lou Who – Cindy-Lou Who and her Who friends will gather guests of all ages – tall and small – for an engaging storytelling show of Dr. Seuss's How the Grinch Stole Christmas, featuring special effects and audience participation.
It's time to head out to Universal Studios Hollywood and catch Grinchmas now through January 3rd.  Rain or shine the event continues with the big green guy himself and all of the Whoville citizens ready to welcome you.
---
"Grinchmas" runs weekends on December 5-6 and 12-13, then continues daily from December 18, 2015 through January 3, 2016.