If you caught a production of Wicked Lit this past month, you saw her as a mysterious woman in a gown, walking through the hall of the mausoleum, seeming to glow in a bright, almost blinding light. Actress Deborah Dominguez Alonso plays a role credited only as "The Woman," one of the starring roles in the short play, "The Ebony Frame," based on the short Victorian ghost story originally penned by author Edith Nesbit. In this production of "The Ebony Frame" a man becomes obsessed with a painting of a beautiful Spanish woman (Dominguez Alonso)—a painting that comes alive.
If you haven't caught a production of Wicked Lit yet, you still have a chance to see the performance this month. The show will run through Nov. 14, featuring three short plays based on classic horror stories, all of them staged at the Mountain View Mausoleum and Cemetery in Altadena.
Along with "The Ebony Frame," this year Wicked Lit is also featuring staged adaptations of "The Grove of Roshomon," based on a Japanese legend, "The Fall of the House of Usher" by Edgar Allen Poe, and an original play, "The System," loosely based on Poe's "The System of Dr. Tarr and Professor Fether," which acts as a frame narrative for the other performances. Wicked Lit is organized by Unbound Productions, a theater company that specializes in creating immersive staged adaptations of classic works of literature. Dominguez Alonso chatted with us at HorrorBuzz about her role in "The Ebony Frame" and what it's like to perform in a mausoleum.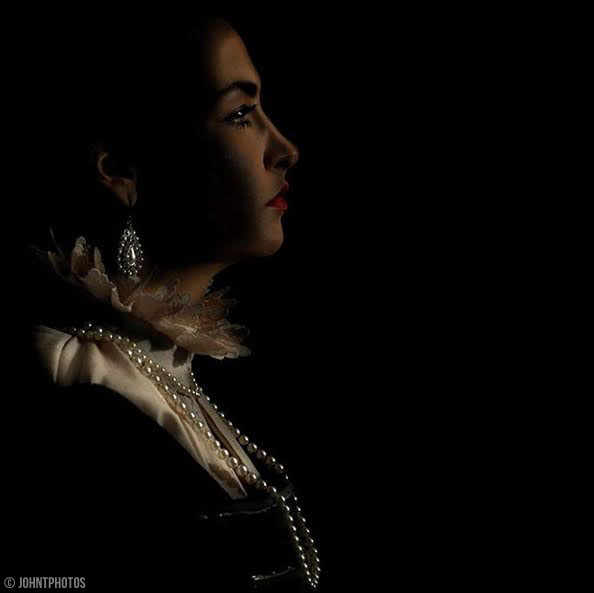 HB: Tell us a little about Wicked Lit and your play, "The Ebony Frame."
DDA: The scope of Wicked Lit is to create dynamic new adaptations of classic horror literature. Over 10,000 patrons have enjoyed Wicked Lit productions and installations since Wicked Lit 2009 at the haunted Greystone Mansion in Beverly Hills. From 2010-2015, Wicked Lit has been staged at Mountain View Mausoleum and Cemetery in Altadena where audiences walk through the hallways of the mausoleum and among the headstones in the cemetery as our plays are staged all around. Unbound Productions has also produced special installations: over 100 free staged readings of Wicked Lit plays and special events all over Southern California. Since it is a walking production, audiences experience three short plays as they are led through the grounds of the mausoleum and cemetery by Storyguides. It contains mature themes, theatrical violence, and sexual situations so that the production is recommended for audiences ages 16 and up.
"The Ebony Frame" is experiencing its world premiere this year. Beautifully directed by Jaime Robledo and greatly adapted by Susannah Myrvold from the short story of the same name by Edith Nesbit: Henri just inherited a lavish home from a relative he never met, and he is engaged to a woman who adores him beyond words – so things are good. But there is something about that painting [found inside the home he just inherited] that is just captivating – but what is it? Ah – nothing that can't be sorted out by a Satanic wedding.
HB: Had you read or heard of the story "The Ebony Frame" before being cast?
DDA: I read and heard about a lot of short and long stories about the period and culture, but never about "The Ebony Frame" before I was casted. I believe it was meant to be to step on it now, and fall in love with it right away.
HB: What is your character like?
DDA: To me, The Woman is and looks like the female mysterious ideal. I can only have beautiful words about this role and what I got from it. It is just wonderful and infinite to discover. This innocent, loving, hurt, passionate, soft but strong, beautiful, otherworldly, mysterious, vulnerable and visceral persona all in one, is sweet for me. It has been a blessing to be the one to bring her to life.
HB: What approach did you take to bring this character to life? What's it like to play a character like that and what do you have to do as an actress to personify her?
DDA: So many different ideas from other Victorian and classical characters in general, and real stories from the same period, did match with her and her story and put the puzzle together for me. But besides the theoretical research, my personal experiences and investigation of my own body and soul were vital and made me discover a lot of new elements that connected perfectly with the human and imaginary, ambiguous energy we wanted for The Woman. Energy that connected perfectly with the story and characters, especially Joe Fria´s, playing Henri. She seems so mysterious and otherworldly.
I am an old soul; that has been my strongest tool for playing Elena ["The Woman"], no doubt. It helped me understand so many reactions and deep and well-said otherworldly meanings definitely being a challenge to find the middle point in between the mysteriousness and human vulnerability. Even though she is coming to life from the past, I tried to keep the sincere reality and distinctive approach that make her that special.
HB: What is it like to play a character that is adapted from a short story? What effect did that have on your acting and interpretation of the character?
DDA: Reading the story made me understand so many details that I am, little by little, adding to it. But I don´t regret having read it after preparing the character. Now it is a so unique creation, full of life, and not just conditioned to the point of view in the short story.
The freedom that Myrold and Robledo gave me for the creation was a wonderful gift but I am not going to lie: at first, it felt a bit abstract. Being real and unreal at the same time is harder than we think. So that, it has been a really interesting journey that has allowed me to find a lot of different places in it. At this point, I know a lot about this woman. I really became her.
HB: The character speaks some Spanish in the play. Is that in the original story? If not, can you tell us a little about why that was incorporated into the character?
DDA: There is not a word in Spanish in the original story. The focus is on Henri´s background but we don´t know much about The Woman. At the very beginning, her story depended on the casting options. After I was casted, since I am from the north of Spain, we based The Woman in one of Henri´s affairs during war. And it worked. We thought including as much Spanish as possible would make it really authentic, as far as we could understand the context, so I did. I threw in all the Spanish they allowed me to. And not just the story but the audience accepted really well.
HB: What is it like to perform in the mausoleum? Does the environment affect the performance for you? How so?
DDA: Oh lord! Yes, it did. It is so different. And so immersive and powerful and I could say so much more… It feels different at first, weird, an energy that we are not used to, but I got to compare it with a really old theater or cathedral as the ones I have had the pleasure to work in before, mostly in Spain. Mountain View Mausoleum is so special. Sometimes spirits try to mess with us but nothing that we have not been able to handle. It´s interesting and new, but I got used to it. Now I don´t want it to end. I built a relationship with this place and of course with the Wicked Lit family. It has been one of the most beautiful, powerful, full and intense journeys of my whole career. Probably the most. And I look forward to have many more experiences with them in the future.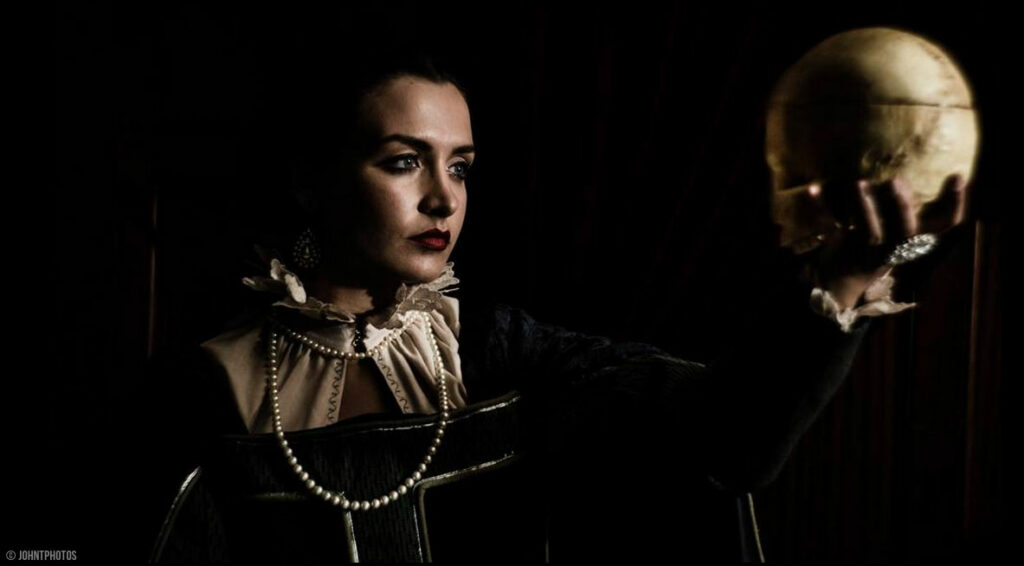 HB: You mentioned you had an experience that made you think the mausoleum was haunted.
DDA: Several. But the last one really freaked me out. When we first had the orientation meeting, the first thing I said was: "the third floor is special." Of course, third floor was going to be basically my second home…when I first went up there, I could not even breathe well. With time I got used to the atmosphere and everything has been great, with special experiences and energies depending on the day, but all good. Well, Saturdays are THE day though. On Saturdays, this place is something else. We have been having technical problems up there, machines that suddenly decide not to work, plugs that suddenly unplug, fun things, you know. Last Saturday, the fog machine did not work in the first rotation. A technician came up to fix it, but it worked for him. Second rotation, it worked. Third rotation, not working at all. Stage Managers took a photo of the bottom for the technician to see they were not crazy or messing with him. The bottom decides to turn on BY ITSELF when the flash comes out. A loud "WHAT?" from the stage manager who comes to me, running all the way down the hall, to tell me what happened. As she leaves to her position, her voice gets lower and her shadow that was supposed to get away from me, from larger to smaller, turns into a smaller-to-larger shadow that actually is coming closer. About to cross the corner that separated us both and see "something, whatever that was"–the shadow disappears. Well, in that moment, I really felt the "beating of my heart" that The Woman talks about…
HB: The Ebony Frame is both a love story and a ghost story. What do you think the story has to say about love?
DDA: It tells everything. It describes love as necessary, intense, powerful, beautiful, crazy. As a real and unreal feeling, as madness, as an otherworldly and eternal energy and connection in between two souls that become one, as authentic and unique. And when love gets you with this intensity, it does not matter, anything else in the world; this love stays forever over death and over one million reincarnations.
HB: Is there anything interesting about that you felt the cast and crew were trying to bring out in the performance?
DDA: I think we all have been able to focus not just in making Wicked Lit a cool, spooky and mysterious experience about the story but also in the depth and shape of the whole production and story mixed.