Now that the season has officially kicked off, let's talk about one of my favorite haunts to visit during the year: Queen Mary's Dark Harbor.
Actually, 2014 was my very first time attending Dark Harbor, but it was one of the best nights of the entire season for me. So much so that I actually went back again after that, and have even done a few non-horror related things there over the past year. The entire place is filled with history, and it absolutely grew on me during the first night attending Dark Harbor.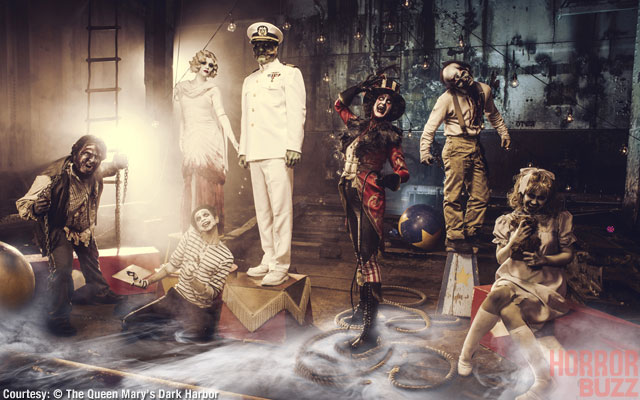 But, you're not wanting to know about its history yet. We'll save that for a Crypto Country. Instead, let's talk about Dark Harbor.
What makes Queen Mary's Dark Harbor unique is that it is the only haunt in Southern California that takes place at an actual haunted location. In fact, I'm hard pressed to think of a haunt anywhere else in America that can boast that claim.
What's great about Dark Harbor is that they use the ship's very haunted history to tell a story with some of their mazes. Three out of the six mazes have a direct relation to the ship's history, while an additional one isn't based on a true story, per se, but close enough. The three mazes located on the Queen Mary itself are truly frightening: Soulmate, B340, and the brand-new maze, Lullaby.
Graceful Gale takes center stage for Soulmate, where she tries to find a suitable lover, even though she disappeared years ago. This was, by far, my favorite on-ship maze last year, as Gale's minions lure potential suitors in, and slice them up…only to reassemble them later into the perfect man. Featuring lots of great misdirection scares and other great bits, it definitely added a chilling vibe to the entire thing.
Next up, B340 tells the tale of the Queen Mary's most infamous passenger, Samuel the Savage. As the legend goes, Samuel was locked up after altercations with other people on the ship, only to be found hours later ripped to shreds. The maze itself takes a journey through Samuel's life, to see what could have driven him to madness.
Finally, we have the new maze, Lullaby, focusing on Scary Mary. Known as the young girl who drowned in the pool, Mary's maze will take you through her story, as she tries to get you to join her in the depths of hell. While there was a different Scary Mary maze last year, this one promises to deliver even more scares.
But that's not all, as off the ship, Dark Harbor has many more offerings for you to scare you sideways.
Deadrise tells the story of a World War II escort ship that accompanied the Queen Mary during her years known as the Grey Ghost. After a fatal crash, the ship sunk, resting in the depths of the ocean. However, The Captain has called the ship into action again, so it has docked here for us to see what it contains. This twisty, turny maze was a highlight from last year, with lots of great scares.
Circus features the infamous Ringmaster, the star of Dark Harbor. Nestled within the Dome, Circus forces you to face your fears with scares that mirror a funhouse, sideshow, and more. This one, I laughed at a lot during my time, and had a blast going through.
And finally, Voodoo Village returns, thankfully, as it was my favorite of their mazes last year. Taking you through a sanctuary, a crypt, New Orleans streets, and a swamp, it really captured the look and feel of the bayou. It was one of the most detailed mazes of the entire season, anywhere, and it was certainly a standout. The Voodoo Priestess is another great character to add to Dark Harbor's line up.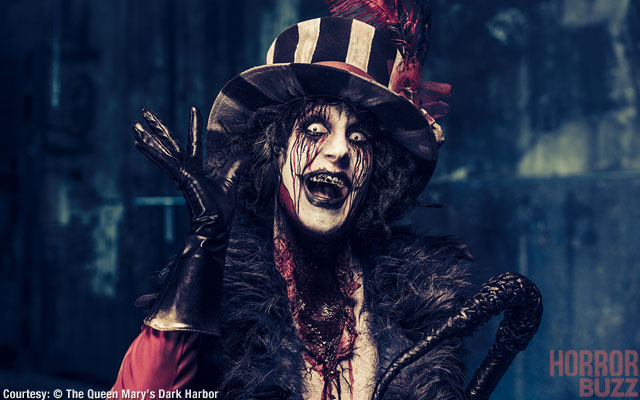 In addition to that, they also have an all-new attraction called Anubis Paintball Adventure. This is sure to be a blast, as it features an Egyptian tomb being transplanted to the ship, and you have to face an onslaught of beasts as you go through it.
Of course, the best way to experience this sort of thing is with a bunch of your closest friends, right? That's why we here at HorrorBuzz have this fantastic deal for those of you wishing to visit Queen Mary's Dark Harbor this season, but don't want to have to wait in the long lines of all the mazes. Come join us for an exclusive VIP event on October 3rd! You'll get a lot of amazing perks not included in the regular general admission.
Dark Harbor VIP Haunt event
Join us for the Dark Harbor VIP Haunt event on Saturday Oct 3rd.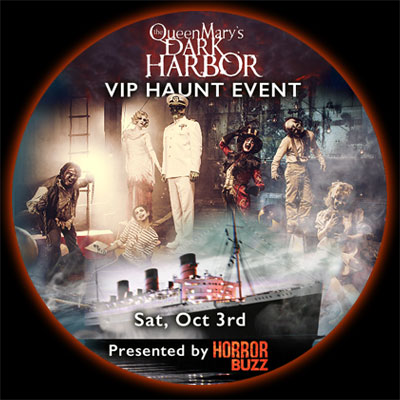 Lights-on tour of a maze with creator/designer JJ Wickham:  This is a huge deal, because if you have visited the event before, you know from experience that the Dark Harbor team utilizes the dark and enclosed spaces of the ship to heighten the intensity of the experience. This is a real chance to not only learn some inside details on how these wonderful experiences are created, but also see some of the  detail deep within the ship that you normally wouldn't.
Admission to the All-New Anubis Paintball Adventure:  This up-charge experience is certain to sell out quickly every night, because it allows you to face an onslaught of mummies and monsters, armed for the first time with a paintball gun.  Do you have what it takes to survive this "newly" transplanted pharaoh's tomb?
Admission into the Freakshow experience:  The Dark Harbor entertainment staff always assembles a wonderful array of shows that both entertain and disturb. Not for the faint of heart, so peak through your fingers if you must.
All Night Front of the Line access: This really is worth its (lack of) "wait" ingGold.  Most of these mazes you will want to experience more than once, and this is the only way to do it without spending most of your night in lines.
All-night-access to the exclusive R.I.P. lounge: Perhaps the greatest perk of all! A deck above, and yet in the middle of all the action, with endless, delicious street tacos, 3 drink tickets at the exclusive bar (again, avoiding the long lines below), and a variety of places to comfortably lounge while enjoying the delightful chorus of horrific screams that the world famous Dark Harbor sliders relentlessly create all evening.
We have bundled all of this together at the very reasonable price of $125.00 per person.  If you have visited before, you know what a great value all these extras are. If you haven't, this is the best way to first experience this distinctively unique haunt that is the Queen Mary's Dark Harbor.
See you all there with VIP wristbands on!
Get your Exclusive Event Tickets Here
We have bundled all of this together at the very reasonable price of $125.00 per person.  If you have visited before, you know what a great value all these extras are. If you haven't, this is the best way to first experience this distinctively unique haunt that is the Queen Mary's Dark Harbor.