Sitting in a breezeway on the Cal State University Long Beach campus I meet David Wally.  The Executive Director of Talent  for The Queen Mary's Dark Harbor is at the campus for a gala later that evening honoring Cliff Warner (his business partner at Mycotoo) and had just enough time to chat about the upcoming year at his haunt.  Wally's calm demeanor, mellow cadence, and warm smile hide the creative frenzy going on in his head. How did Wally, a film and theatre guy, get roped into joining and eventually excelling at wrangling monsters at The Queen Mary's Dark Harbor?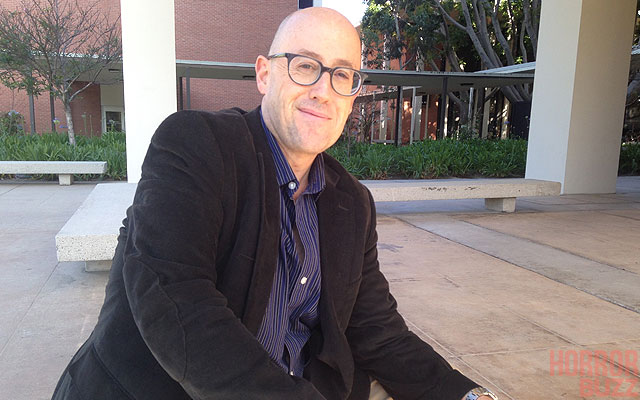 Let's start at the beginning.  The year was 2008. Wally, a successful film producer was facing a difficult time in his life. His mother was terminally ill and his father needed a great deal of assistance. Concurrently, Wally had reached a point where show biz had lost its charm and he decided to  "Jump off the merry-go-round" for a  bit.
After his mother passed and his father was back on his feet, Wally received an offer from an old college friend (and current business partner), Cliff Warner, who was a partner at Thinkwell Design & Production. Warner invited Wally to come work as a writer and creative director.  Ready to collaborate again, and explore a new creative avenue, Wally began freelancing with Thinkwell and eventually began work on a theme park for Warner Brothers to be built in Abu Dhabi.
When the 2008 economic crash temporarly slowed development of that project, Wally moved on and began directing and producing plays around town.  Soon enough, two colleagues from Thinkwell, Sam Russo and Tom Cluff, called him with an opportunity.  They were working on a new project down at the Queen Mary called Dark Harbor.  Tom Cluff created the original idea and concept for Dark Harbor, which replaced the shipwreck that was there in previous years, and Sam Russo was the producer of the event.
Wally said, "Great! What is it?"
"It's a Halloween haunt."
"I don't know what that means. What does that mean?"
"It's like, you know, have you ever been to Universal?"
"No." Wally said.
"You've made two movies at Universal but haven't you been there for Halloween?  Haven't you ever gone there and gone through the mazes?"
"You mean where you are walking through and people jump out at you and go 'boo!' and stuff like that?"
"Yes like that!"
"No.  I haven't done that.  Doesn't Knott's have one too?"
"Yes, Knott's Scary Farm."
"How long has Queen Mary been doing it?"
"Oh for about 15 years."
"Nope, never been."
Nevertheless, Wally agreed to visit Sam and Tom and see what they had in mind.  Having no history in Halloween, but having worked in theatre, movies, and location based entertainment, Wally was interested.
"Okay, so what do you need me to do?" Wally asked at the meeting.
"Cast the show and train the actors."
"How many rehearsals do I get?"
"One."
"What do you mean I only get one rehearsal?"
"Yeah… You cast them, you show them what to do, and then they do it."
"Okay, guys, that's not how I work.  Let's sit down, let's talk about this."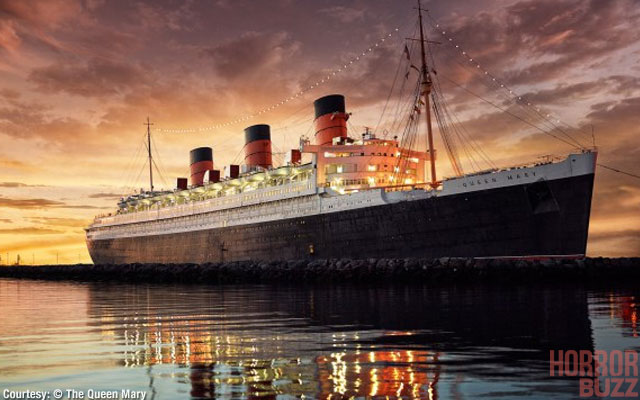 Wally looked at the whole paradigm of the task at hand.  He would need to recruit and cast over 300 performers in order to schedule nearly 200 positions each night (of which, Wally was advised, 20%-30% of the actors would be absent from every performance).  Then he would have to cast people of wildly different skill levels, convince them to give up their September and October and have them to come down to Long Beach every night.  Wally thought to himself, "Who are these people that would do this job?"  Uninitiated in the haunt community, Wally had no idea how to handle the task at hand.   But Cluff and Russo persuaded Wally he had the skillsets required to tackle such a complex puzzle.
Thrilled by the challenge, Wally accepted the job and took a leap of faith.
The day of the auditions came and his eyes were opened. Wally realized that there was a vibrant passion in the haunt, and in particular, the monster community. "The first year for me, (2010, the first year of Dark Harbor), every piece of it was just stunning to me.  I found that these people came from all walks of life.  There were some who were trained actors, there were some who were college students there were some that were haunt performers.  We had housewives, insurance salesmen, garbage truck drivers, truly every walk of life. And together they became this incredible community of people.  Sam and Tom had warned me that we would probably have heavy attrition; that most haunts see half the casts drop out throughout the run.  But we had such a tight group that we only lost five people throughout the entire run that first year."
The 2010 production of Dark Harbor successfully rebooted the haunt venue at The Queen Mary and many of those who worked so successfully together that year committed to continue collaborating with one another moving forward.
During the second year of Dark Harbor, 2011, change was in the air. The team welcomed J.J. Wickham to the ship as the creative director and she has since been responsible for the creative direction of the event.  Clearly proud of Wickham and her team, Wally boasts that the aesthetic of Dark Harbor has continued to evolve and has grown ever richer and more spectacular with each season.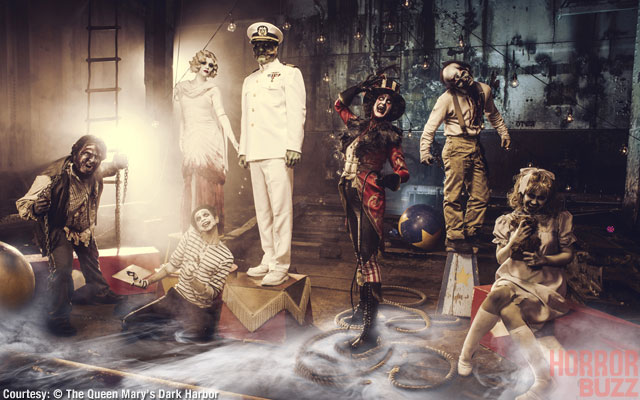 With a fully realized look, a stable of brilliant actors, talented sliders, performers, tech crew, designers, the core team of Dark Harbor has stayed mostly intact and the event has steadily developed into one of the Southland's most beloved haunts.
By last year, Wally feels the event had solidly established itself as the third big haunt in southern California.
Wally went from shooting movies and staging theatre to casting and training a huge rotating ensemble.  Wally works alongside a trio of tirelessly devoted colleagues – Bre Combs, Yola Charbel and Arroya Karian – who comprise the Talent Team.  They work throughout the year to recruit, audition, cast, train and supervise well over 300 performers. The Talent Team also closely collaborates with the make-up, costumes, design, production and events departments to ensure the entire event is cohesively headed in one unified direction.
While he may head a department, Wally insists the show is a collaborative effort. "Our mantra is 'One Team, One Dream'.  The best ideas don't necessarily come from the person with the fanciest clothes or the biggest hat or the loudest voice.  They come from anybody, anywhere, from any direction… As a leader you have to be able to hear all of those ideas and run it through your filter and determine will work with the overall show.  J.J. and her team, Christina and the make-up team, Katy and the costume team, Freddy and Victor and the supes, Steve and Charity and everybody with the Queen Mary – all of the teams –  we have all formed a very strong alliance over the last six years. Our conversations are frank, direct, respectful, creative.  We are all committed to working together with each other; 'Can we do this?' 'Can we try this?' 'Can we make something like this work?'  Sometimes the answer is no.  But, most of the time, the answer is invariably 'yeah let's give it a shot' and we give it a shot and see how it works.
There's a certain level of trust in knowing that the input everyone on the team receives from each other comes from a constructive place.  And what my team tries to do with our Monsters is create a big enough sandbox so that everyone can play in it. There are some finite rules, but if they know them, then we can leave them to do their best work."
One of Wally's favorite examples of teamwork and collaboration came a few years ago when Wickham created the Ringmaster character who was to bring the circus to Dark Harbor.  Once the character was created, it fell upon the Talent Team to cast this new central character.
"At the beginning of the collaboration," Wally explains, "The conversation way, 'Okay, who do we know that can do this?  Who do we want to audition for this?'  And some of the people who auditioned did a fine job, and some of the people we thought were going to be great just didn't seem to work as well as we hoped they would.  But when Peggy Magee walked into the room, you know what – Peggy she owned it.  The Ringmaster was not even necessarily written with a specific gender in mind, but by the time the audition was over, so was any conversation – We all knew the part belonged to Peg."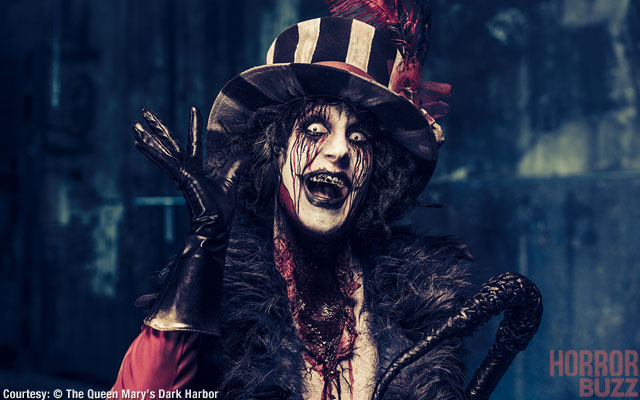 "The next year, when we decided to do bring voodoo to the village, JJ concocted a new lead character – the Witch Doctor – and we begain the same process we employed to create the Ringmaster.  As we considered our options, my mind immediately went to Burdetta Jackson, the head of our Fire Team.  The intitial idea was not that the Witch Doctor would do fire, or even be a woman,' But when we pitched the idea of Burdetta playing the role, it took on a life of its own.  Everyone loved the idea of switching the character from a Voodoo Witch Doctor to a Voodoo Priestess.  We cast Burdetta and developed a stage show as well.  Subsequently, when auditioning a new actress to play the Scary Mary character, we found a new girl who was right for that part and she also turned out to be a fire performer.  Then we thought, 'Wait a minute, what if we do a Fire Show where the Voodoo Priestess teaches Scary Mary how to do fire?'  And it worked out brilliantly.  But all of this was a great example of collaboration – taking JJ's wonderful character idea and marrying it to a brilliant performer and seeing that, wow, this could really be a great example of our teams working together to create something that nobody anticipated in the beginning."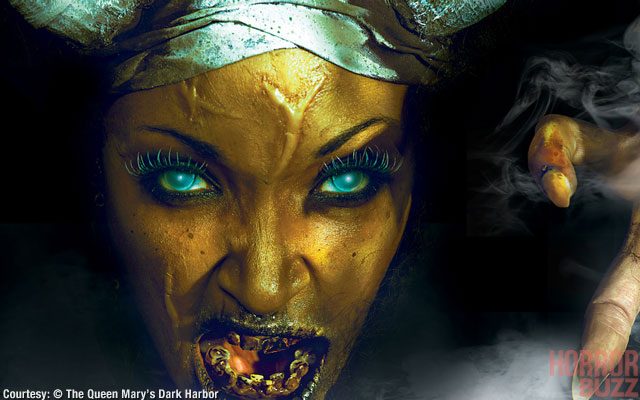 So, the big take-away here is, not only that kismet happens, but that collaboration is key to the creative process.
"The truth is that I have never felt like I am putting on a haunt." Wally muses, "From my perspective, I am directing this big, operatic-scale piece of performance art.  A new show is happening every 5 seconds were we setting the stage for the audience and performers to interact in the same physical space.  It is an exciting and singular form of theatre."
The goal every night is to bring order to chaos.  Looking back at where Wally, and for that matter Dark Harbor, was in 2010, that is pretty much what ended up happening.  Five years later, Dark Harbor has become an integral part of Southern California's haunt landscape.  Along with J.J. Wickham, producer Charity Hill, and their insanely talented cast and crew, they have risen above the tide that faced them and have established themselves as a haunt heavy-hitter.
Here's to 2015 folks!  Let's get back to Dark Harbor!
---
Dark Harbor VIP Haunt event
Join us for the Dark Harbor VIP Haunt event on Saturday Oct 3rd.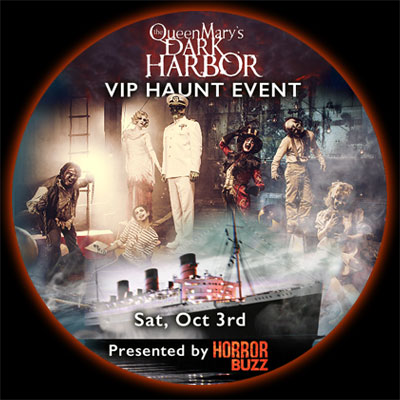 Lights-on tour of a maze with creator/designer JJ Wickham:  This is a huge deal, because if you have visited the event before, you know from experience that the Dark Harbor team utilizes the dark and enclosed spaces of the ship to heighten the intensity of the experience. This is a real chance to not only learn some inside details on how these wonderful experiences are created, but also see some of the  detail deep within the ship that you normally wouldn't.
Admission to the All-New Anubis Paintball Adventure:  This up-charge experience is certain to sell out quickly every night, because it allows you to face an onslaught of mummies and monsters, armed for the first time with a paintball gun.  Do you have what it takes to survive this "newly" transplanted pharaoh's tomb?
Admission into the Freakshow experience:  The Dark Harbor entertainment staff always assembles a wonderful array of shows that both entertain and disturb. Not for the faint of heart, so peak through your fingers if you must.
All Night Front of the Line access: This really is worth its (lack of) "wait" ingGold.  Most of these mazes you will want to experience more than once, and this is the only way to do it without spending most of your night in lines.
All-night-access to the exclusive R.I.P. lounge: Perhaps the greatest perk of all! A deck above, and yet in the middle of all the action, with endless, delicious street tacos, 3 drink tickets at the exclusive bar (again, avoiding the long lines below), and a variety of places to comfortably lounge while enjoying the delightful chorus of horrific screams that the world famous Dark Harbor sliders relentlessly create all evening.
We have bundled all of this together at the very reasonable price of $125.00 per person.  If you have visited before, you know what a great value all these extras are. If you haven't, this is the best way to first experience this distinctively unique haunt that is the Queen Mary's Dark Harbor.
See you all there with VIP wristbands on!
Get your Exclusive Event Tickets Here