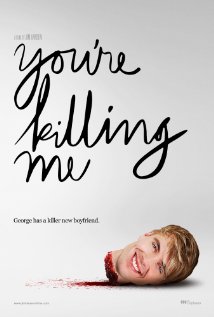 You're Killing Me is a charming little movie about Joe (Matthew McKelligon), a young man who is struggling with a secret. Dipping his toe into the daunting world of dating and relationships, Joe is beginning to find himself. In contrast to the superfluous, often irreverent and sarcastic, social media obsessed, 20-somethings around him, Joe is an introvert. Straightforward and otherwise mild mannered, nobody takes him seriously when he simply tells them he has the urge to be a serial killer.
The story begins with a typical scene, friends drinking, having a game night. Joe's new boyfriend is hosting the get together and, as the guests leave, he turns his affections to our protagonist. As things heat up, nebbish Joe snaps, gutting his new beau right in the foyer. Thus begins Joe's journey of self discovery and acceptance covered in blood.
We next meet George, played by the film's co-writer Jeffery Self. A self-absorbed, social media prima dona, George speaks in sentences of 140 characters or less. He and his long-time YouTube collaborator friend, Barnes (Bryan Safi) are BFF's who obsess more about what wigs they will wear in their next videos than they do the real, human relationships around them.
George meets Joe, and despite the creepy way they run into each other, they hit it off.  Soon Joe is thrust into George's circle of friends.  Here we meet up with Cameron (the scene-stealing Drew Droege), Barnes' ex Louis (another scene stealer, Jack Plotnick), Barnes' current boyfriend Oli (Shaughn Buchholz), and quintessential fag hag Emma (Edi Patterson).  The group sips iced chardonnay, and struggles through a board game while having a sound-bite style conversation. Far more obsessed with looks and witty comments, it goes totally undetected that our dear Joe is outright confessing murder.
George and Joe's budding relationship continues, and as complications arise, Joe's catch-all answer is to literally kill the problem.  Interspersed are wonderful scenes with Joe's therapist, Dr. Strauss (the effortlessly comedic Sam Pancake). Strauss has worked with Joe his whole life, and is delicate with the words he chooses with his patient.  He knows the danger and tries to guide him with a calm, reassuring demeanor in contrast to the frenzy of bobble headed idiots in his patient's life.
Director / Co-writer Jim Hansen deftly makes the transition from small-screen YouTube darling to the big screen with this frothy, bloody confection.  Founder of the comedy group The Orphans, Hansen and his cast have a natural ability to deliver rapid-fire comedy while keeping a narrative in motion.  The chatter between the friends in this movie is comedy gold. Editing is also quite good here, with cutaway shots of the disturbing mental imagery inside Joe's head punctuating scenes with some laugh out loud moments. We are also treated to some fun cameos by Facts of Life's Mindy Cohn, and the wonderfully icy Carolyn Hennesy as Joe's mother.
One minor problem does arise however, in the third act of the movie. The story takes an unexpected, but brilliant turn, then seems to falter, not knowing where to take it from there. Thankfully the banter amongst friends keeps things interesting until the storyline finds its footing again and we are back in motion.
How does it all end?  Does George finally realize that everyone around him really is dying at the hands of his new boyfriend?  Does Joe come to terms with his secret life as a serial killer?  Do George and Barnes get enough YouTube hits on their video to pay the rent?  All is wrapped up in the end.
Clocking in at a lean 88 minutes, this is a breezy, bloody love story with razor-sharp wit.  A horror/rom-com with blood and heart.
The film is touring at a number of festivals around the country and will be coming to a movie theater near you.  Catch this killer movie if you can.  It's a hell of a lot of fun.
The film will be screening  this coming weekend at San Diego's Horrible Imaginings film festival.  Do yourself a favor, grab a ticket and GO!
For other dates and locations, like the You're Killing me page on Facebook HERE.