The Queen Mary, by her own right, is one of the known most eerie and paranormal sites in Southern California.  Yes, it's still elegant, and reflects the luxury of a bygone era of sea travel. But it is lifeless now, its powerful engines ripped from its core as a condition of its "retirement" in Long Beach Harbor.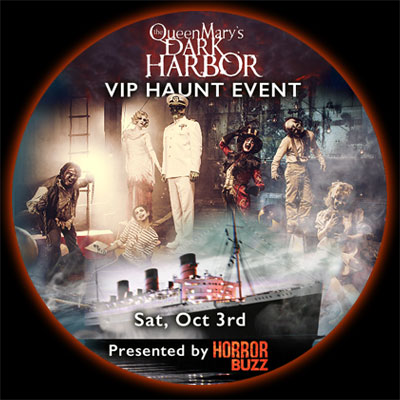 People died on it…and because of it,  its World War II nickname, The Grey Ghost, even foreshadowed its eventual connection to the spooky and supernatural.
Every October, the ship is transformed both internally and externally into Dark Harbor, one of the most unique haunt experiences in the world. This is where the real ghostly legends of entities like "Scary Mary", the little girl who has haunted the first class pool, join amazing new characters like the outrageously over-the-(Big)top Ringmaster (a personal favorite). Every year, the event grows with both new thrills, and with a larger fan base flooding the mazes that extend into the real haunted bowels of the ship, and spill out into the former Spruce Goose dome.  They even transform the British port of call that normally welcomes visitors with old world charm, into a sprawling voodoo underworld difficult to escape.
So let's have a party, right!?!
Since this is HorrorBuzz, no normal party would do this amazing haunt justice. We have to go V.I.P. all the way!
And this year we are doing just that on October 3rd.
So for our "fiends" and family, we have secured an aMAZE-ing package of extras this year including:
Lights-on tour of a maze with creator/designer JJ Wickham:  This is a huge deal, because if you have visited the event before, you know from experience that the Dark Harbor team utilizes the dark and enclosed spaces of the ship to heighten the intensity of the experience. This is a real chance to not only learn some inside details on how these wonderful experiences are created, but also see some of the  detail deep within the ship that you normally wouldn't.
Admission to the All-New Anubis Paintball Adventure:  This up-charge experience is certain to sell out quickly every night, because it allows you to face an onslaught of mummies and monsters, armed for the first time with a paintball gun.  Do you have what it takes to survive this "newly" transplanted pharaoh's tomb?
Admission into the Freakshow experience:  The Dark Harbor entertainment staff always assembles a wonderful array of shows that both entertain and disturb. Not for the faint of heart, so peak through your fingers if you must.
All Night Front of the Line access: This really is worth its (lack of) "wait" ingGold.  Most of these mazes you will want to experience more than once, and this is the only way to do it without spending most of your night in lines.
All-night-access to the exclusive R.I.P. lounge: Perhaps the greatest perk of all! A deck above, and yet in the middle of all the action, with endless, delicious street tacos, 3 drink tickets at the exclusive bar (again, avoiding the long lines below), and a variety of places to comfortably lounge while enjoying the delightful chorus of horrific screams that the world famous Dark Harbor sliders relentlessly create all evening.
We have bundled all of this together at the very reasonable price of $125.00 per person.  If you have visited before, you know what a great value all these extras are. If you haven't, this is the best way to first experience this distinctively unique haunt that is the Queen Mary's Dark Harbor.
See you all there with VIP wristbands on!
Get your Exclusive Event Tickets Here
Knott's Scary Farm VIP Event
This is the grandaddy of haunt events.  The Knott's Scary Farm HorrorBuzz/MiceChat Haunt event is going on its ninth year of sheer terror and there's no stopping it now.  Only a few tickets are left for this one-of-a-kind event where you are the biggest, baddest VIP at Knott's Scary Farm.  No lines for mazes, early entry, all you can eat buffet and a chance to meet the mistress of the dark, Elvira.  It doesn't get any scarier than this.