Ever wondered what it takes to design and execute a large scale haunted attraction? This past weekend at ScareLA, all of the heavy hitters in the Southern California haunt industry gathered under one roof to address inquiring minds regarding past work, their creative process, and how they got started in their niche fields.
This panel was moderated by Theme Park Adventure's Rick West and featured Art Directors including:
JJ Wickham – Queen Mark's Dark Harbor
Chris Williams – Universal Studios Halloween Horror Nights
Mark Wing – Six Flags Magic Mountain Fright Fest
Lara Hanneman – Knott's Scary Farm
The panel began by introducing the speakers and some of their past work.
Mark Wing – Six Flags Fright Fest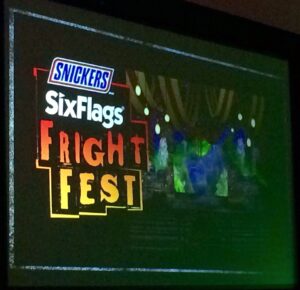 First up was Mark Wing. He is the art director for Fright Fest at Six Flags, as well as most other special events and theatrical shows at the park.
One well known project was City Under Siege. He mentioned that they start planning Fright Fest in January for the following year. "It takes four months to create the concept." Six Flags has some exciting things planned for us this October, including Sinister Circuit – an immersive experience that will enhance scare zones and implement a 20 foot giant arachnid.
JJ Wickham – Queen Mary's Dark Harbor
Here we see a concept rendering of Monster Midway.

"We introduced the addition last year at Dark Harbor and this is looking down the midway itself. We put this together to help plan the creative direction of the space and help communicate that with producers and partners so they can see what we have in mind for an area."
JJ mentioned some of the other mazes on the midway which included Voodoo Village, as well as another favorite, "Soulmate," onboard the Queen Mary itself. This maze tells the tale of Graceful Gale and her bloody pursuit of the perfect man.
Lara Hanneman – Knott's Scary Farm
Lara introduced some of Knott's past work. Slaughterhouse, which is one of the longest running mazes in Knott's history, Tooth Fairy – a creepy take on the old children's tale which promises to be even more intense this Halloween season, as well as Delirium and Infected Outpost – an interactive laser zombie shooter game.
Chris Williams – Universal Studios Halloween Horror Nights
Chris Williams is the incumbent art director and production designer for Universal Studios Halloween Horror Nights, a role he has performed for 17 years.
"Anything that you see visually, I am in charge of designing, helping conceptualize, along with my design partner John Murdy."
La Llorona was an incredible maze which Chris designed. "I'm big on monsters and how to integrate them within characters." In this maze, we see La Llorona breaking through the window to devour a live actress in bed. Her legs are actually placed inside of the creature's mouth through fabric stitching.
Other mazes from his work include Black Sabbath, American Werewolf, and Alien – which included a monster over 16 feet tall that required three puppeteers.
Next, moderator Rick West asks the four panelists to describe their background and inspirations. As many of the ScareLA audience are aspiring artists themselves, how did these artists get their start in a field many dream of?
My takeaway from this discussion was that success is combination of a few common threads: starting young, working hard, and meeting someone solid in the industry who believed in them and wanted them onboard.
Mark Wing – Six Flags
"I was inspired as a teenager – through Chris, actually, going through  all the different attractions he's created and designed. I later got an opportunity from Scott Stern (producer of Fright Fest) five years ago to design Aftermath. That was my very first maze. From there – I've designed pretty much everything else. Thank you Scott – he gave me that opportunity."
JJ Wickham – Queen Mary's Dark Harbor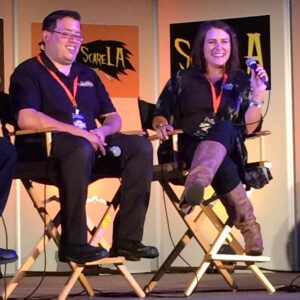 "I went to theater school in Kansas, I had a passion and love for entertainment and art. When I moved to Los Angeles, I became interested in interactive theater in a different way. Haunts are an incredible way to experience live theater at it's best. You interact with the monsters, you get chased by the performers. You get to walk through the sets and experience the environment in a four dimensional way that you can't get in a traditional performance basis.
That's why I fell in love with haunts, and continue to do this. It's exciting because at Dark Harbor we get to create things out of the woodworks and rich history of the Queen Mary. We never get tired of it, because every year we explore something new."
Lara Hanneman – Knott's Scary Farm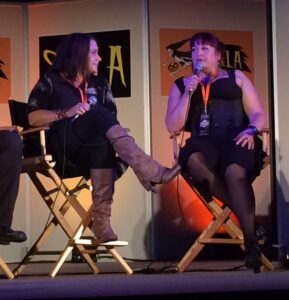 Lara Hanneman – Knott's Scary Farm"I started as a theatrical production design major in college with a minor in psychology. I joined Knott's in '94 and love it. It's that encompassing feeling, I love to make people scream."
Chris Williams – Universal Studios Halloween Horror Nights
"I was a nutty little kid, really into costumes, makeup and monsters. I bought my Dick Smith first monster makeup kit at 8 years old. I know you guys are much the same. It's great to have that connection."
"During college I was doing fine art – I didn't take a theatrical approach but my senior installation was a Jesus Christ themed boxing ring. So this was a themed environment, set in hell. That project spurred me to get a job in the industry through imagineer/designer Tom Cluff."
Finally we wrap up the presentation by hearing the panelists discuss the time frame from brainstorm, to design and implementation. At minimum, this process beings a year in advance (usually Jan, Feb) and most of the directors agreed a two year plan was more accurate. There are often too many ideas to implement in one season, which is actually a positive – plenty of time to revisit these themes in following years. The group also talked about a bit about the casting process; they often try to integrate physical characteristics of the performer into the role they are playing. Questions from the audience were also addressed.
Thank you to the moderator and four panelists. I left with an even greater awareness and respect for the level of work and dedication that goes into crafting a home for our most beloved nightmares to live. Many of us had the opportunity to enjoy your mazes and events over the past year and eagerly await what's next in the coming Halloween season!